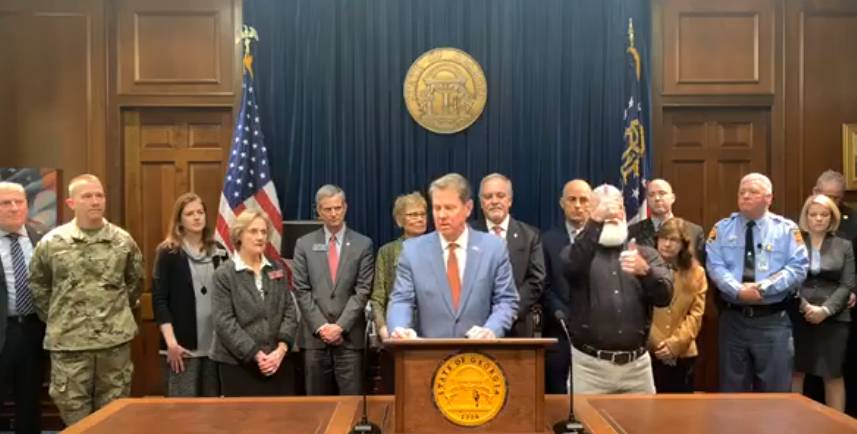 A possible Coronavirus case in Georgia mentioned during a press conference Monday has been confirmed 'negative,' according to state officials.

The news came just after 9:00 p.m. on Monday night when Governor Brian Kemp's office issued a press release to notify the public that a "presumed positive" case of COVID-19 (Coronavirus) mentioned during a joint Kemp-Coronavirus Task Force press conference, in fact, tested negative.
Governor Kemp gave updated figures earlier in the day on "presumed positive" cases as well as confirmed cases in Georgia. From the news release:
One presumed positive case mentioned in Monday's briefing involved a South Korean passenger who recently traveled from Incheon International Airport to Hartsfield-Jackson Atlanta International Airport. Over the weekend, state health officials learned about this individual's arrival at Hartsfield-Jackson where – upon arrival – customs officials noticed that the passenger appeared to be displaying symptoms consistent with COVID-19. The passenger was taken to the CDC's airport quarantine unit for evaluation and later transferred to a nearby hospital. The passenger was then tested for COVID-19.
The Department of Public Health has now confirmed that this individual is negative for COVID-19.
State officials have notified federal and local partners – including airport officials – about this individual's negative test result.
Approximately forty minutes after Kemp's office announced the negative case, a second press release was issued announcing another five additional 'presumed positive' cases for a total of 11 'presumed positive' cases in the following counties:
Fulton County: 2
Cobb County: 3
Fayette County: 1
DeKalb County: 2
Gwinnett County: 2
Cherokee County: 1
Confirmed COVID-19 Cases (Total: 6) as of 9:40 p.m. on 3/9/20:
Fulton County: 3
Floyd County: 1
Polk County: 1
Cobb County: 1
Kemp's press team said the Governor's Office and the Coronavirus Task Force will continue to provide COVID-19 updates as they become available.
You can watch Monday's press conference below: