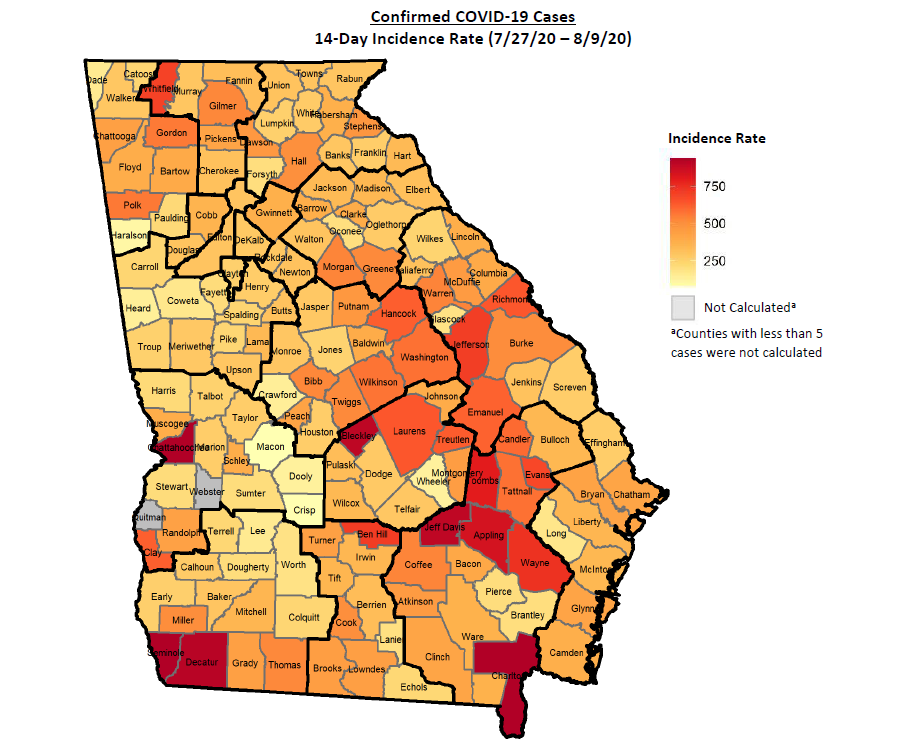 The Georgia Department of Public Health released the following information regarding the fight against COVID-19 in Georgia:

Positive Indicators
COVID-19 Cases:
During 8/3-8/9, Georgia's weekly statewide case numbers decreased by 7%.
The CDC report indicates that Georgia has experienced a 22% decrease in case numbers over the past two weeks relative to the two weeks prior to that, and that we have seen a downward trajectory of cases for two weeks now.
The highest % of case numbers still come from the high population counties in metro Atlanta (Fulton, Gwinnett, DeKalb, Cobb have the highest case numbers) but these counties are actually experiencing decreases now.
Testing:
As of Aug. 13, the state reported over 1.9 million COVID-19 tests.
Eight of the last nine days reporting more than 25,000 tests per day.
Average of nearly 31,000 per day over the last nine days.
DPH is operating 180 SPOCs, including mobile and pop-up locations statewide.
The number of specimens collected at DPH SPOCs has now passed 750,000.
Positivity Rate:
Positivity rates are decreasing from 11.86% on 7/27 to 10.98% on 8/3 to 9.5% on 8/9/20.
Hospitalizations:
Daily hospitalizations have decreased 6.62% in the past seven days.
8/06: 3,006
8/07: 2,981
8/08: 2,878
8/09: 2,878
8/10: 2,871
8/11: 2,881
8/12: 2,865
8/13: 2,807
Emergency Department Visits:
Emergency Department (ED) visits related to COVID-19 are slightly decreasing and ILI visits are slightly decreasing.
Areas of Concern
Emerging Hotspots:
We are seeing decreases in many other areas, but we see growth and/or high transmission in rural middle GA (Bleckley, Appling, Wayne, Taylor, Crawford, etc.), NW GA (driven partially by many outbreaks in manufacturing facilities), east central GA and areas of south Georgia. These increases are driven by ongoing community transmission as well as outbreaks.
Increasing Outbreaks
Aug. 6-12: 110
These outbreaks are occurring in settings where people are physically congregating and underscore the need for distancing and source control.
Long-term care facilities: 23
Schools/school athletic teams: 14
Offices/workplaces: 14
Manufacturing facilities: 13
Prisons/jails: 13
Churches: 8
Restaurants: 4
Outbreaks were also documented in hospitals/outpatient facilities, daycares and grocery stores.