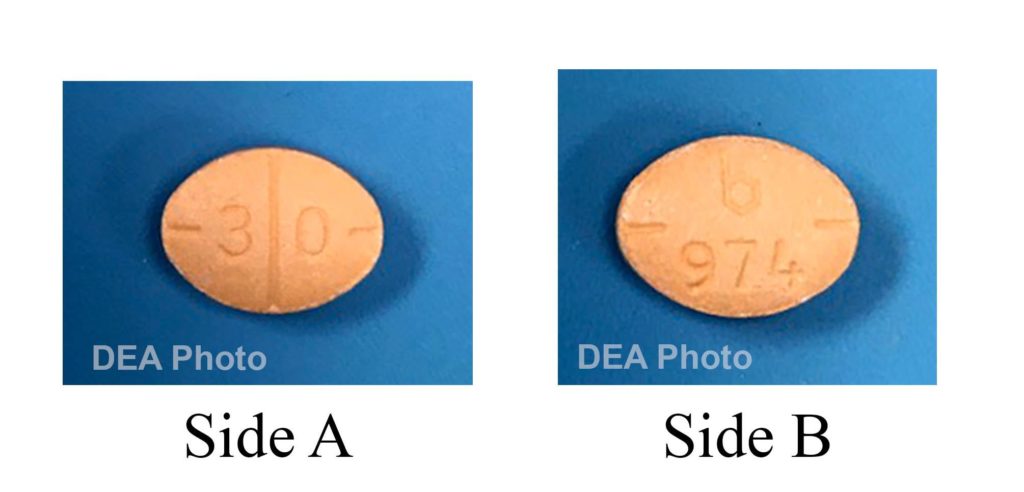 The United States Drug Enforcement Administration is reminding people that, aside from the obvious legal jeopardy, purchasing prescription drugs over the internet comes with inherent dangers. D. Christopher Evans, Special Agent in Charge of DEA's Louisville Field Division, warns that a current investigation into on-line drug sales has turned up a batch of counterfeit pills, made with methamphetamine.
"To anyone who goes outside the healthcare system to obtain otherwise legitimate medications, I would say this:  Don't do it. You're putting your health at risk," Evans says. "You can never be certain of what you're getting."
Agents from DEA's Louisville Field Division, working closely with their counterparts at the Food and Drug Administration's Office of Criminal Investigations, recently seized pills that were destined for Kentucky, Tennessee and West Virginia that were made to look exactly like Adderall, a common medication used to treat attention deficit hyperactivity disorder. Laboratory analysis determined that the pills were counterfeit and contained methamphetamine.
"Counterfeit pills provide an elevated danger to those who abuse licit pharmaceuticals, as they often contain toxic or illicit ingredients, increasing the likelihood of an overdose," Evans said.
Counterfeit medicine that U.S. consumers can buy online poses a serious hazard to consumers' health, according to the U.S. Food and Drug Administration. Counterfeit medicines may contain the wrong ingredients, contain too little, too much, or no active ingredient at all, or contain other, potentially life-threatening hidden ingredients, such as opioids or methamphetamine. This puts patient health at risk, because they may not get the needed treatment or may incur serious adverse effects. Additionally, counterfeit medicines may not have been stored properly, which may cause the medicine to be ineffective in treating certain diseases or conditions. The FDA urges the public to obtain prescription drugs only from state-licensed pharmacies that are located in the United States, where the FDA and state authorities can assure the quality of drug manufacturing, packaging, distribution, and labeling.
"When criminals introduce counterfeit drugs into U.S. commerce, they jeopardize the public health," said Director Catherine A. Hermsen, FDA Office of Criminal Investigations. "The FDA, together with our federal counterparts, will aggressively pursue those who place consumers at risk and seek to profit from the distribution of counterfeit drugs." 
This is a press release from the Drug Enforcement Administration.