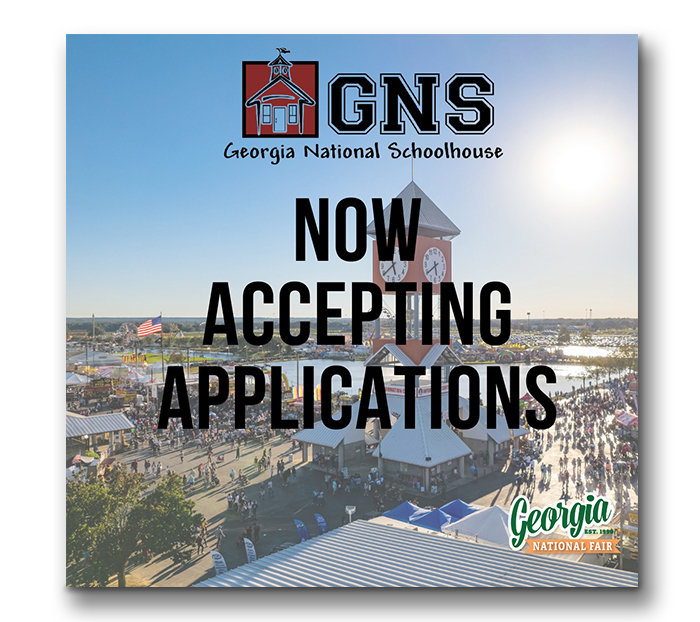 Registration for teachers, students, and home school groups is now open for the Georgia National Schoolhouse Program at the 2022 Georgia National Fair. The deadline to apply is September 16. The program offers free hands-on learning opportunities for children in grades Pre-K through 12.
Details from Georgia National Fair:
We would like to invite you to participate in the Georgia National Schoolhouse Program, here at the Georgia National Fair this October. As part of the 33rd Georgia National Fair we encourage students from the state of Georgia to come attend our livestock shows, award-winning Stories of Agriculture display, all of the Georgia Grown exhibits and have the opportunity for a first-hand look at Agriculture outside of the classroom.
Admission for the Georgia National Schoolhouse Program is FREE to all teachers, students, bus drivers and an allotted number of chaperones, grades Pre-K through 12th grade, with an approved field trip form. Field trips are available October 7 and October 10-14 and only available to schools in the State of Georgia. Some chaperones may be subject to an admission fee at the gate (please see application for admission process).
Once your class has been registered and approved we will mail you a teacher's packet with information, along with instructions on where to park and enter the Fairgrounds. We will have Volunteers at the North Gate Entrance to assist in checking-in your class and will be happy to answer any questions you may have at that time. All field trips are self-guided at your own pace, please feel free to take your time and enjoy your day here. Each class is welcome to bring their own school lunches, however all lunches must be eaten in the North Parking Lot in the picnic area.
We would also like to welcome all home school groups that would like to attend with a minimum of 20 school-aged students. With those 20 students, four adults will receive free admission, all other adults must pay the gate fee.

The deadline to apply for the Georgia National Schoolhouse is September 16 at 5:00 P.M. No applications will be accepted after this date.
Field trips do not include rides which must be purchased separate.
Advanced purchase ride armbands or Midway ride coupons must be purchased by September 16 at 5:00 P.M. and the minimum order is 25. Armbands are $25 each. All extra ticket orders will be mailed and charged an $8 shipping and handling fee. We will not hold any orders at our Box Office for pickup before or during the fair.
Armbands can be purchased on the Midway, the only payment accepted is either cash or card, checks will not be accepted.
All Field Trip buses must enter the Fairgrounds through the North Gate.
See more and apply at georgianationalfair.com