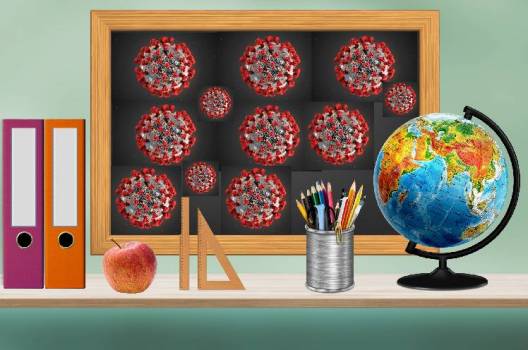 As some communities across the country prepare to reopen schools, the Center for Disease Control & Prevention has issued 'guidelines' for consideration.

Ultimately, K-12 schools can determine, in collaboration with state and local health officials, for themselves to the extent possible that the recommendations can be implemented. But even the guidelines have some teachers and parents concerned.
The CDC says "the more people a student or staff member interacts with, and the longer that interaction, the higher the risk of COVID-19 spread." With that in mind, and in hopes of continuing to slow the spread, the CDC has outlined the following:
Lowest Risk: Students and teachers engage in virtual-only classes, activities, and events.
More Risk: Small, in-person classes, activities, and events. Groups of students stay together and with the same teacher throughout/across school days and groups do not mix. Students remain at least 6 feet apart and do not share objects (e.g., hybrid virtual and in-person class structures, or staggered/rotated scheduling to accommodate smaller class sizes).
Highest Risk: Full sized, in-person classes, activities, and events. Students are not spaced apart, share classroom materials or supplies, and mix between classes and activities.
Additionally, the CDC issued these guidelines:
[You can see all guidelines and details on the CDC website]
The use of face masks for anyone over the age of 2

Face coverings should be worn by staff and students (particularly older students) as feasible, and are most essential in times when physical distancing is difficult.

Limit sharing of gym/P.E. equipment
Limit sharing of art supplies, toys, and games
Avoid sharing electronic devices, toys, books, and other games or learning aids.
Space seating/desks at least 6 feet apart when feasible.
Turn desks to face in the same direction.
Stagger arrival and departure times.
Seat 1 child per row on school buses and skip rows when possible
Provide physical guides, such as tape on floors or sidewalks and signs on walls, to ensure that staff and children remain at least 6 feet apart in lines and at other times
Create "one way routes" in hallways
Close communal use shared spaces such as dining halls and playgrounds with shared playground equipment if possible; otherwise, stagger use and clean and disinfect between use.
Have children bring their own meals as feasible, or serve individually plated meals in classrooms instead of in a communal dining hall or cafeteria
Ensure that student and staff groupings are as static as possible by having the same group of children stay with the same staff.
Add physical barriers, such as plastic flexible screens, between bathroom sinks especially when they cannot be at least 6 feet apart.
Limit any nonessential visitors, volunteers, and activities involving external groups or organizations as possible.
Clean and disinfect frequently touched surfaces (e.g., playground equipment, door handles, sink handles, drinking fountains) within the school and on school buses at least daily or between use as much as possible.
Teach and reinforce handwashing with soap and water for at least 20 seconds and increase monitoring to ensure adherence among students and staff.

If soap and water are not readily available, hand sanitizer that contains at least 60% alcohol can be used (for staff and older children who can safely use hand sanitizer).

Educate staff and families about when they/their child(ren) should stay home and when they can return to school.
Staff and students should stay home if they have tested positive for or are showing COVID-19 symptoms.
Staff and students who have recently had close contact with a person with COVID-19 should also stay home and monitor their health.
Last week, Governor Brian Kemp and State School Superintendent Richard Woods announced the creation of six K-12 Restart Working Groups to address the impact of the COVID-19 pandemic on Georgia's K-12 schools and plan for a safe 2020-21 school year.
K-12 RESTART WORKING GROUPS – MEMBERS
School Meals
​Dr. Linette Dodson, GaDOE School Nutrition Director (Chair)
Paige Holland, GaDOE School Nutrition Program Manager
Alyssia Wright, Executive Director – Food & Nutrition Operations, Fulton County Schools
Courtney Hart, Director of School Nutrition, Hart County Schools
Kim Kiker, Director of School Nutrition, Calhoun City Schools
Keshia Williams, Director of School Nutrition, Coweta County Schools
Tessany Lockhart, Georgia School Nutrition Association
Kathy Kuzava, Georgia Food Industry Association
Misty Friedman, Georgia Department of Agriculture
Kyle Waide, Atlanta Community Food Bank
Distance Learning/Professional Learning
​Dr. Caitlin Dooley, GaDOE Deputy Superintendent of Teaching and Learning (Chair)
Dr. Keith Osburn, GaDOE Associate Superintendent for Georgia Virtual Learning
Dr. Zelphine Smith-Dixon, GaDOE Director of Special Education Services and Supports
Mike Duncan, Superintendent, Pike County Schools
Dr. Karen Barker, Professional Learning Facilitator, Coweta County Schools
Melanie Harwell, Instructional Technology Coordinator, Calhoun City Schools
Dr. April Aldridge, Assistant Superintendent for K-5 Curriculum, Decatur County Schools
Nic Carroll, Director of Digital Learning, Columbia County Schools
Tracey Pendley, 2020 & 2021 Georgia Teacher of the Year, Atlanta Public Schools
Allison Townsend, 2019 Georgia Teacher of the Year, Fulton County Schools
Casey Bethel, 2017 Georgia Teacher of the Year, Douglas County Schools
Karen Hallacy, President of Georgia PTA
Laura Evans, Director of Education, Georgia Public Broadcasting
Buddy Costley, Executive Director, Georgia Association of Educational Leaders
Deborah White, Executive Director, Georgia Association of Curriculum & Instructional Supervisors
 Connectivity and Devices
​Jannine Miller, Office of the Governor (Chair)
Chris Shealy, GaDOE Director of Technology Services
Michele Taylor, Superintendent, Calhoun City Schools
Tim Cochran, Superintendent, Decatur County Schools
Dr. Jason Branch, Superintendent, Oconee County Schools
Jim Farmer, Chief Technology Officer, Fayette County Schools
Diane Jacobi, Georgia PTA
Joy Hawkins, Executive Director, Governor's Office of Student Achievements
Representative of the Georgia Telecommunications Association
Representative of the Georgia Department of Community Affairs
Mental Health and Wellness
Ashley Harris, GaDOE Director of Whole Child Supports & Strategic Partnerships (Chair)
Cheryl Benefield, GaDOE Program Manager for Safe & Supportive Schools
Beverly Stewart, Director of Student Support Services, Bibb County Schools
Dallas LeDuff, Director of Student Services, Oconee County Schools
Dr. Kenya Gilmore, Director of Project Aware, Muscogee County Schools
Chelsea Montgomery, Executive Director of Counseling, Psychological & Social Work Services, Fulton County Schools
Dr. Deborah Williams, Assistant Superintendent, Columbia County Schools
Evan Horton, Incoming Superintendent, Coweta County Schools
Dawn Stastny, President Elect of Georgia PTA
Erica Fener Sitkoff, Executive Director, Voices for Georgia's Children
Dante McKay, Director of the Office of Children, Young Adults, & Families, Georgia Department of Behavioral Health and Developmental Disabilities
Teresa Hearn, Regional Wraparound Coordinator, Pioneer RESA
Leslie Myles, Communities in Schools of Georgia
​Supplemental Learning
​Shaun Owen, GaDOE Deputy Superintendent of Federal Programs (Chair)
Deidre Smith, GaDOE Program Manager for 21st Century Community Learning Centers
Lori Rodgers, Assistant Superintendent of District Effectiveness and Federal Programs, Bibb County Schools
Amy Barger, Assistant Superintendent of Teaching & Learning, Fulton County Schools​
Katrina Cook, Director of Special Education, Hart County Schools
Michele Sherman, Assistant Superintendent, Columbia County Schools
Ernie Lee, 2016 Georgia Teacher of the Year, Savannah-Chatham County Public Schools
Lauren Holcomb, Executive Director, State Charter Schools Commission
Katie Landes, Director, Georgia Statewide Afterschool Network
Emily Carter, Boys & Girls Clubs of Metro Atlanta
Dr. Randell Trammell, President & CEO, YMCA of Georgia
Dr. Kenneth Zeff, Executive Director, Learn4Life
Facilities, Transportation, and Equipment
Dr. Garry McGiboney, GaDOE Deputy Superintendent for School Safety & Climate (Chair)
Pat Schofill, GaDOE Director of Facilities Services and Pupil Transportation
Paul Hildreth, Emergency Operations, Fulton County Schools
Dr. Jody Barrow, Superintendent, Fayette County Schools
Sam Kitchens, Executive Director of Capital Programs, Bibb County Schools
James Odom, Director of Plant Services, Muscogee County Schools
Chris Latimer, Comptroller, Coweta County Schools
David Seagraves, Director of Operations, Hart County Schools
Cliff Sanders, Director of Facilities Maintenance and Operations, Columbia County Schools
Sara Kroening, Chief Nursing Officer, Georgia Department of Public Health
Bert Brantley, Georgia Department of Economic Development
Harlan Proveaux, Deputy Director, Georgia Emergency Management & Homeland Security Agency (GEMA/HS)​​