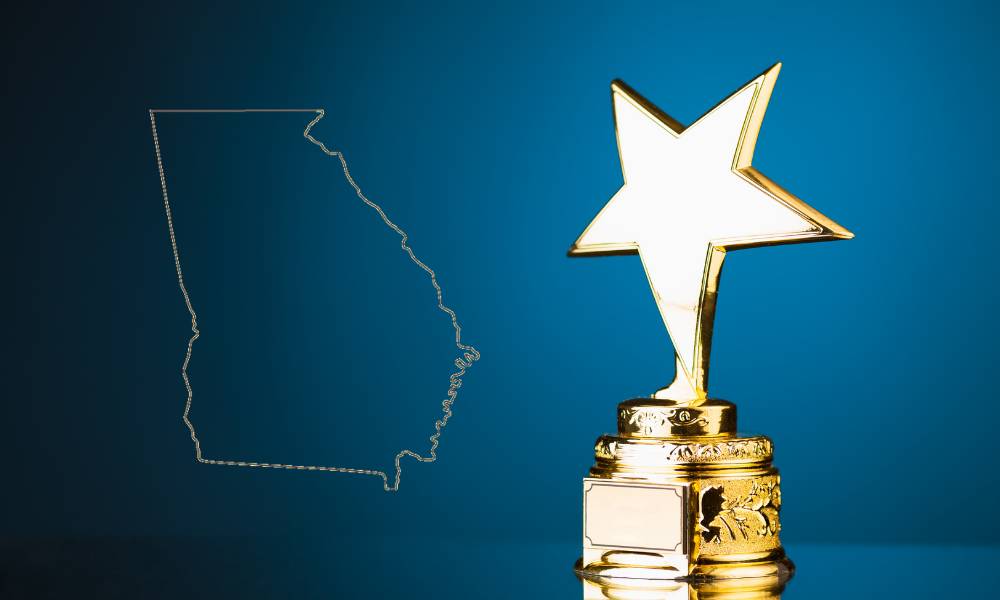 Two Georgia public-school employees have been named the winners of the first-ever Georgia RISE Award, which honors classified school employees, Governor Brian P. Kemp announced this week.

Mr. Harold Quarterman, the Lead Custodian at Montgomery County Middle/High School, and Officer Lee Peck, the School Safety/Resource Officer at North Columbia Elementary School, are the 2020-21 winners of the Georgia RISE Award and will be submitted as Georgia's nominees for the national RISE Award.
"There are many unsung heroes in Georgia's K-12 schools, making sure everything runs smoothly so our children can receive an excellent education," said Governor Kemp. "Harold Quarterman and Lee Peck are two of those heroes. I was incredibly impressed with their credentials, the extra weight of service they have taken on during our fight against COVID-19, and – most of all – their care for students. I am honored to award the first Georgia RISE Award to these two outstanding individuals."
"Harold Quarterman and Lee Peck represent the best of the best of Georgia's public schools," said State School Superintendent Richard Woods. "I don't think any Georgian could read about the contributions they've made to students – particularly during the COVID-19 pandemic – without being moved to gratitude. As a teacher and principal, I saw firsthand how classified employees keep Georgia's schools moving forward, and I'm thrilled to see them gaining this recognition at the state and national level."
For the first time in spring 2021, the U.S. Department of Education will award the Recognizing Inspirational School Employees (RISE) Award to a full- or part-time classified school employee who provides exemplary service to students in pre-kindergarten through high school.
The governor of each state was invited to nominate up to two classified school employees. Georgia ran a state-level process, the Georgia RISE Award, to select its nominees.
As winners of the state-level award, Mr. Quarterman and Officer Peck will have been nominated for the national award and will be recognized at the Georgia Teacher of the Year awards banquet in 2021.
All schools and districts were invited to submit a nominee for the Georgia RISE Award. Nomination forms were reviewed by a panel of judges composed of representatives from the Georgia Department of Education, the Governor's Office of Student Achievement, and numerous advocacy groups. The highest-scoring applications were presented to Governor Kemp, who made the final selection of two nominees.
Employees in the following job categories are eligible for consideration for the Georgia RISE Award. These categories are set in statute for the national award: paraprofessional, clerical and administrative services, transportation services, food and nutrition services, custodial and maintenance services, health and student services, technical services, and skilled trades.
Mr. Harold Quarterman is Lead Custodian for Montgomery County Middle/High School in Montgomery County Schools. Mr. Quarterman began working for the school system after graduating from Montgomery County High School himself, and has served for 43 years. He demonstrates the highest level of commitment and skill in his efforts to provide a clean, safe environment for students and, during the COVID-19 crisis, has dedicated extra hours to disinfecting classrooms and common spaces.
Mr. Quarterman is a pillar of the community. He has served on the Mount Vernon City Council for many years and, on Fridays, can be found at football or basketball games cooking for the Booster Club concession stands. He spends his time on Saturdays landscaping and cutting grass at the homes of elderly residents, at no cost to them. He is a Steward and an active member of St. Johns AME Church in Ailey. He also serves as a mentor for students, assigning them special work projects and leading them to success. A city park in Mount Vernon bears his name, in honor of his positive influence on youth in the community.
Montgomery County Superintendent Hugh Kight describes Mr. Quarterman as his "right hand" and says he has total trust in his work ethic and passion for success. Henry Price, Vice-Chair of the Montgomery County Board of Education, wrote in a recommendation: "As I sit and type this letter, I am reminded of all the times I had conversations with Mr. Quarterman during my school years. He was the rock when he knew you had lost someone special, the parent that told you to act right before you got into trouble, and the friend that listened to your cares. This was not just with me, but every single child that he came into contact with. In my adult years, Mr. Quarterman has continued to be that voice of guidance and understanding."
Officer Lee Peck is a School Safety/Resource Officer at North Columbia Elementary School in Columbia County Schools. Peck goes above and beyond to keep students safe and foster a welcoming environment, and prides himself on building a relationship with every student.
Every morning, Officer Peck stands outside and greets students by name as they arrive at school. Afterward, he continually walks the perimeter of the school to ensure the safety of students, teachers, and staff. During the day, he assists with problem-solving related to the safety and security of students.
Officer Peck goes above and beyond to assist others while performing his own duties as well. He may be seen wiping tables during lunch duty, or offering assistance to teachers or custodians. During the pandemic, North Columbia Elementary has implemented safety protocols such as fogging restrooms and common areas. Officer Peck was one of the first to volunteer for this training; instead of complaining about the extra duty, he can be seen wearing the fogging backpack and singing the "Ghostbusters" theme song as he works to keep students safe. A graduate of North Columbia Elementary himself, Officer Peck consistently attends school functions – including plays, musicals, the school carnival, and the school art show – so students feel his support. Two years ago, he planned the school's first annual Mother/Son Game Night.
Amy Williamson, an instructional specialist at North Columbia Elementary, wrote in a recommendation: "Officer Lee Peck is the perfect example of an elementary school safety officer. His enthusiastic character and positive work ethic are impressive and are such an inspiration to the faculty, staff, and students of NCE."