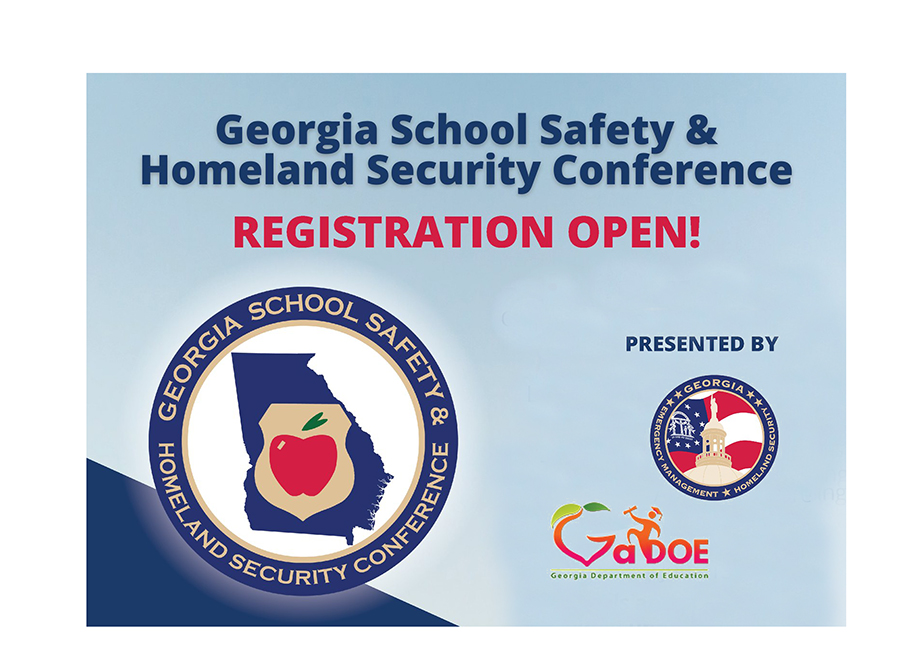 The Georgia Emergency Management and Homeland Security Agency, in partnership with the Georgia Department of Education, will be hosting the 2022 Georgia School Safety & Homeland Security Conference on June 21-23 in Columbus, Ga.
Formerly known as the 'Safety in our Schools' conference, the Georgia School Safety and Homeland Security Conference is the state's premiere and longest running conference for school safety.
The conference will be at the Columbus Convention and Trade Center. Registration is open to teachers, school administration officials, school counselors, school resource officers, public safety personnel, law enforcement and emergency management personnel.
"This conference is an important and vital resource to help keep our schools and communities safe," said GEMA/HS Deputy Director Harlan Proveaux. "It also provides an opportunity for education officials to learn more about how they can prepare, prevent and respond to emergencies in schools."
The Georgia School Safety and Homeland Security Conference started in 2009 and has since grown to a three-day event with over 500 participants learning first-hand experience from the state's education and public safety personnel.
"For the first time in over 10 years, we will have three full days of subject matter experts teaching topics from communications in emergency situations, case studies from prior incidents, behavioral threat assessment training and law enforcement leadership training," said Proveaux.
The conference will also be adding important Homeland Security learning opportunities to this year's lineup. The 2022 Georgia School Safety and Homeland Security Conference is the only learning opportunity in the state to offer this type of expertise.
There is a $150 registration fee, and each attendee must register individually. Online registration information for attendees can be found at www.gaschoolsafety.com. For more information about GEMA/HS's involvement in school safety, visit gema.georgia.gov/what-we-do/school-safety.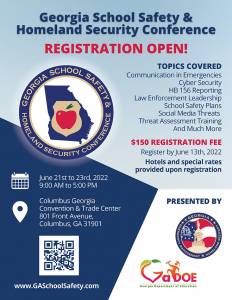 ---
As part of the Office of the Governor, the Georgia Emergency Management and Homeland Security Agency collaborates with local, state and federal governments in partnership with private sector and non-governmental organizations to protect life and property against man-made and natural emergencies. GEMA/HS's Ready Georgia website and preparedness campaign provides Georgians with the knowledge needed to effectively prepare for disasters. Go to gema.georgia.gov/plan-prepare/ready-georgia for information on developing a custom emergency plan and Ready kit.