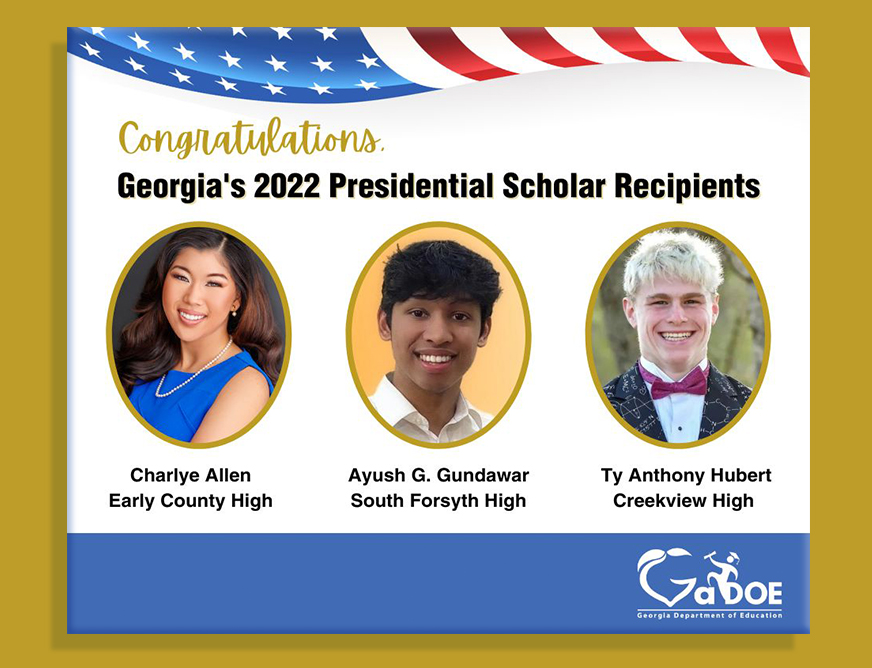 Three Georgia students were recently recognized as U.S. Presidential Scholars, a prestigious honor for the nation's most distinguished graduating high school seniors.

Charlye Allen of Early County High School, Ayush G. Gundawar of South Forsyth High School, and Ty Anthony Hubert of Creekview High School were recognized with the award.
"I am extremely proud of Charlye, Ayush, and Ty for their recognition as U.S. Presidential Scholars," State School Superintendent Richard Woods said. "These three students have pursued excellence in academics and in life, and they are outstanding representatives of our state. I know each will achieve great success in the future."
The U.S. Presidential Scholars Program was established in 1964, by executive order of the President, to recognize and honor some of our nation's most distinguished graduating high school seniors. Students are recognized for general academic achievement; for exceptional talent in the visual, creative, and performing arts; or for ability and accomplishment in career and technical education fields. Each year, up to 161 students are recognized as Presidential Scholars; it is one of the nation's highest honors for high school students.
Charlye Allen is a graduating senior at Early County High School in the Early County School System. She is the State STAR Student Runner-Up, a National Equitable Excellence Scholar, and a National InspirASIAN Scholar. Charlye is a member of Superintendent Woods' Student Advisory Council, the State DAR Good Citizen, and the Distinguished Young Woman of Georgia First Honoree. Charlye was named Miss ECHS, having served as Yearbook Editor, Student Body Vice President, President of HOSA and Science Club, and as an officer in Beta Club and other campus organizations. Charlye has won all-region tennis honors and has been a varsity cheerleader and cross-country runner. Her projects have received multiple awards in the Georgia Science and Engineering Fair, including the Regional Grand Award and State Best in Category. Charlye works as a journalism intern with the Early County News. Her volunteer service includes Early County Youth Leadership, Community Handbell Choir, hurricane recovery, pandemic relief, and rural school advocacy.
Ayush G. Gundawar is a graduating senior at South Forsyth High School in Forsyth County Schools, and a Dual Enrollment Computer Science student at the Georgia Institute of Technology and Georgia State University. He received first place in the 2019-20 FBLA National Leadership Conference and Georgia State Leadership Conference in E-Business, and served as Vice President of South Forsyth High School FBLA, State Ambassador of Georgia FBLA, and Youth Commissioner in Forsyth County. Ayush is also the Founder and CEO of LearnForsyth, a registered nonprofit created to assist struggling students by providing them with free, hands-on tutoring in any subject on-demand or on a recurring basis, and to provide volunteer opportunities for high school and college students to give back to their communities.
Ty A. Hubert is a graduating senior at Creekview High School in the Cherokee County School District. He is the Senior Class President, President of the Rho Kappa National Social Studies Honor Society, and Team Captain of the varsity lacrosse and football teams. He was selected for the Congress of Future Medical Leaders Award of Excellence and is a Heisman High School Scholarship school winner. Hubert is also a member of the National Honors Society, Science National Honors Society, Beta Club, and Mu Alpha Theta. He has amassed over 40 tutoring hours his senior year through clubs and individual experiences. Hubert will attend the United States Air Force Academy in the fall.​