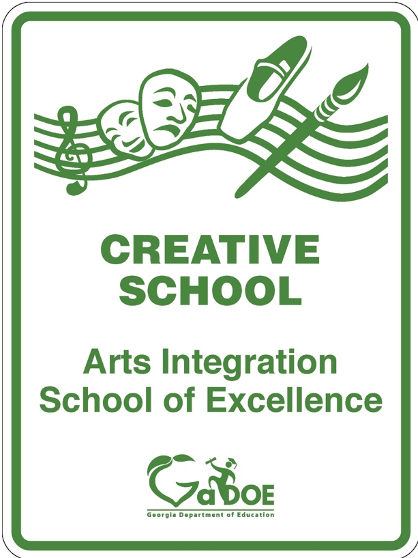 The Georgia Department of Education has recognized three schools with its new Creative School Arts Integration School of Excellence Award.
This year's winners are Henderson Mill Elementary School in DeKalb County Schools; SAIL (School for Arts Infused Instruction), a State Charter School; and North Metro Academy in Gwinnett County Schools.
The winners are schools where all students have access to arts integration in every subject and there is both rigor and relevance in the arts integration programming. Arts integration professional development is ongoing, the program is well-organized, and the school involves the community in the arts.
"We believe the arts are an essential part of a well-rounded education, that they are valuable on their own and that they enhance learning in other subject areas," State School Superintendent Richard Woods said. "This award recognizes schools who are going above and beyond to integrate the arts into their students' day-to-day learning experience."
All K-12 public schools in Georgia were invited to apply for the award.
Arts integration allows students to synthesize content and create new meanings, ideas, and solutions. The purpose of the Creative Schools Arts Integration School of Excellence Award is to promote arts integration as a way to increase engagement and learning, in and out of the arts classroom.
"We are thrilled to be able to recognize these schools for their dedication to providing both high-quality arts integration in all subject areas, and arts education to all students," GaDOE Fine Arts Manager Jessica Booth said.
School Spotlights
 
Henderson Mill Elementary School
As the Georgia Department of Education's first STEAM-certified school, Henderson Mill Elementary prioritizes the full daily integration of the fine arts into all content areas. Through a partnership with the Alliance Theatre Arts Education Institute, teaching artists visit every class multiple times each year and equip teachers with theatrical concepts to use in the classroom, such as scriptwriting, creative movement, music, tableau, and costuming.
At Henderson Mill, where 47 percent of students speak a second language at home and 29 percent receive ESOL instruction, the fine arts have brought the school community together.
"By integrating the [project-based learning] and the arts into our daily work, we have removed the language-learning barrier for a significant part of our school population, giving everyone a universal language that can be used in many ways to learn and demonstrate learning," school staff wrote in their application. "For example, second graders at HMES might be found creating a mixed media map while learning about topography; kindergarteners create a song about community helpers; first-graders act out the water cycle through the use of tableau."
SAIL (School for Arts Infused Learning)
The arts integration model is available to each student at SAIL, and the school charter requires that 90 percent of students engage in arts-infused learning for at least 45 percent of the academic school day. Students have also been afforded the opportunity to create their own art through Square 1 Art; compete in the Mind Frame STEAM competition and the 4-H Milk Made Contest; and participate and compete through Beta Club, the Hallo Mask Contest, and in writing contests both locally and nationally. Every scholar attending SAIL participates daily in arts-infused lessons.
Grade-level teams and encore teachers also plan collaborative lessons they will integrate throughout the month's curriculum. These lessons are executed by both teachers, to provide the best learning environment and instruction. The lessons are geared toward teaching core material through the arts, in the most creative, interactive, and engaging way possible.
SAIL's arts teachers, past and present, are highly qualified in their specific area (dance, music/media arts, visual art, kinesiology, and drama).
SAIL prides itself on helping all teachers better integrate the arts through co-teaching opportunities, which help to better integrate critical thinking and arts infusion into the curriculum.
North Metro Academy
North Metro Academy integrates the performing arts into rigorous, standards-aligned academic curriculum across content areas. The arts integration program is community-driven and features visual arts, music, dance, theater, and physical education.
School administrators and instructional coaches meet with classroom teachers twice a week to analyze and provide lesson plan feedback. The performing arts team plans collaboratively to review and analyze fine arts plans, and teachers collaborate with the fine arts team to discussed project-based learning unites and request suggestions and ideas for teaching and re-teaching skills and concepts using different modalities, methods, and strategies.
Teachers also participate in additional training provided through Gwinnett County Public Schools. All teachers are required to participate in at least 20 hours of professional development, including collaboration groups where teachers work together on lesson design, best practices, and timely projects and activities.​