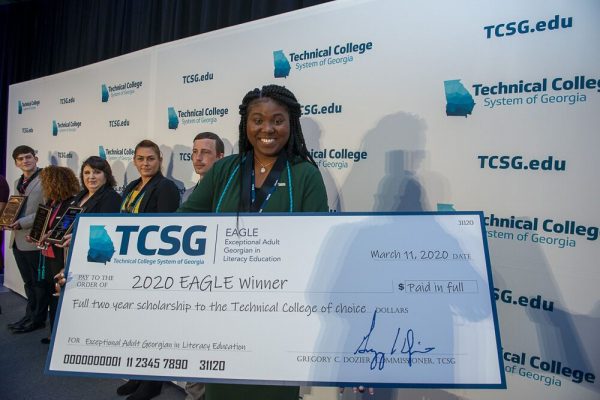 Hannah Hadley from Wiregrass Georgia Technical College is named 
Georgia's adult education student of the year
The Technical College System of Georgia (TCSG) has recognized 26 adult learners with the 27th annual Exceptional Adult Georgian in Literacy Education (EAGLE) Award for outstanding achievement in the state's adult education program. Hannah Hadley, a delegate from Wiregrass Georgia Technical College, was named as TCSG's 2020 adult education student of the year.

TCSG State Board Chairman, Doug Carter and TCSG Assistant Commissioner for Adult Education, Dr. Cayanna Good, presented the awards during an event at the Renaissance Atlanta Waverly Hotel in Atlanta on March 11th.
"The 26 students that we are celebrating today are a testament to the transformative power that adult education has on thousands of lives in Georgia," said TCSG Commissioner Greg Dozier. "Through hard work and determination, our 2020 EAGLE winners are improving their lives and making a lasting impact in their communities."
Hannah, who was selected by a panel of judges from business and education, will receive a full scholarship to the technical college of her choice. In addition, her fees and books will be paid for through a stipend from the Brenda Wise Scholarship Fund, established in 2014 in memory of Brenda Wise, a lifelong supporter of adult education.
Over the coming year, Hannah will travel the state as Georgia's EAGLE ambassador for adult education, speaking to students, civic groups, legislators, and others about literacy and lifelong learning.
The runner-up for the adult education student of the year is Victoria Ida Nelson from Savannah Technical College. Winner of the "Spirit" award is Javier Nelloms from Atlanta Public Schools. More than 400 guests applauded the students for overcoming obstacles that once stood in the way of their education and then excelling in the classroom while preparing for their GED® credentials.
"Our EAGLE students are some of the most inspiring people I have ever met in my life," said Dr. Cayanna Good. "When I hear their personal stories and the challenges many of them overcame to get where they are today, it's a reminder of what's possible when we come together to assist students in reaching extraordinary heights."
TCSG's EAGLE Award recognizes and honors students from throughout the state who have demonstrated exceptional achievement in TCSG's adult education programs. Nearly 48,000 men and women took part in Georgia's adult education programs last year. Each March, the local EAGLE winners are the guests of a three-day conference in Atlanta that ends with a lunch banquet in their honor.
The complete list of the EAGLE delegates for 2020 follows:
Sherry Ann Scaff, Albany Technical College
Lawrence Williams, Athens Technical College
Javier Nelloms, Atlanta Public Schools
Maya Smith, Atlanta Technical College
Malinda Winburn, Augusta Technical College
Emanuel Clark, Central Georgia Technical College
Denise James, Chattahoochee Technical College
Michael Lovett, Clayton County Public Schools
Robert Tyler Harper, Coastal Pines Technical College
Noah Thomas, Cobb County School District
Takara Thomas, Columbus Technical College
Brandon Dyer, Georgia Northwestern Technical College
Ruth Michael, Georgia Piedmont Technical College
Gonzalo Martinez, Gwinnett Technical College
Farrah Smith, Lanier Technical College
JR Russell, Literacy Action
Vincent Sandlin, North Georgia Technical College
Christopher Fisher Horton, Oconee Fall Line Technical College
Makika Kelly, Ogeechee Technical College
Victoria Ida Nelson, Savannah Technical College
Minh Nguyen, South Georgia Technical College
Brittani Thompson, Southeastern Technical College
William Hendon, Southern Crescent Technical College
Angela Chouinard, Southern Regional Technical College
Katelynn Hendricks, West Georgia Technical College
Hannah Hadley, Wiregrass Georgia Technical College