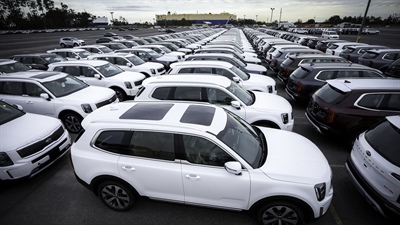 —Kia Motors Manufacturing Georgia (KMMG) recently donated $45,000 to the Technical College System of Georgia (TCSG) Foundation to support students throughout Georgia's technical colleges. A portion of the funds go directly to the Last Mile Fund to benefit student retention within TCSG.
"With the Last Mile Fund, we can provide much-needed support to students who would otherwise not be able to continue their educational goals due to financial barriers," said TCSG Commissioner Matt Arthur. "Keeping a student on track to graduate and become gainfully employed is our primary goal at TCSG. We are extremely grateful for our partnership with Kia and their continued investment in our students."
"Great partners like the Technical College System of Georgia are a big part of Kia Motors Manufacturing Georgia's success," said Stuart C. Countess, Chief Administrative Officer for KMMG. "We have seen first-hand the tremendous impact a technical college education can have on a student's life, not to mention the advanced skills that student then brings to industries like ours."
In addition to contributing to the Last Mile Fund, a portion of the donation will support the Georgia Occupational Award for Leadership (GOAL) Program. GOAL celebrates technical college students' excellence in technical education and outstanding personal achievement. A panel of judges selects one student from each of Georgia's 22 technical colleges to serve as the statewide ambassador for technical education.