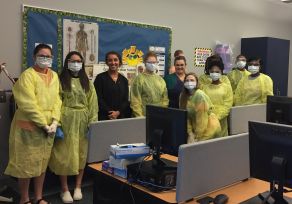 Oconee Fall Line Technical College (OFTC) recently hosted its second summer Health Career Camp for high school students interested in healthcare careers, June 17-20 in Dublin. The camp was sponsored by the Magnolia Coastlands Area Health Education Center. 
The students spent four days exploring different careers in healthcare and even participated in hands on activities related to those fields. 
On day one camp participants heard from healthcare professionals including CSB of Middle Georgia Counselors, ABC Women's Clinic, child life specialists, and Southeastern Technical College's dental hygiene program. 
The high school students toured several OFTC Allied Health programs on day two – Practical Nursing, Respiratory Care, Radiologic Technology, Medical Assisting and Pharmacy Technology – and performed hands-on activities in each program. 
Day three was spent at Fairview Park Hospital in Dublin. The students toured the facility, learning its facts and history; listened as the hospital professionals shared information about different positions within a hospital; toured the emergency room; got an inside look at the radiology department from a former OFTC graduate, Chris Kersey, FPH's Director of Radiology; and toured the Fairview Park Fitness center. 
The final day of camp was spent reflecting on all the students had learned and how those things could shape their future career choices. "Our students were encouraged to continue researching possible career choices during their high school years," shared OFTC Student Navigator, Geri Clements. "We enjoyed having them on our camps and we hope they remember OFTC is always here for them!" 
For more info on OFTC's Allied Health programs or healthcare careers, visit the College website, OFTC.edu. 
This is a press release from OFTC.