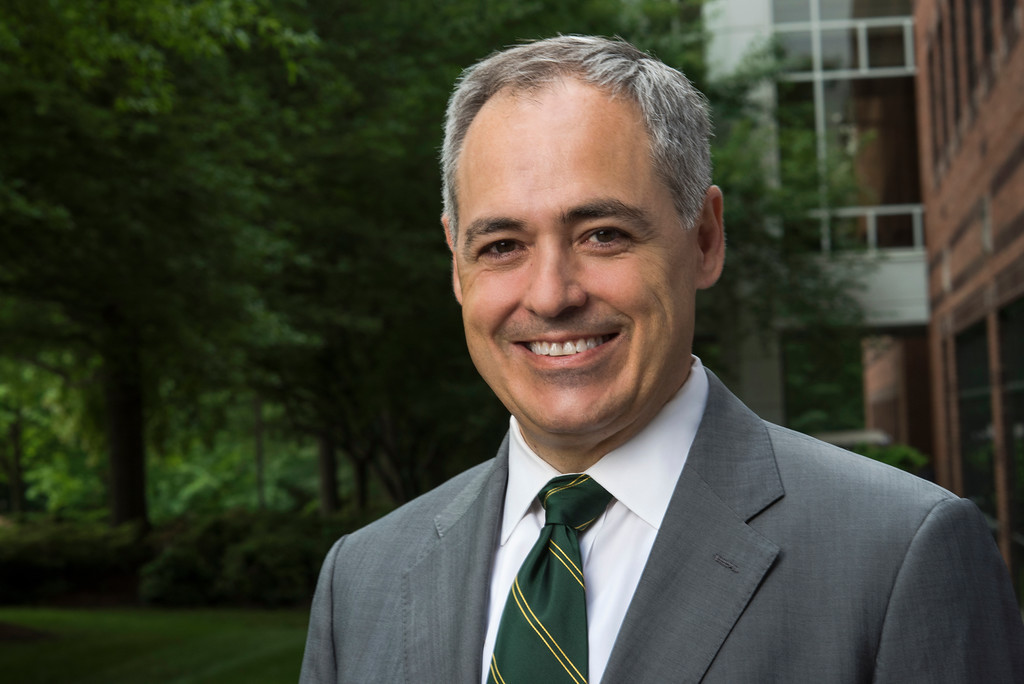 The Board of Regents of the University System of Georgia (USG) recently announced Dr. Ángel Cabrera as finalist for the Georgia Tech presidency. Cabrera is currently president of George Mason University, a top-tier research institution and the largest public university in Virginia.
"Dr. Ángel Cabrera has the academic background, leadership skills and community ties necessary to lead a premier research institution like Georgia Tech," said Chancellor Steve Wrigley. "His strong record of improving student outcomes, increasing enrollment, strengthening research and enhancing stakeholder partnerships will enable him to successfully advance the priorities and meet the needs of the Georgia Tech campus community. I am pleased he's been selected as the finalist for president, and I am grateful for the hard work of the search committee."
Since Cabrera's 2012 appointment as president of George Mason, the university has accounted for more than half of all enrollment growth in Virginia, increased student academic strength and outcomes, and joined the top tier of research universities in the Carnegie classification. It has established the Schar School of Policy & Government, the Institute for Biohealth Innovation, a U.S. Dept. of Homeland Security Center of Excellence, the Potomac Center of Environmental Studies, the Point of View Center for Conflict Analysis and Resolution and a campus in South Korea.
"Dr. Cabrera is a Georgia Tech alumnus with extensive experience in higher education, making him an excellent choice to continue building upon the institution's strong foundation," said Board of Regents Chairman Don Waters. "I look forward to the next step in this process and to ensuring Georgia Tech's next president will continue moving this top ten public institution forward."
Under Cabrera's leadership, George Mason University has established partnerships to expand online programs and international recruitment, built several new facilities, adopted a new budget system and received a credit rating upgrade. Philanthropic contributions have more than doubled, and a $500 million campaign was successfully completed in December with a total of $690 million.
"The search committee spent several months reviewing and interviewing a deep pool of highly-talented individuals from across the country," said Board of Regents Search Committee Chairman Ben Tarbutton III. "The national search was exhaustive and exciting, and I am deeply thankful for the dedication, time and energy of our committee members which allowed us to vet and nominate the most qualified candidate for the job."
Cabrera serves on the boards of the National Geographic Society, the Federal Reserve Bank of Richmond (where he chairs the Federal Reserve System National IT committee), the Bankinter Foundation for Innovation, the Northern Virginia Technology Council and Inovio, a publicly traded biotech company. He sits on the Georgia Tech Advisory Board (which he chaired in 2011) and the Council for the International Exchange of Scholars (Fulbright program). He is also a member of the Council on Foreign Relations and has served on the board of NSF's Education and Human Resources directorate, the academic board of Tec de Monterrey, as chairman of International Initiatives of the Association of Public and Land Grant Universities and past chairman of Virginia's Council of Presidents.
"I am honored to be considered for this position," Cabrera said. "Georgia Tech is very special to me. My wife and I met there and our son is a recent graduate. It would be a privilege to lead such a great institution."
Cabrera earned his Ph.D. and M.S. in cognitive psychology at Georgia Tech—which he attended as a Fulbright Scholar—and his B.S. and M.S. in computer and electrical engineering at Universidad Politécnica of Madrid, which has awarded him an Honorary Doctorate. Prior to Mason, Cabrera led Thunderbird School of Global Management (now part of Arizona State University) and IE Business School in Madrid. He has been recognized as a Young Global Leader by the World Economic Forum, a Henry Crown Fellow by the Aspen Institute, and as a Great Immigrant by Carnegie Corporation.
He is married to management scholar and Georgia Tech classmate Beth and is the father of Alex (a recent graduate from Georgia Tech and incoming Ph.D. student at Carnegie Mellon University) and Emilia (a rising junior at Harvard). He is the first Spanish-born president of an American university.
The Board of Regents will take final action on the selection of the next president of Georgia Tech at a future meeting following the required five business days.
This is a press release from the University System of Georgia.