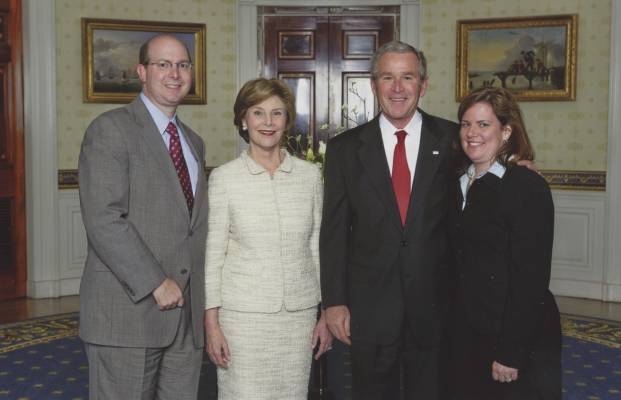 Make every minute count.
That's the advice University of West Georgia alumnus Rob Hood has for current and prospective UWG students. He should know: from flying in Air Force One with the president of the United States to interacting with renowned animal researcher Jane Goodall, Hood has made a lot of minutes count.
Hood, a 1992 graduate with a degree in political science, is the assistant secretary of defense for legislative affairs in Washington, D.C. Hood learned about UWG, then called West Georgia College, at a college fair and decided to apply. That decision, and the opportunities it provided, directed his career path in politics.
"I had a great experience at [UWG] and made several great friends," Hood began. "But more importantly, I found my calling in politics and government service. I don't believe I would be working in Washington, D.C. if it were not for the opportunities I had at West Georgia."
As a student at West Georgia, Hood became politically active and joined the College Republicans.
"If it were not for a chance encounter with a student who was recruiting for the College Republicans at the Student Center between classes, I would have never found the path I have now been on for the last 28 years," Hood said.
As a member of the College Republicans, Hood met the lone Republican member of Congress from Georgia at the time, Congressman Newt Gingrich, who had been a professor at West Georgia years earlier. That relationship opened the door into politics that led him to Washington.
"Election night 1994 with Congressman Gingrich, where I was working in the 'war room' at the Galleria Center in Cobb County and had a front-row seat watching history being made as the Republicans took control of the House of Representatives for the first time in 40 years was a night I will never forget," Hood continued.
Hood also remembers the professors who inspired him and helped shape his career.
"Dr. Steve Hanser was by far my favorite professor," Hood said. "His military history classes were amazing. And I spent a lot of time with Dr. Mel Steely while I chaired the College Republicans. And finally, Dr. Don Wagner, who began the program of bringing students to Washington."
Hood's career in Washington has spanned over several positions, including serving for the Speaker of the House of Representatives, a governor, six cabinet secretaries, a Fortune 500 company and the president of the United States.
In these positions, Hood has had many memorable opportunities and privileges, such as meeting people like animal researcher Jane Goodall while working for Gingrich and spending a week in a Costa Rican jungle as a congressional staffer on a biodiversity research and educational trip.
"Flying into Baghdad during the height of the surge in 2007, suiting up in body armor and taking a helicopter to Ramadi where we drove around in MRAPs as we escorted members of Congress to see firsthand what was happening was definitely an experience," Hood remembered. "And flying on Air Force One with President George W. Bush – what an amazing experience to be on that historic airplane."
Hood encouraged UWG students to be active in what they are passionate about, adding that "sitting on the sidelines is a waste of time" that one can't get back.
"None of this would have been possible if not for my involvement with the College Republicans at WGC," he said. "Make every minute count. Push yourself outside of your comfort zone and try things that will stretch you to your limits."
By Sheryl Marlar of the University of West Georgia