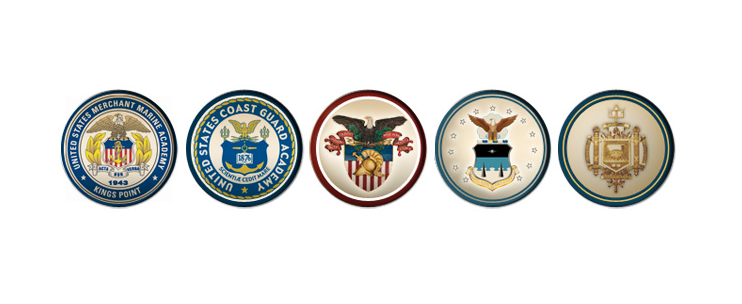 U.S. Senator David Perdue (R-GA), a member of the Senate Armed Services Committee, 

has

 announced that 23 Georgia students nominated by his office will attend U.S. military service academies this fall.
"Being admitted to a military service academy is an extremely high honor," 
said Senator Perdue.
 "Each of these students has demonstrated academic excellence, physical prowess, and the determination of a leader. More than that, they have demonstrated the moral and ethical values it takes to succeed in our armed services. I have no doubt they will rise to meet the challenges of our time. Congratulations to each of these students, as well as their families and mentors. I wish them the very best as they prepare to become leaders in the U.S. military."
Members of Congress are tasked with nominating students to attend our nation's military academies annually. Nominees who are then appointed to the academies are awarded full four-year scholarships that include tuition, books, room and board, and medical and dental care in exchange for military service upon graduation.
An additional student was accepted into the U.S. Merchant Marine Academy Preparatory School, which does not require a congressional nomination.
The students are listed below:
U.S. Air Force Academy
Kathleen Geyer – Thomasville High School Scholars Academy, Thomasville
Jasmine Jacob – Forest Park High School, Morrow
Colby McRae – Upson-Lee High School, Thomaston
Vyvy Nguyen – Morrow High School, Morrow
Madigan Starr – Columbus High School, Midland
U.S. Naval Academy
Brian Bird – North Atlanta High School, Atlanta
Sarah Goins – Starr's Mill High School, Fayetteville
Jacquelyn "Jackee" Gwynn – Brookwood High School, Snellville
Jennifer Harnage – Hilgrove High School, Marietta
Gavin Kim – Allatoona High School, Acworth
Luke King – Brookstone High School, Columbus
Dwight Kinney – Cherokee High School, Canton
Zachary "Zach" Quick – Newnan High School, Newnan
Elizabeth "Mae" Shippen – Pace Academy, Atlanta
Robert "Matthew" Peters – Cairo High School, Cairo
U.S. Military Academy at West Point
Jackson Filipowicz – Blessed Trinity Catholic High School, Alpharetta
Autumn "Gracee" Keaton – Haralson County High School, Temple
Kaitlin Palaian – Henry W. Grady High School, Atlanta
Jared Ryley – Wheeler High School, Marietta
U.S. Merchant Marine Academy
Meredith Buchanan – Veterans High School, Kathleen
Will LeFort – Westside High School, Augusta
William "Connor" Pitts – East Paulding High School, Dallas
David Rivera – Pickens High School, Ball Ground
U.S. Merchant Marine Academy Preparatory School
ShaCameon Wilson – Albany State University, Albany