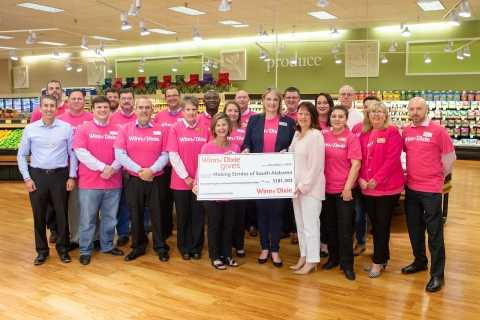 Donation builds on an eleven-year partnership with more than $500,000 in contributions
Winn-Dixie recently announced a mega-donation to the American Cancer Society Making Strides Against Breast Cancer.
Through donations from customers and associates, Winn-Dixie sent a donation of $181,303 to the American Cancer Society Making Strides Against Breast Cancer. This donation builds upon the partnership between Making Strides Against Breast Cancer and Winn-Dixie, bringing the overall donation amount to more than $500,000 over the life of the partnership.
From a press release issued from the grocer:
Recognizing the importance of supporting stronger communities, Winn-Dixie expanded its fundraising efforts this year to include the entire state of Alabama and Mississippi, as well as select stores in Georgia. Throughout October, customers were invited to support Making Strides by making donations to benefit neighbors and customers battling breast cancer. This partnership has spanned more than a decade and has included support to generate donations and build awareness.
"We are incredibly honored to partner with Making Strides Against Breast Cancer," said Lynn Rushing, Winn-Dixie Regional Vice President. "This donation represents our longstanding commitment to making the communities we serve stronger. We are so proud of our associates and this community for addressing the impact of breast cancer and we extend our sincere appreciation to our customers for their charitable spirits and generous donations."
Winn-Dixie is dedicated to enhancing the quality of life for the communities served. Thousands of people in Alabama, Georgia and Mississippi are diagnosed with breast cancer each year. According to the American Cancer Society, it is estimated that more than 14,600 women will face a breast cancer diagnosis in these three states alone in 2019. With this donation, Winn-Dixie is contributing to help with the fight against breast cancer and to raise awareness about the disease.
"On behalf of the American Cancer Society and our many volunteers, I would like to thank Winn-Dixie for its commitment to the fight against breast cancer," said Kathy O'Neill, Director of Community Development for the American Cancer Society. "Because of the passion of community partners like Winn-Dixie, the American Cancer Society is there for people in every community affected by breast cancer, whether they're currently dealing with a diagnosis, may face one in the future, or will avoid it altogether because of education, research and risk reduction efforts."
All dollars raised during the Community Donation Program will go directly towards funding and conducting research, sharing expert information, supporting patients and spreading awareness about breast cancer prevention.