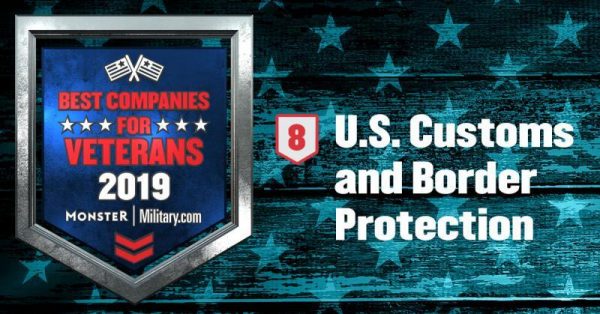 U.S.  Customs and Border Protection (CBP) has been recognized as the only Federal agency in the "10 Best Companies for Veterans" list, assembled by Monster and Military.com, for the fifth year in a row.

Each year, near the eve of Veterans Day, Monster compiles a list of 10 companies that standout for their veteran hiring and retention practices. The selection process begins with a panel of veteran hiring experts nominating top companies, and continues with Monster staff collecting data points based on a number of factors, including the percentage of veteran hires, recruitment plans, and special programs offered for onboarding, development, and retention.
"Service to country is one of CBP's core values, and CBP employees serving right here at home and around the globe embody that," said Acting Commissioner Mark Morgan. "Not only do we share the same commitment to protecting this great nation and our way of life as our Military Veterans, but more than 17,000 vets call CBP home – we value their continued service, self-sacrifice, esprit de corps, experience, and patriotism."
In addition to being the only Federal agency on the list, CBP is the only organization to make the top 10 every year since the creation of the list five years ago.
"CBP is proud to provide veterans and transitioning service members with many career opportunities that utilize their valuable skills and knowledge, allowing them to continue their service to country in meaningful ways. Our recent veteran hiring successes reaffirm our commitment to them," said CBP Assistant Commissioner, Office of Human Resources Management, Andrea Bright.
Over the last several years, CBP has transformed its ability to recruit, hire, and retain veterans within its ranks, including the establishment of CBP recruitment offices on multiple military installations, the continuation of its military "hiring hub" program, and the development of the CBP Veteran Support Program, designed to help veterans and their families by addressing physical and mental health issues and establishing support networks throughout the agency.
CBP offers many frontline and non-frontline career opportunities for veterans and transitioning service members nation-wide and across the globe in more than 40 locations. Positions range from intelligence, U.S. Border Patrol, cybersecurity, and agriculture, to Customs, trade, and human resources.