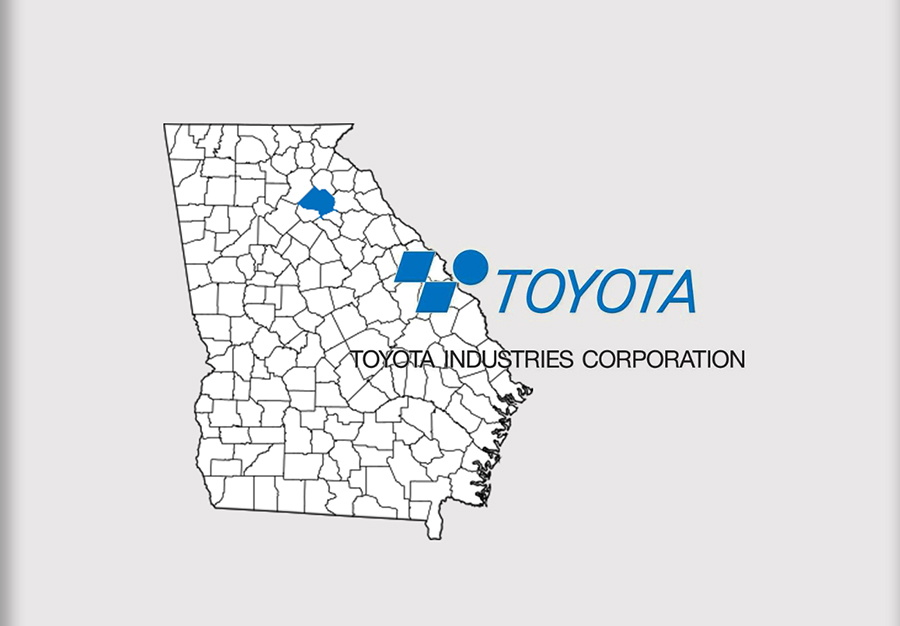 Toyota Industries Electric Systems North America, Inc., (TIESNA) will create more than 250 new jobs while expanding the Toyota Industries Corporation (Toyota Industries) campus in Pendergrass with a new manufacturing facility valued at $69 million in investment. Joined by Japanese Consul General Mio Maeda and local representatives, TIESNA broke ground at the site this week.

"Georgia has distinguished itself as a leader in the automotive industry, and we're thankful Toyota has chosen to expand its footprint here in the best state for business," said Governor Brian Kemp. "With these new jobs coming to hardworking Georgians, we'll keep working with our partners on the state and local levels to bring even more opportunity to communities across Georgia."
TIESNA is a subsidiary of Toyota Industries, which is headquartered in Japan and develops and manufactures automobile-related products, including car air-conditioning compressors and car electronics components for worldwide carmakers. The Group has operated in Pendergrass since 2004, starting with TD Automotive Compressor Georgia, LLC (TACG), followed by Toyota Industries Compressor Parts America, Co. (TICA) in 2012. These companies currently support more than 400 jobs in Jackson County.
TIESNA's new facility will be located at the 1700 Valentine Industrial Parkway campus in Pendergrass. The new facility will produce DC-to-DC converters, which converts high voltage to low voltage to supply power to auxiliary equipment. Operations are expected to begin in 2025.
"We are very pleased to welcome our third Toyota Industries related company to Jackson County," said County Commission Chair Tom Crow. "TACG and TICA have been outstanding corporate citizens in our community, and we are confident TIESNA will continue to add to that legacy. We celebrate Toyota Industries' newest investment in its Jackson County partnership and we pledge our support for its success."
"At Georgia Ports Authority, we're excited to welcome TIESNA's expansion as the latest news in Georgia's growing automaking sector," said Griff Lynch, President and CEO of the Georgia Ports Authority. "Significant investments from Toyota Industries and other automotive suppliers are delivering career opportunities, allowing Georgians to thrive right here at home."
Senior Regional Project Manager Kristen Miller represented the Georgia Department of Economic Development's (GDEcD) Global Commerce team on this competitive project in partnership with Jackson County Area Chamber of Commerce, Georgia Power, the Georgia Ports Authority, and Georgia Quick Start.
"Since being welcomed to Jackson County in 2004, Toyota Industries has become part of the fabric of the community there," said GDEcD Commissioner Pat Wilson. "Building long-term relationships is a strategic way to give Georgia a competitive advantage when companies are looking to expand. Maintaining 50 years of representation in Japan has also allowed us to keep the lines of direct communication with corporate HQs, including Toyota Industries', open. We are excited to welcome TIESNA to Jackson County, and congratulations to the many partners involved!"
For over a century, Georgia has fostered healthy industry practices, encouraged collaboration and innovation, and positioned itself as a leader in developing and harnessing emerging technologies for the evolving automotive and mobility industry. In fiscal year 2023, job creation in the automotive industry increased by 324 percent when compared to fiscal year 2021, and suppliers attracted by Georgia's original equipment manufacturers (OEMs) resulted in over $2 billion in investment across the state in FY23.
---
About Toyota Industries Corporation
Toyota Industries Corporation was established in 1926 in Japan for the manufacturing and sales of Automatic Looms. Currently, TICO has more than 280 consolidated subsidiaries around the world and is proud to hold the largest world market share (based on Toyota Industries' assessment) in three products: air-jet looms, car air conditioning compressors, and lift trucks.
About Toyota Industries Electric Systems North America, Inc.
Toyota Industries Electric Systems North America, Inc., established in 2013 in Novi, Michigan, is a sales company handling automotive electronics components such as AC inverters, voltage stabilizers, and motor controllers. TIESNA's customers include major OEMs in North America.