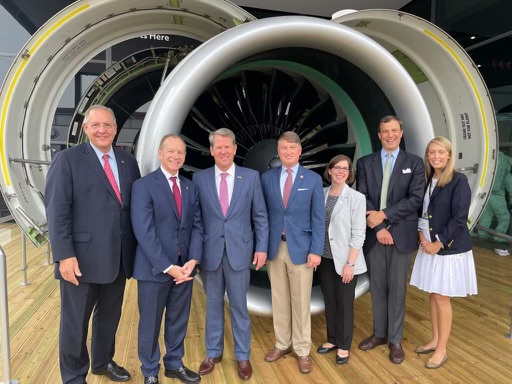 While attending the 2023 Paris Air Show in France, Governor Brian P. Kemp today announced that Pratt & Whitney – an RTX business specializing in aircraft and helicopter engines – will expand their operations in Columbus, Georgia. This project will create nearly 400 new jobs and bring $206 million in investment to Muscogee County.

"Not every state has the opportunity to announce new jobs and opportunities with an industry leader and great partner like Pratt & Whitney at the Paris Air Show," said Governor Brian Kemp. "Georgia is a top five exporter of aerospace products in the U.S., totaling $9.2 billion in 2022, alone. From the flights that go through the world's most utilized airport to the engines in the very airplanes, the Peach State is crucial to the movement of goods and products. Pratt & Whitney's decision to expand will only further that reputation."
Opened in 1984, the Pratt & Whitney Columbus facility includes the Columbus Engine Center and Columbus Forge, both of which operate on a the same campus. The Columbus Engine Center maintains Pratt & Whitney GTF™ engines for the Embraer E-Jets E2, Airbus A220, and Airbus A320neo aircraft families, along with F117 and F100 military engines. Columbus Forge produces compressor airfoils and other critical components for Pratt & Whitney's commercial and military engines.
"Pratt & Whitney has been doing business in Georgia for nearly 40 years, and in that time, our Columbus business has grown from a small manufacturing facility to a large, state-of-the-art manufacturing and overhaul center, where we employ approximately 2,000 employees," said Shane Eddy, President of Pratt & Whitney. "We remain committed to supporting manufacturing jobs in Georgia and see an incredible opportunity to expand our workforce and our company's capabilities in Columbus, aligned with our Industry 4.0 strategy. This investment will help ensure that we have the infrastructure, machinery, and equipment upgrades in place to provide the best products and services to our customers worldwide. The tremendous support we receive from the community and state have contributed to our success in Georgia."
The Columbus Engine Center and Columbus Forge are located at 8987 Macon Road and 8801 Macon Road in Columbus, respectively. The expansion will include new machinery and equipment as well as add 81,000 square feet to the Columbus Engine Center, increasing overhaul capacity to 400 GTF engines per year.
The expansion is expected to be completed by 2028. The company will be hiring for engineers, mechanics, and operators. Learn more at www.prattwhitney.com/en/careers/careers-hub.
"Economic vitality for our residents and area businesses has been and remains among my top priorities," said Columbus Mayor Skip Henderson. "This announcement of new jobs and new investment is an example of the economic growth that Columbus is poised to capture and we appreciate Pratt & Whitney, the Georgia Department of Economic Development, and the Development Authority of Columbus for their efforts to make this a reality."
"Columbus, Georgia, strives to be a top tier location for businesses to locate and expand," said Heath Schondelmayer, Chair of the Board for the Development Authority of Columbus. "State partnerships and a focus on workforce development make this possible. The success of one of Columbus, Georgia's largest employers is a major win in our efforts to grow quality jobs and attract new private investment."
Regional Project Manager Christy Bozeman represented the Georgia Department of Economic Development's (GDEcD) Global Commerce team on this competitive project in partnership with the Greater Columbus Chamber of Commerce, Georgia Power, and Georgia Quick Start.
"Georgia's network of aerospace and manufacturing companies support and build on each other in a way that enhances the entire ecosystem," said GDEcD Commissioner Pat Wilson. "Pratt & Whitney is a long-time partner for the state and other industry leaders, including Atlanta-based Delta Air Lines. We are excited for Pratt & Whitney's continued investment in Columbus and Muscogee County."
In February 2023, Delta TechOps announced it is opening a new engine repair shop to support Pratt & Whitney GTF engines at Hartsfield-Jackson Atlanta International Airport. The after-market facility will service the PW1100G and PW1500G engines that are used in Delta's Airbus A321neo and A220 airliners, respectively.
---
About Pratt & Whitney
Pratt & Whitney is a world leader in the design, manufacture and service of aircraft and helicopter engines, and auxiliary power units. To learn more visit www.prattwhitney.com.