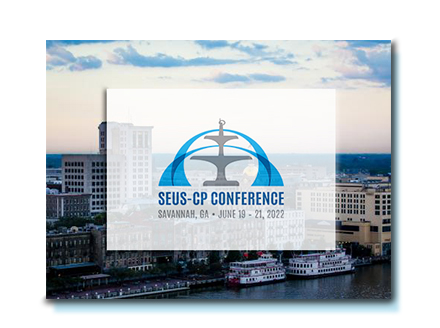 The Georgia Department of Economic Development (GDEcD) this week announced that the State of Georgia will host the 2022 Southeast U.S.-Canadian Provinces (SEUS-CP) Alliance Conference in Savannah from June 19-21, 2022. This will mark the second time Georgia hosts the event, after founding and hosting the inaugural conference in 2008. SEUS-CP reinforces the importance of the long-standing U.S.-Canadian relationship, and expands commercial opportunities in underdeveloped sectors and markets through new partnerships. Registration is open through June 3, 2022.
"Investing in strong relationships creates opportunities that span multiple generations and is critically important to the economic well-being of not just Georgia, but the entire Southeast," said GDEcD Commissioner Pat Wilson. "Georgia was a founding member of SEUS-CP, and Governor Sonny Perdue hosted the inaugural conference in Savannah in 2008. We have come full circle, and countless companies in the Southeast and Canada have benefitted from relationships created through this organization. We are honored to welcome our partners from across the Alliance, and we look forward to the new opportunities SEUS-CP will create for businesses and communities."
Established in 2007, the SEUS-CP Alliance enhances trade and investment, promotes business partnerships, and encourages technological exchanges between the member states and Canadian provinces. Member states from the Southeast include Alabama, Georgia, Mississippi, North Carolina, South Carolina, and Tennessee. Canadian members include New Brunswick, Newfoundland & Labrador, Nova Scotia, Ontario, Prince Edward Island, and Quebec.
Providing strategic procurement and partnership opportunities for small businesses is a hallmark of the SEUS-CP Alliance. The 2022 conference will feature a dedicated B2B program, facilitated by Market Access International. Attendees can use this opportunity to meet directly with chief procurement officials from globally recognized companies seeking new suppliers, and connect with potential partners from across the Alliance. This year's event will feature two key industry sectors: Transportation and Logistics, and Food and Beverage.
"Canada is the largest export market for Georgia and an important trading partner for the entire Southeast region. Even greater trade is possible when business leaders are able to connect one-on-one to explore new commercial opportunities," said GDEcD Deputy Commissioner for International Trade Mary Waters. "This conference reinforces our reciprocal trade relationship, and we are delighted to host business leaders again in Savannah. We appreciate the incredible support our Georgia business community, Alliance partners, and our sponsors have provided to make SEUS-CP a dynamic business event."
The states and provinces within the SEUS-CP Alliance offer growing trade and investment opportunities for companies in both countries. Goods and services trade among Alliance members continues to thrive, with total trade exceeding USD $40.6 billion in 2021.
Registration is open to Georgia businesses of all sizes through June 3, 2022. Visit www.georgia.org/seus-cp-2022 to learn more and to register.
Event Highlights
Roundtable Leadership Discussions 
Topics will range from the future of North American supply chains and sustainability in agriculture to the importance of sub-national engagement and how best to support to supporting emerging technologies for electric vehicles (EV) and mobility.
Business-to-Business Appointments 
Chief procurement officials from globally recognized companies, innovative and emerging companies seeking to establish business partnerships, and trade specialists from across the Alliance will be gathered in one place for direct one-on-one meetings throughout the conference.
Networking Opportunities 
Connect with business and economic development leaders from across the Alliance during multiple networking sessions each day of the event.
State of Georgia-Canada Trade Relations 
Georgia has been represented in Canada since 1981, and GDEcD's Canada office is located in Montréal, Québec. In 2021, GDEcD estimates that total trade between Georgia and Canada was $11.16 billion, a 16% increase from the prior year. Georgia exports to Canada increased by 17% compared to 2020, accounting for a total of $6.18 billion. Top exports to Canada include motor vehicles, tractors, bulldozers, carpets, and civilian aircraft. Georgia imports from Canada totaled $4.98 billion in 2021. Top imports from Canada to Georgia include sawn wood, turbojets, rapeseed or colza oil, polymers of ethylene, and baked food products. To learn more about Georgia's trade with Canada and other countries, visit https://www.georgia.org/international/trade/annual-trade-report.
About GDEcD's International Trade Team  
The Georgia Department of Economic Development's nationally recognized International Trade team works to bolster Georgia exports and brand the state as a competitive source of quality products and services. The team includes International Representatives located in 12 strategic global markets and assists Georgia companies with expanding their sales worldwide. The International Trade office provides Georgia businesses with the Global Insight and Global Connections they need to successfully diversify their international customer base.