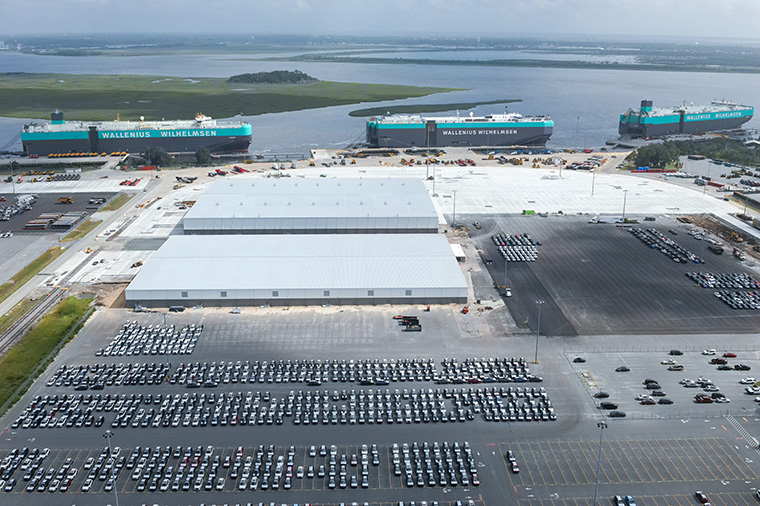 According to the Georgia Ports Authority, auto and machinery volumes saw a sharp increase at the Port of Brunswick in September. Colonel's Island Terminal handled 70,645 units of Roll-on/Roll-off cargo, up 61 percent or 26,750 units compared to the same month last year.

"The automotive sector has been especially strong and consumer demand is driving this trend.  Our investments in infrastructure capacity are well-timed to support the growing business in our Brunswick gateway," said Georgia Ports CEO and President Griff Lynch.
The numbers point to growth related to added customers and increased volumes from existing port users. Shipping line CMA-CGM started a new short-sea service carrying vehicles from Mexico to the Port of Brunswick in July, and the Gold Star shipping line starts a similar Mexico-to-Brunswick route in November. The rate of increase is also a sign of recovery from a pandemic-related shortage of computer chips that had stymied auto production.
To accommodate growing volumes, the Port of Brunswick is undergoing improvements totaling more than $262 million. Expansions include a total of 640,000 square feet of auto and machinery processing space across five new buildings, including 350,000 square feet of near-dock warehousing that is now complete. GPA is also developing another 122 acres of Roll-on/Roll-off cargo storage space.
"Brunswick's port development plays an integral part of our port master plan to be the most connected and competitive auto port to serve consumers," said GPA Chairman Kent Fountain. GPA is pursuing a two-pillar strategy to 'specialize and scale operations for customers' by focusing all Roll-on/Roll-off cargo in the Port of Brunswick and all container cargo in the Port of Savannah.
Containers moved by intermodal rail at the Port of Savannah also saw strong growth in September, up by 8 percent or 3,280 containers for a total of 45,386 containers moved by rail. Rail containers accounted for 20 percent of total cargo handled by the Georgia Ports Authority in September.
In total container trade, last month was GPA's busiest September ever outside of the pandemic-related spike in volume, with nearly 403,000 twenty-foot equivalent container units of cargo crossing GPA docks last month.
The September container volumes constituted a 7.6 percent decrease from the same month last year, but a 9 percent increase compared to September 2019, the most recent year unaffected by the pandemic.
---
Georgia Ports