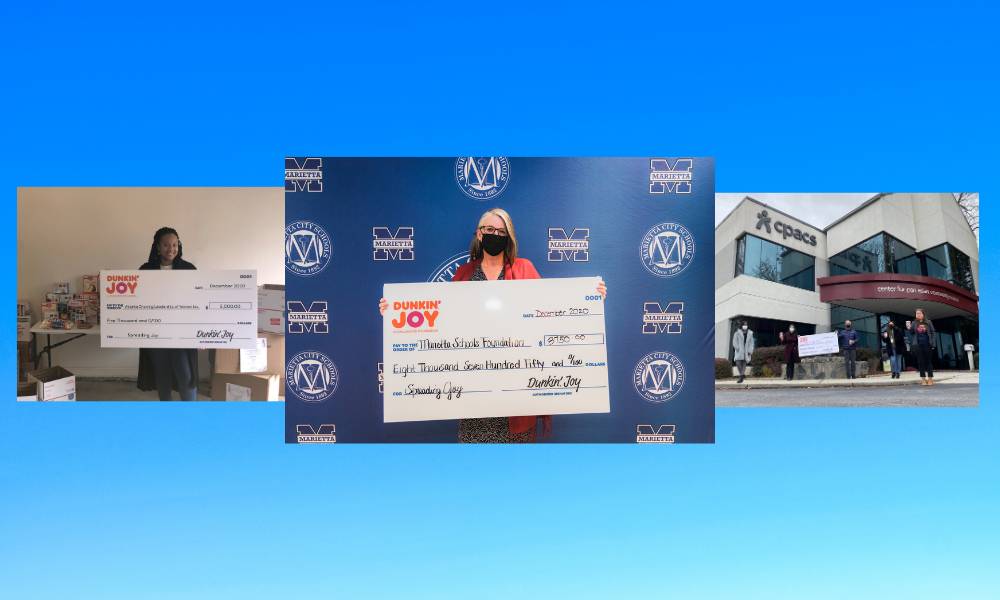 The Dunkin' Joy in Childhood Foundation announced a combined $38,750 has been granted and delivered to three health and hunger relief organizations throughout Georgia. The grants are part of two rounds of national funding the Foundation has executed during the COVID-19 pandemic, including $1 million in emergency hunger relief grants and $500,000in annual health and hunger relief grants.
These grants are part of a commitment by Dunkin', Dunkin's Foundation and Dunkin' franchisees to provide health and hunger organizations with the support they need, as many are seeing a significant increase in the volume of people they serve and are facing unprecedented and costly challenges in the wake of the pandemic.
The grants are making a difference by funding such vital services as local education, scholarships, health services, social services, and more. Local organizations that received funding include:
Center for Pan Asian Community Services (CPACS), Atlanta, GA – received $25,000 in funding that will be used to support the food distribution programs to help food insecure families. Since the beginning of the pandemic, the program has supplied fresh produce and groceries to over 1,000 families per month.
Marietta Schools Foundation Inc, Marietta, GA – received $8,750 in funding that will help support the school system amongst the students, faculty and staff members. The funding will specifically benefit the food pantry at one of the elementary schools, recognizing the growing hunger crisis in the community at this time. Throughout the pandemic, Marietta Schools Foundation has placed extra emphasis on how important it is to show widespread recognition and support of the Marietta schools.
Atlanta Growing Leadership of Women (Atlanta G.L.O.W.), Atlanta, GA – received $5,000 in funding that will help fund the Leadership Atlanta educational program. This program helps members learn about local challenges and how they can work to make Atlanta a better community. This funding will also be used to address food insecurity in the community through the distribution of holiday food boxes and care packages.
This latest round of funding follows closely on the heels of the Foundation's $1.25 million in grants distributed in March to support health and hunger relief organizations during the early days of the pandemic. With these newest grants, the Foundation will be focusing on non-profit organizations dedicated to the support of underserved communities that have been the hardest hit, with Dunkin' franchisees and restaurant crew members helping to select organizations in their communities to receive the funding.
In 2020, the Joy in Childhood Foundation will grant more than $4 million and has granted over $26 million since its inception.