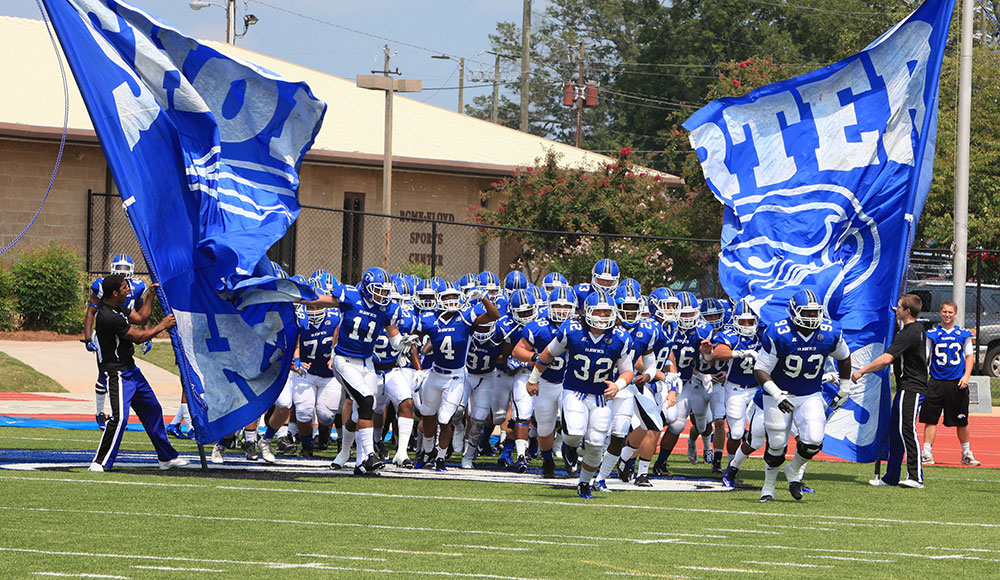 On Saturday the Shorter Hawks football team return home to take on the University of West Georgia. It will be military appreciation day at Barron Stadium, and the Hawks coaching staff is excited to honor the men and women who have served our country in uniform.

"With military appreciation day we're giving back to the people who have given so much," Hawks Head Coach Zach Morrison said. "My Grandfather was in the Air Force for years and having him be represented at the game is amazing. It's a big deal having these guys from all branches get in for free and to bring their families is just great. We really don't know how much they sacrifice, but as a former history teacher we look at all these battles where all these men and women sacrificed their lives, and it's just incredible. We're just happy to be able to honor them," Morrison continued. 

Tight ends coach, and Director of football operations, Drew Burnham was the catalyst that set the theme in motion. "When we came in, we knew we wanted to get the community involved in helping us turn the program around," said Burnham. "When I thought about what group to reach out to in order to start that process, the veteran community was the first to come to mind," Burnham continued. 

All veterans will be honored that day, but more specifically, the theme will honor the men who fought, and the 19 who died in the Battle of Mogadishu. The military called it Operation Gothic Serpent, but it is more widely known as "Black Hawk Down" because of the book and movie based on the event.

"We decided to do the Black Hawk Down mission because it's so easy to tie it into what we're doing." said Burnham. "We got special black uniforms that we planned to wear one game this year and our mascot is of course, the Hawks. It all made sense just to tie it all together and honor those guys."

The Duke Museum of Military History, owned by Army veteran Leslie Duke, will be putting many of the museum's artifacts on display including a replica of the M1026 Humvee Gun truck driven by Jeff Strueker in Operation Gothic Serpent. " There will also be a 923a2 5-Ton truck, a Vietnam era military "Mule", a 151 jeep, which was basically the Humvee of its day, and a 1973 Pinzgauer 710m. In addition there will be 15-20 combat used weapons from WW2 up to current weaponry.

The game is a big deal to Duke, in terms paying tribute to veterans. "It is an absolute honor to be able to do what we can to thank them, acknowledge their sacrifice, and carry the torch for those that paid the ultimate price." said Duke. "Our job is to make people aware of the sacrifices of the men and women in the uniform of this great country.  A number of veterans, particularly from the Vietnam era have come in, and thanked us for making them feel welcome. It's nice to be able to take some of our artifacts out into the public like we'll be doing on Saturday."

As part of the pregame festivities, the 82nd Airborne exhibition team known as the "Silver Wings" will be delivering the game ball. They'll be flown in by Skydive Georgia, a company based in Cedartown.

The local Army recruiting office will be represented with with a display of their own. Recruiter, Sergeant first Class Keith Doucette, will allow game goers to try on his body armour, and check out a regulation parachute rigging. There will also be games, and giveaways t-shirts, water bottles, and various other freebies at the Army tent.

Doucette, who is a former member of the 82nd airborne, is also elated about the chance to honor fellow veterans. "It's about pride," said Doucette. "Veterans haven't always been treated well, especially back in the day. It's nice to be able to pat our brothers and sisters on the back, and honor them at an event like this game."

The game kicks off at 1 p.m. on Saturday. All veterans will be admitted for free with military ID.