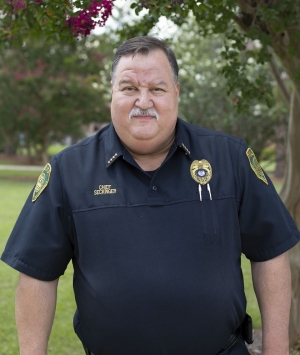 East Georgia State College has a new chief law enforcement officer for the school's agency.

Deryl "Mack" Seckinger was named the Chief of Police for East Georgia State College, per an announcement made Tuesday. He has a long history at EGSC, working as an officer before he was appointed Interim Police Chief in January, a role he has been serving in since.
The permanent appointment means Seckinger will oversee the management, organization and direction of the operations of the police department for more than 3,000 students, faculty, and staff – more than 400 of whom live on campus.
Seckinger's law enforcement career dates back more than 25 years, encompassing tenure as the Chief of Police at Armstrong State University in Savannah, Ga., patrol commander at Valdosta State University, and chief of police for the Metter Police Department. He also teaches calsses in criminal justice and political sceience, teaching both at different times at Savannah Technical College and Armstrong State University.
Armed with a Doctor of Public Administration from Valdosta State University along with a Master of Science in Criminal Justice from Armstrong State University and a Master of Public Administration from Columbus State University, Seckinger is also equipped with a handful of professional certificates from the Georgia Peace Officer Standards and Training Council. He holds an Executive Development Certification, General Instructor Certification and his Management Certificate.
He is also a member of the Georgia Association of Chiefs of Police, International Association of Campus Law Enforcement Administrators and the FBI National Academy Associates.