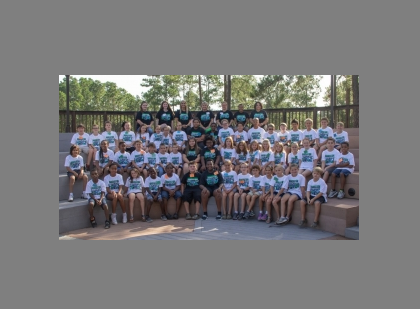 For the seventh consecutive year, Camp Invention was held at East Georgia State College's Sudie Fulford Community Learning Center. The camp is a program of the National Inventors Hall of Fame, a nonprofit organization.

During the week-long program that is inspired by the National Inventors Hall of Fame Inductees, students got to participate in hands-on problem solving, collaboration, and use of science, technology, engineering and mathematics (STEM).
This year, the 57 campers participated in a variety of hands-on modules. Each day focused on a unique project that linked to other projects they would work on throughout the five days. Camp Invention's curriculum focused on the development of creative, inventive-thinking skills.
"The goal of this STEM-based camp is to turn curious children into innovative thinkers, and everything is hands-on.  This year's SUPERCHARGED program did just that," said Jean Schwabe, Sudie A. Fulford Community Learning Center director. "Campers were presented with real-world challenges that helped foster teamwork, inventive thinking, and science literacy.  The participants grow, not only in the STEM subjects; they also grow in confidence and perseverance."
Campers learned about collaboration and patents as they worked together in the innovation force module. They then learned island survival tools and underwater equipment to navigate their way back home in the module that took them on a deep-sea mystery. In the farm tech module, the students managed their own farms and learned the basics of running their own business with technology. Each student got their own DIY Orbot. They learned about frequency, circuit boards, motors and gears as they reverse engineered the Orbot.
The Nordson Corporation and Mill Creek Foundation provided full camp scholarships for the participants.
"We are most grateful to Nordson Corporation and the Mill Creek Foundation for their generous support each year in making this amazing experience possible," said Schwabe.
The exciting week ended on Friday with an Inventors Showcase. The campers displayed their creations for parents and friends.
Information from East Georgia State College.