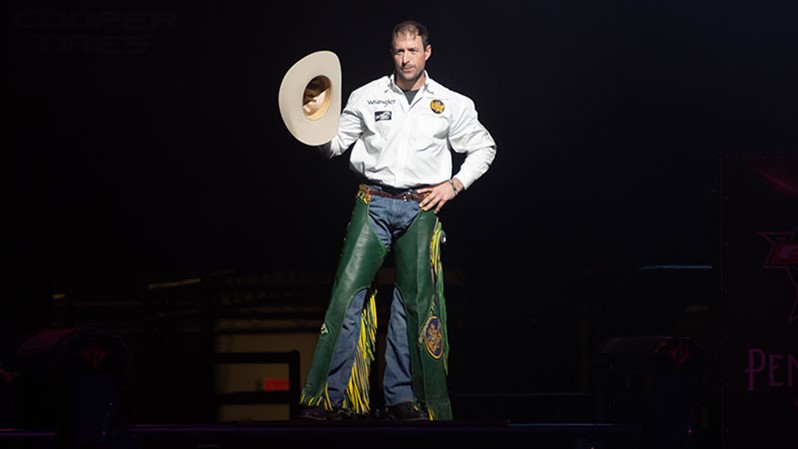 Sean Willingham stood on the center stage inside AT&T Stadium and his bottom lip began to quiver just a little bit.
As many pro athletes do, Willingham has struggled with finally walking away from the sport he has loved and been a part of for his entire life, including the last 17 years in the PBR, but he knows the time for retirement has come.
Willingham had originally announced his retirement two years ago, but he later decided to return to competition after finishing that season 33rd in the world standings and qualifying for the 2018 PBR World Finals.
"I am done with it, for real," Willingham told PBR.com at the end of October. "This is no joke. I am not going to make anyone lie anymore about it."
Willingham then laughs.
The 12-time PBR World Finals qualifier even bought into his waffling over retirement the last few years as he competed primarily on the Pendleton Whisky Velocity Tour and attempted to overcome a broken leg and make one final push at the World Finals.
Just as when he was a 20-year-old up-and-comer, Willingham continued to bring a jovial attitude to the locker room.
"I traveled with that guy and always hung out with him," two-time World Champion J.B. Mauney said. "The thing about him was no matter if he was riding bad or riding good, we always had fun. He was positive all the time. He was fun to be around. I still talk to him at least once or twice a month."
PBR in-arena announcer Scott Grover and RidePass host and five-time PBR World Finals qualifier Colby Yates even joked fans may just end up seeing Willingham again in 2021.
However, Willingham is serious this time.
"There is several things, really. I am just old now," Willingham said with another laugh. "No. I just got to where I don't win consistently enough to be okay with still competing with everybody. I don't like losing and I show up and just lose, lose, lose. Then I win some rounds and I get my attitude up, but then I can't ever finish it off to win consistently enough to compete with the competition. If I can't compete at the highest level, there is no reason for me to be going anywhere. Period.
"I stuck around for as long as I did because I wasn't done riding bulls. I stuck around because I still loved the competition. To be able to compete at the highest level at my age and still walk away winning, or at least stay in the Top 35 for the majority of my career, was pretty good for me. I just came up short this year trying to come back from a broken leg."
Willingham is hanging up his bull rope for good, and he goes down as one of the PBR's greatest riders, both inside and outside of the arena, to have never won a World Championship.
Willingham ranks ninth all-time in PBR history with 368 qualified rides on the premier series since recording his first (87 points on Juice) in Little Rock, Arkansas, on May 3, 2003. The fan favorite bull rider is actually third all-time for most qualified rides among cowboys without a gold buckle, only trailing Valdiron de Oliveira (429) and Ross Coleman (402).
The Summerville, Georgia, native posted the highest-scored ride of his premier series career twice. Riding Clayton's Pet for 91.5 points in in Raleigh, North Carolina, on May 10, 2003, and Hot Stuff in Nashville, Tennessee, on August 15, 2009.
"He got overshadowed because a lot of guys do in this sport," Mauney said. "Guys that ride really good for a long time get overshadowed by who won the world title that year. Sean is a guy that has been around ever since I have been around. He is still good enough to ride bulls, but he is done."
Willingham, who has at least 508 qualified rides at all levels of PBR competition, takes pride in a different number.
228.
That was the number of consecutive premier series events Willingham competed in from his debut in Little Rock until a wrist injury in 2012 sent him to the operating room.
"I'm very proud of my career, and I was very successful at it for a very long time," Willingham said. "I think one of my proudest moments, for me, would be making it so long without missing an event. That sticks out in my mind more than anything else. I hurt something and got cut. I think I went on an almost 10-season span without ever missing an event. It wasn't the record, but I was right behind Luke Snyder (275)."
Willingham concludes his career having competed at 346 premier series events in total, and he posted 14 90-point rides and earned eight event wins.
Willingham credits his ability to fight through a range of injuries during his streak to legends such as Ty Murray, Cody Lambert, Tuff Hedeman and Jim Sharp instilling in him the necessary qualities to succeed in the arena.
"Sean Willingham always approached the sport as an athlete and stayed in great shape," Murray said. "That and his love for the game is what helped him have such a long career."
Murray was one of the first people Willingham called to let him know he was finally hanging up his bull rope.
"He was always one of my favorites from day one," Willingham said. "I always looked up to Ty. He kind of helped me out a good bit in my early stages of my career on how to approach the sport at that level, and how to be more positive in myself and believe in myself, not just showing up and riding and just saying, 'Hey, I did good, blah blah blah.' I felt like I belonged there, but I never felt like I was one of the best, because I still had that, 'Hey, these are my heroes I'm competing against.' So you're kind of like, 'I can't beat my hero, can I?'
"And he kind of helped me out, him and Cody Lambert. There's a lot of people that, even back then, like Tuff Hedeman, he had a good bit to say, too. And they just kind of embedded into me, 'Hey, believe in yourself and see where it can take you. If you don't believe in yourself there's no way you're going to be successful.'
"I was just thanking him, and letting him know I always looked up to him, and I wanted to make sure they knew that I appreciate the opportunities that they've gave me to do what I always wanted to do in the sport of bull riding."
Willingham's favorite victory, coincidentally, wound up being his last, when he won the premier series event in Duluth, Georgia, on January 18, 2014.
"There's so many memories," Willingham said. "Man, I don't know. We're going to have to go with winning Duluth, for sure. My home state event. It took me a long time. That's a very proud moment. I'd just had my daughter. She was 18 days old. I showed up and then I finally won it, and they was all there. My wife, my whole family, everybody was there. So that's pretty memorable, to me, to be able to walk away as the event champion there."
Willingham's best season came in 2006 when he finished fourth in the world title race by going a career-best 48-for-89 (53.93%) in 30 events. He won three events and placed in the Top-5 six times.
Longevity and Willingham became synonymous over the years.
He has ridden alongside many of the founders of the PBR. Traveled with legends like Ross Coleman, Justin McBride, J.W. Hart and Mauney.
"Yeah, you had to be tough around that group," Willingham said. "I'm telling you. There was no room for errors or being a sissy, that's for sure, because they're going to call you out and make you feel like you're knee-high to a grasshopper."
Willingham created friendships with so many through years, such as 2006 World Finals event winner L.J. Jenkins, Mauney and Matt Bohon. Then as he got older, he became a mentor for the next generation, including for a guy like Chase Outlaw, as he continued to value time in the gym to prolong his career and stay a part of the sport he loved.
Willingham even qualified for his last World Finals alongside the future of bull riding in Jess Lockwood, Jose Vitor Leme and Kaique Pacheco. There's a very small handful of riders that can say that have competed with multiple generations like Willingham.
"I credit everybody that's had any part to do with my career, from day one to now," Willingham said. "We can go all the way back to the guy who taught me how to ride bulls, a guy from right here in Alabama named Tim Cox. If it wasn't for him, I wouldn't have never learned anything. And several other people – Charlie Lowery, the 4L and Diamond S Rodeo Company. If it wasn't for those guys, I would've never started or been pointed in the right direction to be able to have such a great career in the sport of bull riding.
"My wife, Kayla, has been tremendous and I couldn't have done it without her. And the PBR as well. There are so many to thank. I mean, you can't thank enough people when you've been doing it for as long as I have."
Willingham is currently partners on a CBD company and hopes to find ways to remain involved with the PBR and the Western way of life. He was always an ambassador for the organization during his career, opting to do PR appearances and help grow the sport throughout the country.
Even though he may not be tying his hand into a bull rope anymore, Willingham has no plans to stop making a positive impact on the sport.
"Maybe they'll let me come talk on the broadcast once in a while, talk some smack," Willingham, who worked the RidePass broadcast Thursday night, said with a laugh. "I enjoyed it when I have done it a few times. So definitely, that is an option, and I'll still do my agent work with my agency, and help them guys out as well. I don't want to just disappear from something that I've been a part of for 23 years. I think that's where people can go to make a mistake. When you're around something for so long and then you just kind of quit it and you're not around it, people get all freaked out and depressed when they're not around it. I definitely don't want to be away from it. I'm not going to be in the public eye as much as I have been, but I definitely still want to be around the sport. If they want me to come do some stuff, yeah, I'll come do it. I'll still do some PR work. Whatever they want me to do. If they still need me or want to use me, yeah.
"I'm willing to do whatever."
Follow Justin Felisko on Twitter @jfelisko
Photos courtesy of Andre Silva/Bull Stock Media