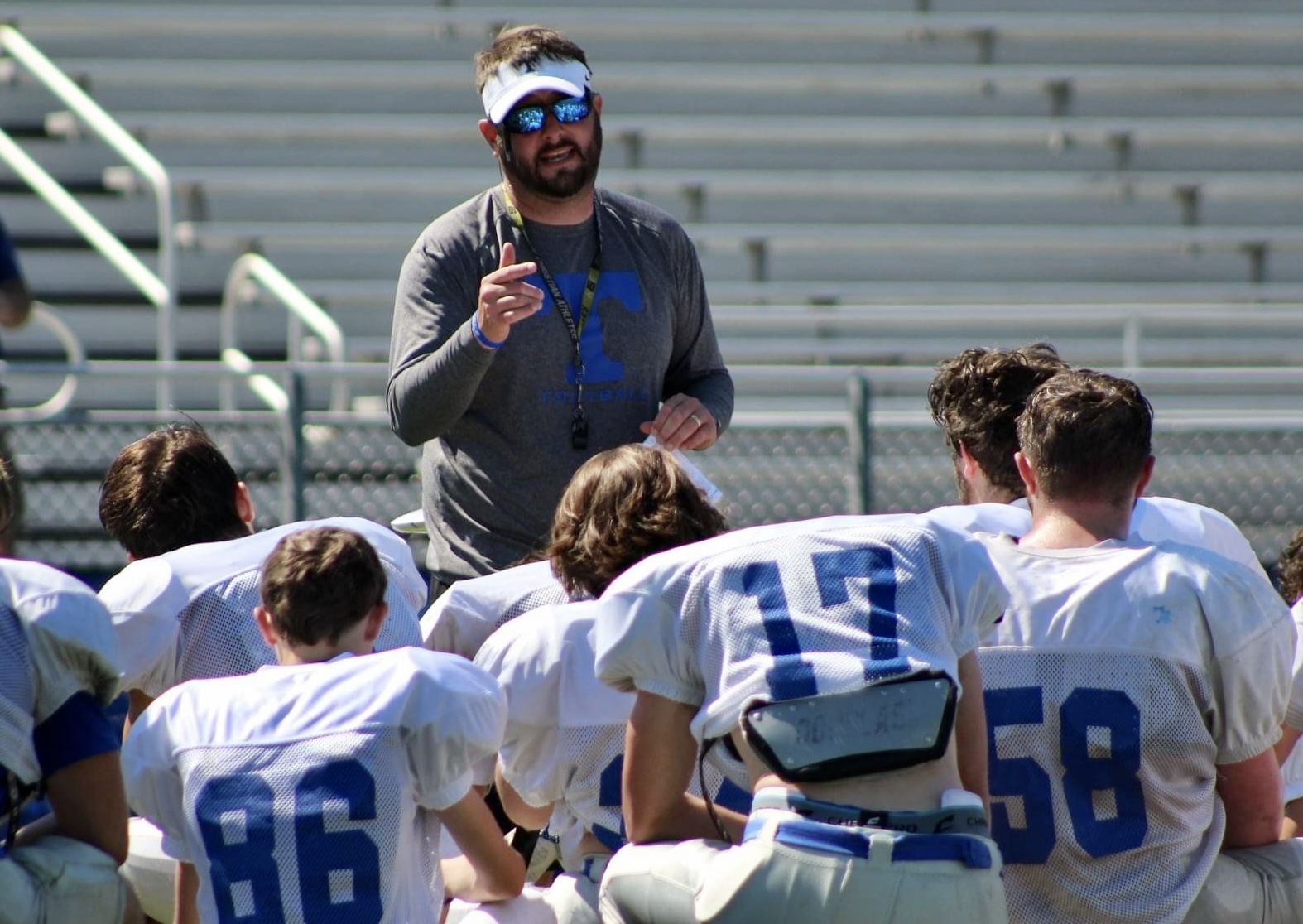 Trion Football had a noteworthy spring. The team, coaches and players, were upbeat, excited, and happy to be playing football.
"I love you, and Jesus loves you," was a common phrase yelled out by Sean Patrick in his raspy year-round coach voice, followed by,  "But you are going to grab some grass, hit him harder, catch the ball, make the throw…" depending on the situation.
Bulldog Head Coach Sean Patrick said spring practice went really well, "it was exciting to be back on the grass together. We still have a lot of work to do, but I am excited about the possibilities this season. Spring practice offers an opportunity to evaluate players, and we were able to do that. Had a lot of new faces to look at, and old faces in new positions."
There are striking differences in Trion's football program, one being there is no cursing, not by the coaches or the players. Coach Patrick only says one relatively mild swear word, "piss", and you hear it often at practice.
Trion also has made several coach changes, "obviously, I'm excited about the new additions to our staff. Our administration
here at Trion is amazing. They have been incredibly supportive and have worked tirelessly to create the best possible staff for our kids. I am blessed to be a part of an awesome coaching staff. We improved as a staff this offseason, and I will do everything possible to continue to improve in the future."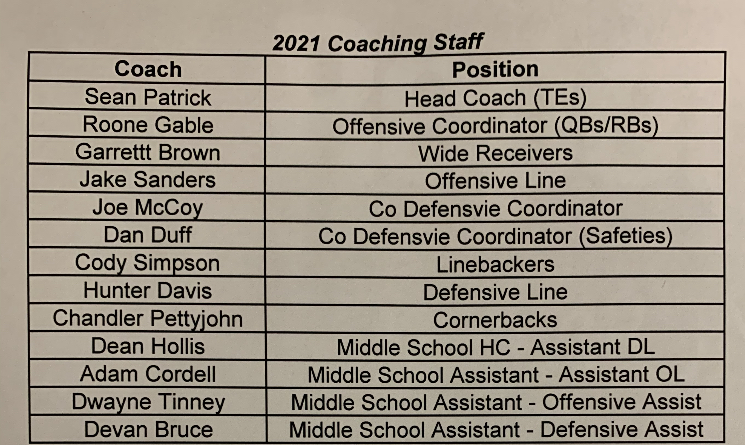 The other noticeable difference this spring was the hitting, there was some serious hits laid. "We have to become more physical as a football team. If we are going to achieve any level of success, we must be physical. Our physicality will continue to improve as we develop strength and explosiveness in the weight room. At any level, successful football teams are typically the ones that are the most physical," Coach Patrick said.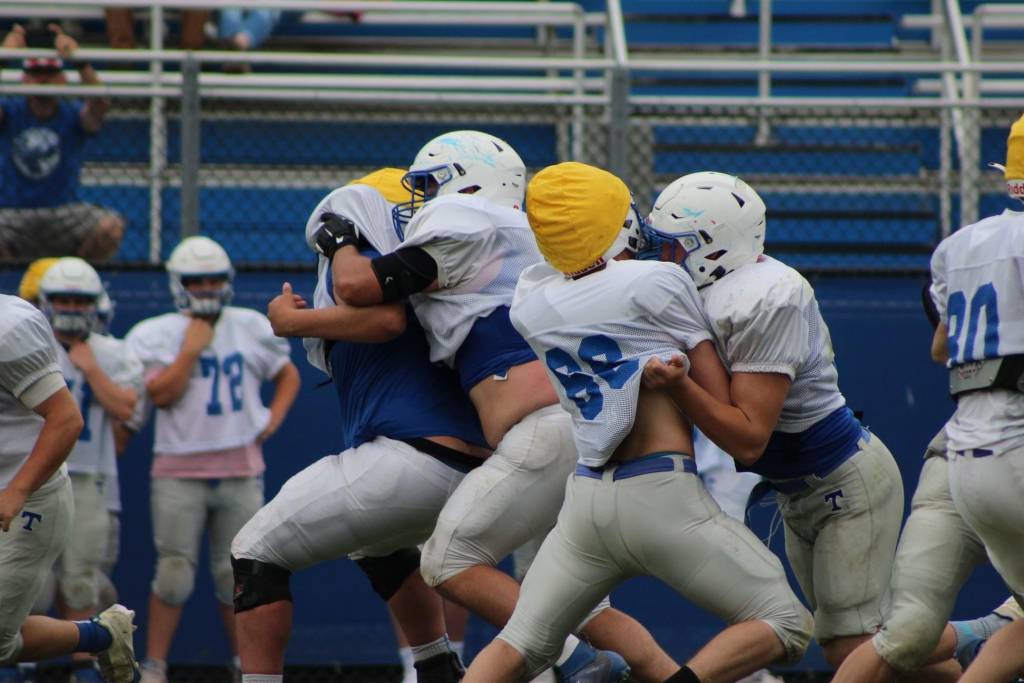 "At this point, we are more physical as a football team than we were last season. With that being said, we are not where we need to be but heading in the right direction. It was nice to see how our kids' bodies have changed over the offseason. The kids have had a tremendous couple of months in the weight room and I think it's starting to show."
Big Boys Are Back: adding about 600 pounds to the line is the return of Ezra Adams and Colby Evans. "We are definitely excited to have Ezra Adams and Colby Evans back. Both were injured last season, as freshmen. Both will have the opportunity to compete for playing time this season, and provide much needed depth on the OL/DL. I was really encouraged by both of them during the spring."
Trion returned five offensive linemen that started at least one game last season, Kaleb Park, Issaic Stewart, Blaydn Bowman, Jackson Drennan, and Zach Sharp. The Bulldogs play with multiple tight ends and both of them return as well, Cole Cavin and
Ben Allen. "I expect a lot out of this group. We are bigger and stronger upfront and now we need to play like it."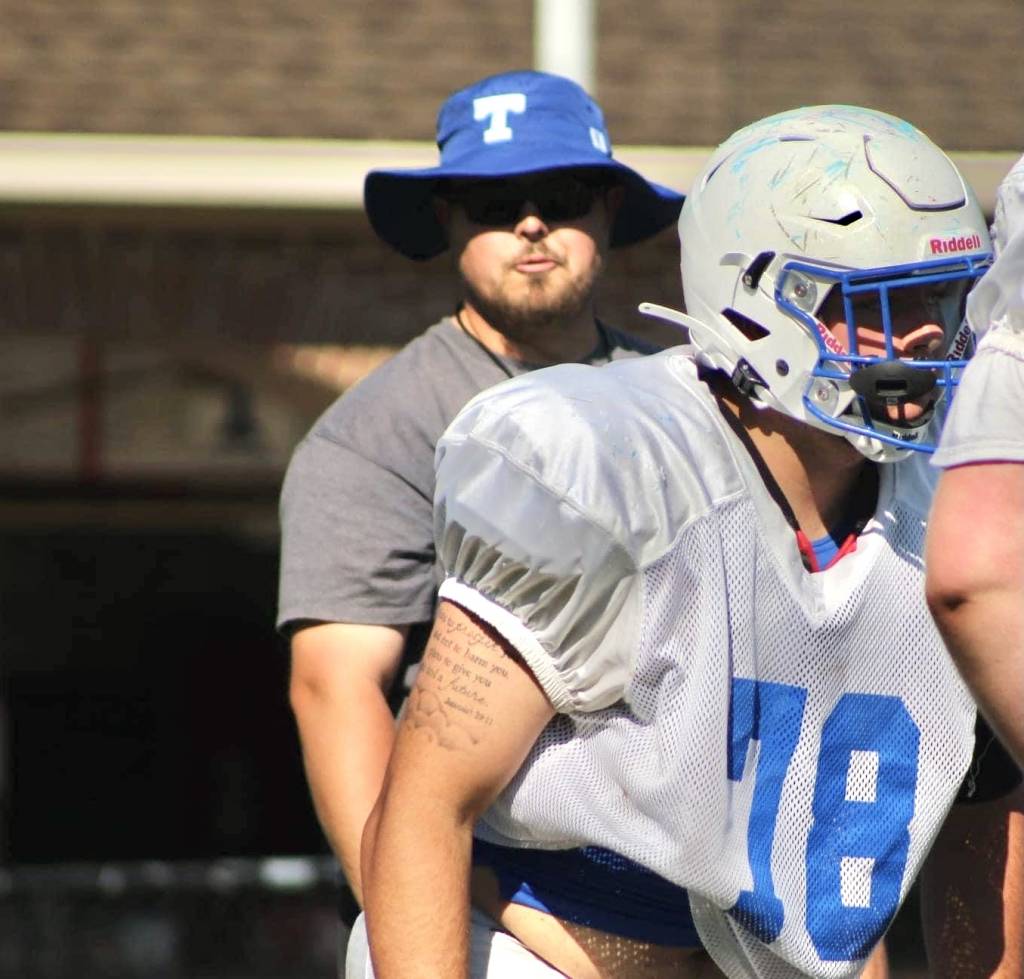 Kaleb Park ("KP" OT 6'3″ 265) has been getting enormous attention from college recruiters.
"All of our kids have had a tremendous offseason in the weight room. Our max numbers have exploded and the kids' bodies are changing. All of this is great, but it must carry over to the grass," Patrick said.
Quarterbacks: 
The Bulldogs repped three QBs this spring: Logan Eller, Cayden Watson, and Kade Smith. Eller and Smith got the bulk of the work. Watson started every JV game last season and one varsity game. "Watson is playing all over the field now," Patrick said. Eller won the starting job last season, but went down in the first game with a broken leg.
"Those guys are battling for the position right now, which is great. Competition brings out the best in all of us. They all have their individual strengths and weaknesses. Should be a fun summer watching those guys battle it out."
When asked if he planned to use more than one quarterback, Patrick said, "we will do whatever it takes to win. If that means playing only one, playing two, or playing all three. Whatever is best for the team is what we will do."
Trion has 18 returning seniors, "it has been amazing to watch them encourage and lead the younger players. They have worked so hard in the weight room and set the standard for the players that will follow them. They have been selfless and put the team before their own wants and desires. I've seen kids change positions, which is not always easy, for the betterment of the team. Ultimately, this team will go as far as our senior leadership takes us."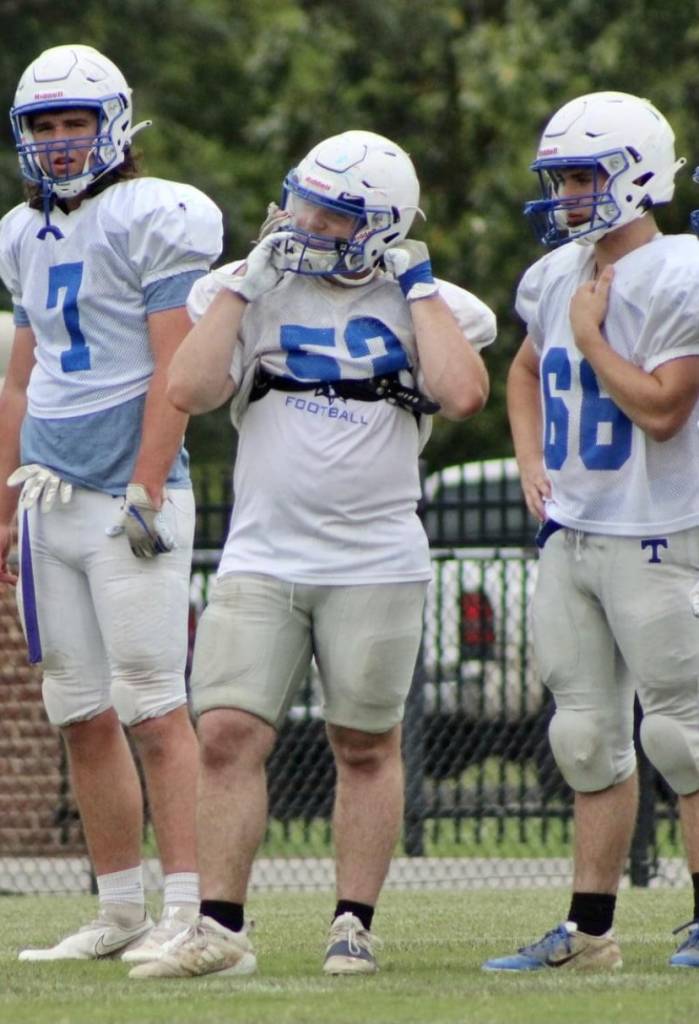 Brantley Willbanks, new position (guard now, middle linebacker last season)— new number (#53). Patrick said he was extremely proud of Brantley. "He's one of the kids that changed his position for the betterment of the team. His position change resulted in the change of his number, which he has worn throughout his high school career (33). We had to improve along the lines of scrimmage, and Brantley definitely helps that. Kids were watching to see how he would handle this transition, and he's been amazing. Ultimately, Brantley wants to win and will do whatever it takes to do so. Brantley is a dang good football player, and would be good at any position."
Last season Willbanks had 128 tackles, 91 solo, 3 sacks, 13 tfls, and 1 interception.
Cole Cavin took reps on both sides of the ball throughout spring, Patrick said regarding Cavin, "Cole definitely has the ability to help us
on both sides of the ball. It's hard to teach 6'5, 240 lbs. Offensively speaking, it has been cool to see how much more comfortable he is playing tight end, which was new to him last season. Cole recently received an offer from North Alabama, and has had several other schools calling to express interest. We are expecting big things out of him this fall." Cavin is another kid that has had a tremendous offseason. He has bulked up and gained nearly 30 lbs since last season.
If you attended any of spring practice or the spring scrimmage one observation was that Linkin Farrar— has some hands. "It is fun to go to work every day when you get to coach kids like Linkin Farrar. It is amazing how his body has transformed over the past couple of months. Like all of our kids, everything was so new last season and Linkin was no exception. He is just so much more comfortable now. He is learning the small nuances of playing the position of wide receiver, which will only help him and the team. And, yes, he does have really good hands. I don't think that he dropped one ball the entire spring."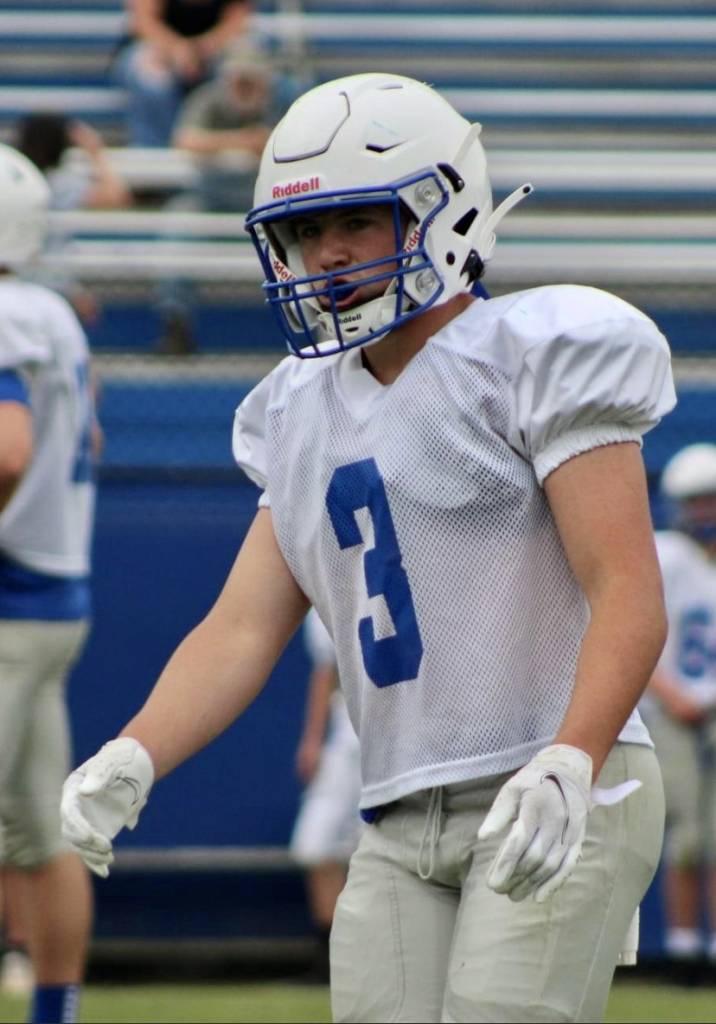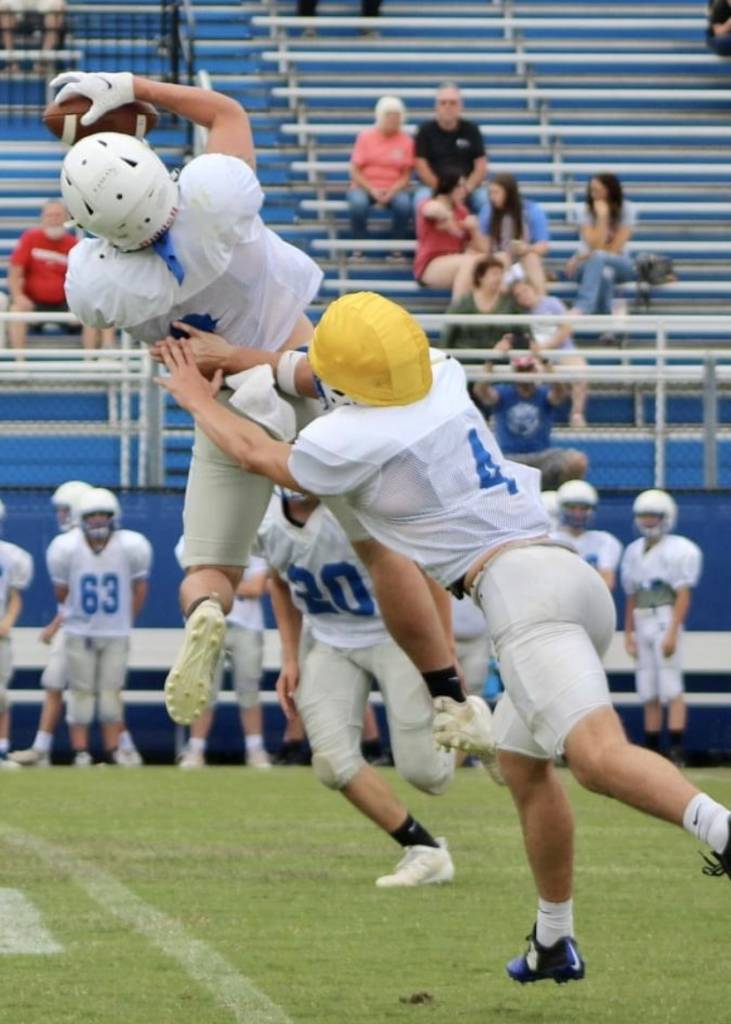 Running Back Rob Brown will be a big part of the offense, and Coach Patrick is expecting him to have a big season. "I don't know what that looks like, but I'd expect it to be good for us. Rob is just so physically gifted. He works incredibly hard, and has put himself in position to be one of the better backs in the state of Georgia, regardless of classification. I'm beginning to field call from colleges expressing interest in Rob, which is completely deserved. Again, I expect him to have a monster Senior season."
Brown had 1,245 yards rushing last season and 20 touchdowns.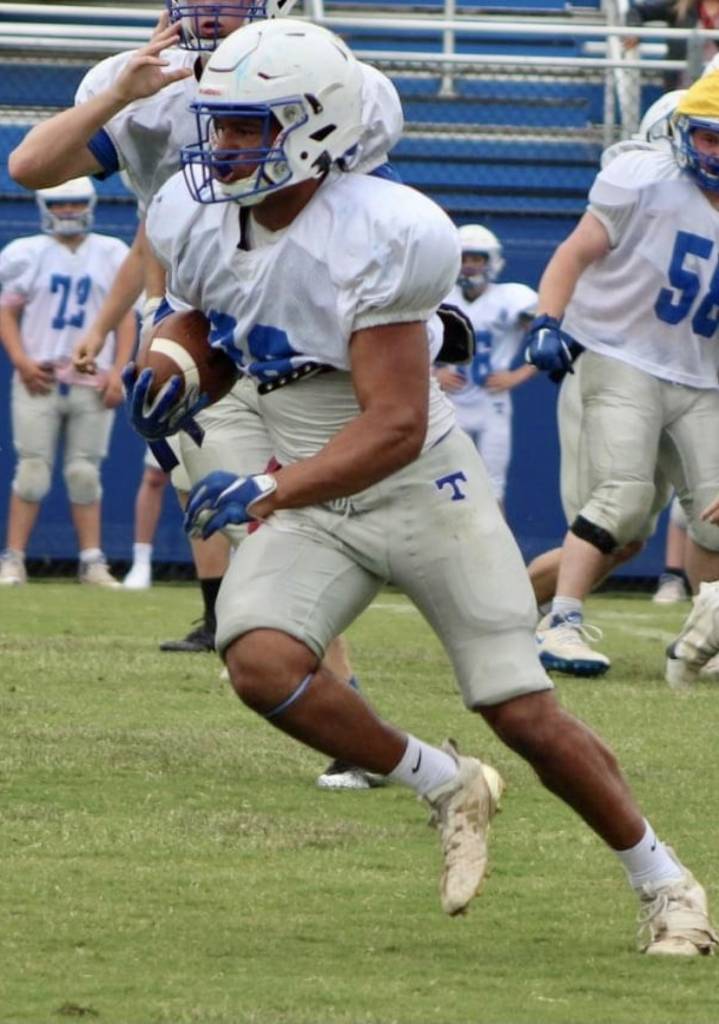 Zach Sharp who got injured at the end of last season was back on the grass for spring, "it's great to have Zach back. It hurt us last season when he got hurt. Like all of our kids, Zach has had a tremendous offseason. He's gotten bigger and stronger." Patrick added, "heck, he won a state championship at 195 lbs in wrestling. Zach is a physical kid and a disruptive force along the lines of scrimmage. Definitely nice having him back."
The Bulldogs will have a normal summer, filled with football. "Obviously, we will have our normal workouts, which consist of lifting, speed and agilities, and football activities. We have several 7 on 7s scheduled and two padded camps, one in June and one in July. It'll be fun competing against some other teams. We've had a great offseason and great spring. We need to complement those with a great summer."
After every Summer comes Fall... Coach Patrick said he doesn't have any games circled on the schedule, "we just focus on us. I don't coach other teams, therefore, I don't worry about them a whole lot. We must find ways to improve daily to get to where we want to
be. We have a standard, and we must play to that standard regardless of opponent, score, or circumstances."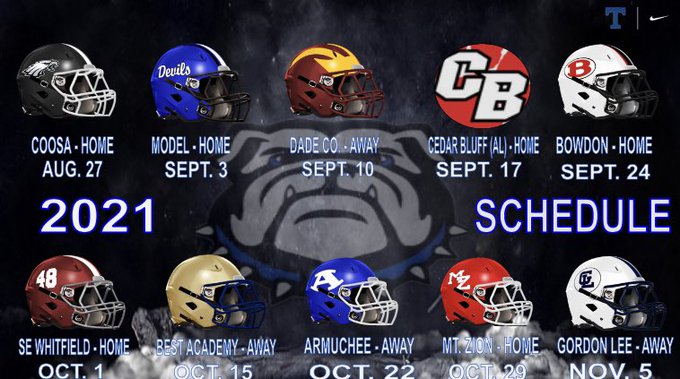 Trion held their spring scrimmage Monday evening in front of Bulldog Nation.  "We are all very blessed to be a part of a community that cares so much about athletics and our kids. I think we've got the best fans in the state of Georgia. We tell our kids all the time how blessed they are to play at Trion. It's a special place. People are excited about this season, which is a good thing. People should be excited."