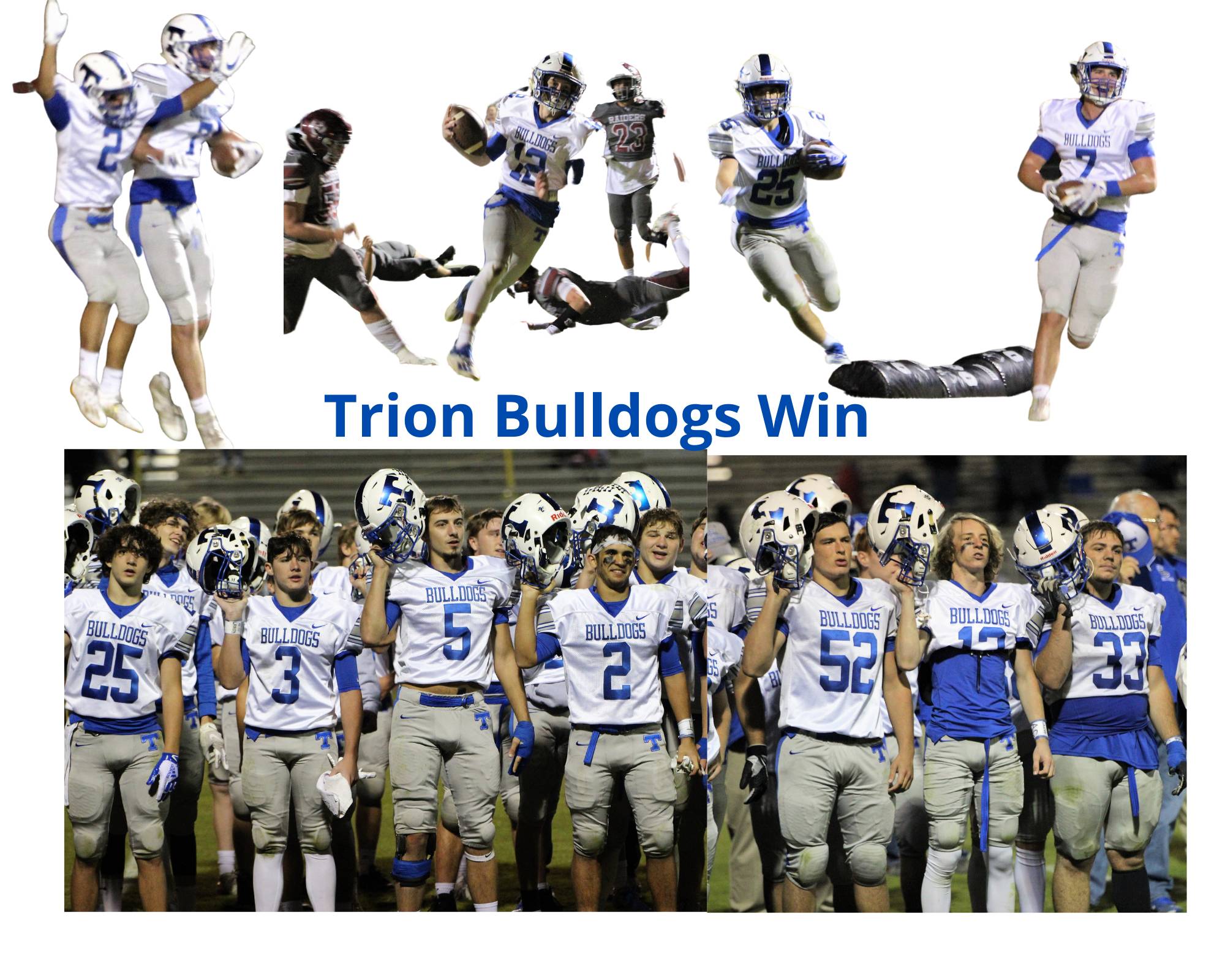 The Trion Bulldogs traveled to Southeast Whitfield Friday night to take on the 4A Raiders.

After a rough start to the game the Bulldogs led just 7-6 at halftime, but Trion turned it on to take the convincing victory.
Halftime adjustments:
"We just needed to clean up our mistakes. In the first half, we beat ourselves. We couldn't get out of our own way. We have a standard here, and we were not playing to it. We also have to do a better job of focusing on the little details. Details matter," Bulldog Head Coach Sean Patrick said.
Trion took the field in the 3rd quarter and took charge of the game scoring four touchdowns.
TD #1 Cole Cavin 45 Yd Pass From Connor Deparlier
TD #2  Rob Brown 27 Yd Run
TD #3  Nathan Willingham 19 Yd Pass From Connor Deparlier
TD #4 Brantley Willbanks 4 Yd Run
Trion found success running the ball and stopping the run. Rob Brown rushed for 148 yards on 15 attempts with one touchdown. Quarterback Connor Deparlier added 72 yards on the ground and one rushing touchdown in the second quarter. Brantley Willbanks picked up another 34 yards on five touches and one rushing touchdown.
Trion also found some success with the air raid as quarterback Deparlier connected with Cole Cavin on a 45-yard touchdown reception and Nathan Willingham on a 19-yard touchdown reception.
"Friday night was a game that we needed to win, and thankfully we were able to do so. We're at a point in our program now where we just need to win games. This is a process. And winning definitely helps along the process," Patrick said.
The Bulldog defense limited the Raiders to 92 total yards, 40 rushing and 52 passing and caused three turnovers and nine sacks. Zack Sharp led the team with three sacks. "Our defense shut them out, I'm so proud of those guys," Patrick said. "Ultimately, we were able to make more plays than them."
Coach Patrick says his coaching staff is doing a great job teaching the players that everything matters. "The way you lift weights, the way you practice, the way you conduct yourself. Little details matter and if neglected or ignored they turn into big issues. We stress doing things with a sense of urgency. If we are doing it, it is important. Our kids have to understand that every rep is important. We are not good enough to take plays off and mentally checkout. We have to strive for excellence in all we do. It all goes back to having a standard. Our standard will never change regardless of what we're doing or who we're playing."
While the win was nice, Patrick is not satisfied with any phase of the game, "I don't know if we do anything real well right now. We have to improve individually and as a team daily. I do believe that we have gotten better throughout the season, but we MUST continue to improve. And I think our kids realize that too. They are working hard to get better. But we cannot get satisfied or complacent because we've accomplished nothing and there's still work to be done. Again, we have to get better as a team daily."
Trion improves to 2-3 with the win.
SEASON Team Leaders:
The Bulldogs will host Augusta Christian Friday night, kickoff is at 7:30 pm.