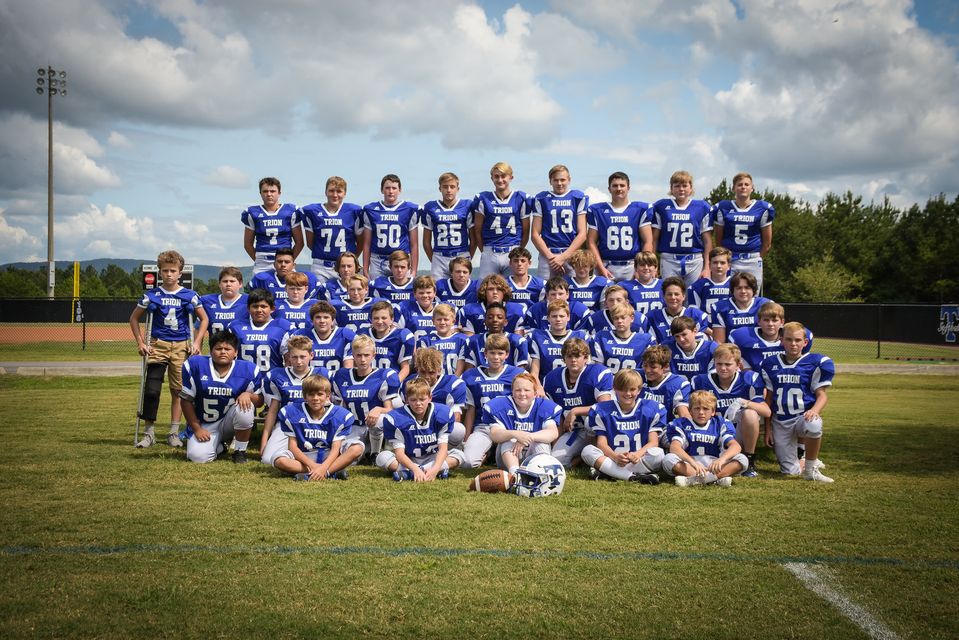 The Trion Middle School football team is looking to complete its second consecutive undefeated season. The Bulldogs claimed the 2019 North Georgia Athletic Conference championship over Dade County capping off an undefeated historic season. This season Trion has continued the undefeated trend and currently have a 16 game winning streak.

The Bulldogs will host Ringgold Thursday at 4:30 for the NGAC championship. The first time the two teams met on the gridiron earlier in the season Trion beat the Tigers 26-6, and stand as the only team to have beaten Ringgold this season.
Trion Middle School has outscored its opponents 278-58. And are one win away from completing two consecutive undefeated seasons.
As the coaches make final championship game preparations Covid-19 quarantines have struck the team. Currently the Bulldogs have six players quarantined, two are starters whose loss will be significant. The coaching staff is confident in the depth of the roster and hopeful they can overcome the quarantine.
A closer look at the undefeated season:
TMS 32- 26 Dade
TMS 26- 6 Ringgold
TMS 46- 0 Lakeview
TMS 54- 6 Saddle Ridge
TMS 56-14 Chattanooga Valley
TMS 34- 6 Gordon Lee
TMS 30- 0 Heritage
Trion Middle School Football 2020 Roster

| | | | |
| --- | --- | --- | --- |
| Number | Name | Grade | Position |
| 1 | Sammy Edgeworth | 6 | RB/DB |
| 2 | Curt Hambright | 7 | WR/DB |
| 3 | Ethan Willingham | 8 | RB/DB |
| 4 | Bryson Roberts | 7 | RB/DB |
| 5 | Conley Harris | 8 | TE/DL |
| 6 | Jason Jenkins | 8 | WR/DB |
| 7 | Kade Smith | 8 | QB/DB |
| 8 | Christian Henderson | 7 | QB/DB |
| 9 | Gavin Stivers | 7 | RB/DB |
| 10 | Dawson Crane | 6 | QB/DB |
| 11 | Silas Mills | 6 | RB/DB |
| 12 | Ashton Mason | 6 | WR/DB |
| 13 | Lane Harris | 8 | RB/LB |
| 14 | Linc Allen | 6 | RB/DB |
| 15 | Braydon Cundiff | 8 | WR/DB |
| 16 | Gavin Gillum | 6 | WR/DB |
| 18 | Peyton Mintor | 6 | WR/DB |
| 20 | Ashton Mason | 6 | RB/DB |
| 21 | Staven Gardner | 6 | RB/DB |
| 22 | Landon Dixson | 8 | RB/DB |
| 24 | Will Groce | 7 | RB/DB |
| 25 | Jake Dawson | 8 | WR/DB |
| 26 | Mason Stancil | 7 | WR/LB |
| 28 | Porter Sentell | 7 | RB/DB |
| 30 | Asher Clark | 6 | WR/DB |
| Number | Name | Grade | Position |
| 32 | Ilan Beam | 8 | TE/DL |
| 34 | Zach Camp | 8 | RB/LB |
| 36 | Coleman Lee | 6 | RB/DB |
| 40 | Colton Sanford | 8 | RB/DB |
| 44 | Logan Stokes | 8 | TE/DL |
| 46 | Branson Whaley | 7 | RB/DB |
| 50 | Conner Harris | 8 | OL/DL |
| 51 | Lincoln Hefner | 7 | OL/DL |
| 52 | Dillard Strickland | 8 | OL/LB |
| 53 | Landon Burks | 7 | OL/DL |
| 54 | Baltazar Gomez | 6 | OL/DL |
| 55 | Price Wilson | 8 | OL/DL |
| 56 | Braden Floyd | 8 | OL/LB |
| 57 | Zane Adams | 7 | OL/DL |
| 58 | Jancarlos Moralez | 6 | OL/DL |
| 60 | Mac Lee | 7 | OL/DL |
| 61 | Hudson Thomas | 6 | OL/DL |
| 62 | Noah Thomas | 6 | OL/DL |
| 64 | Kaden Ramirez | 8 | OL/DL |
| 66 | Brock Payton | 8 | OL/DL |
| 68 | Alden Little | 6 | OL/DL |
| 70 | Noah Gann | 8 | OL/DL |
| 72 | Aiden Wright | 8 | OL/DL |
| 74 | Camden Durham | 8 | OL/DL |
| 76 | Preston Ward | 8 | OL/DL |
| 79 | Jon Mendez | 8 | OL/DL |