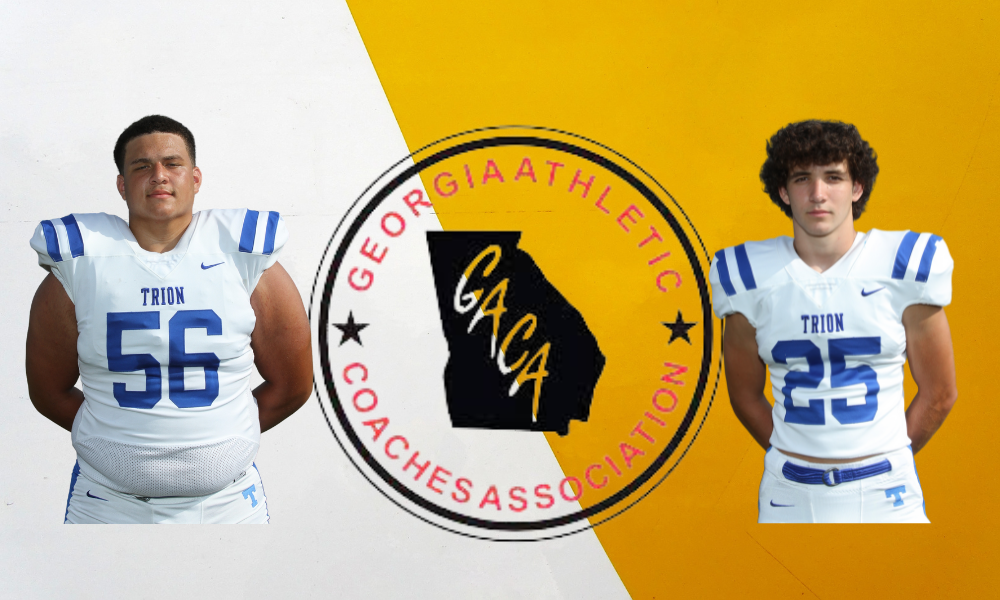 The GACA (Georgia Athletic Coaches Association) has released the All State Football Rosters for the 2022-2023 season. 
Two Trion Bulldogs were named to the GACA All State team, defensive lineman, Ezra Adams and line backer, Toby Maddux.
"I'm so proud of Toby and Ezra," Bulldog Head Coach Sean Patrick said. "This is an incredible accomplishment, and they completely deserve this recognition."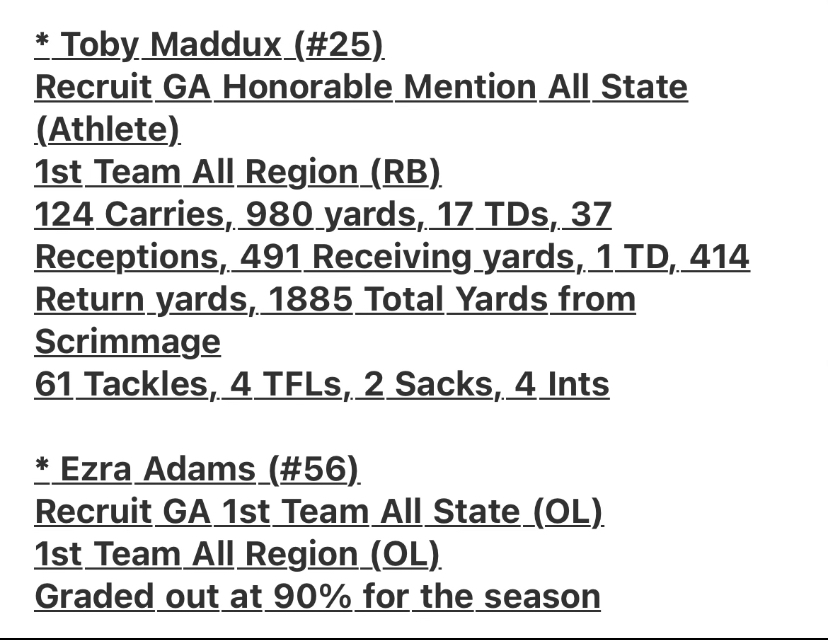 Trion Football had four players from the 2022 team recognized at 1st team All-State: Toby Maddux (GACA), Ezra Adams (GACA), Logan Eller (AJC) and Andy Ramirez (AJC).
Each one of these four players will have their names added to the Wall of Fame located inside of Sam R. McCain Stadium. "Just a heck of an accomplishment, I'm just so proud of those guys," Patrick said.
GACA ALL STATE FOOTBALL ROSTERS 2022-2023
A DIVISION I – Regions 5-8
POSITION
NAME
COACH
SCHOOL
Coach of the Year
Greg Vandagriff
Prince Avenue Christian
Offensive POY
Aaron Philo
Greg Vandagriff
Prince Avenue Christian
Defensive POY
Caleb LaValle
Coleman Joiner
Whitefield Academy
QB
Keegan Stover
Michael Davis
Rabun County
QB
Jaiden Jenkins
Frank Barden
St. Francis
Running Back
D'Marion Floyd
Tommy Atha
Darlington
Running Back
Quan Moss
Shannon Jarvis
Elbert County
Running Back
Kevin Maven
Frank Barden
St. Francis
Running Back
D J Rogers
Rick Hurst
Pepperell
Offensive Line
Hampton Holton
Mark Hollars
Commerce
Offensive Line
Gus Gammage
Tommy Atha
Darlington
Offensive Line
Gatlin Hancock
Tommy Atha
Darlington
Offensive Line
Aaron Kruse
Ryan Livesey
Mt. Pisgah
Offensive Line
Jack Hood
Michael Davis
Rabun County
Offensive Line
Austin Head
Greg Vandagriff
Prince Avenue Christian
Tight End
Nick Hurley
Greg Vandagriff
Prince Avenue Christian
Wide Receiver
Bailey Stockton
Greg Vandagriff
Prince Avenue Christian
Wide Receiver
Ethan Christian
Greg Vandagriff
Prince Avenue Christian
Wide Receiver
Jaden Gibson
Michael Davis
Rabun County
Wide Receiver
Cam Robinson
Frank Barden
St. Francis
Defensive Line
Uriah Howard
Greg Vandagriff
Prince Avenue Christian
Defensive Line
Ceasar Cruz
Michael Davis
Rabun County
Defensive Line
Ezra Adams
Sean Patrick
Trion
Defensive Line
Ian Geffrard
Coleman Joiner
Whitefield Academy
Defensive Line
JaQuinton Madison
Frank Barden
St. Francis
Defensive Line
Jack Fagan
Mark Hollars
Commerce
Line Backer
Nic Baloga
Michael Davis
Rabun County
Line Backer
Joel Lowenberg
Tommy Atha
Darlington
Line Backer
Toby Maddux
Sean Patrick
Trion
Line Backer
Ethan Owens
Michael Davis
Rabun County
Line Backer
Cole Hill
Mark Hollars
Commerce
Defensive Back
Josh Britt
Greg Vandagriff
Prince Avenue Christian
Defensive Back
Willie Goodwin
Michael Davis
Rabun County
Defensive Back
Ayden Duncanson
Coleman Joiner
Whitefield Academy
Defensive Back
Branden Strozier
Frank Barden
St. Francis
Defensive Back
Talan Shirey
Tommy Atha
Darlington
Special Team
Marcus Remillard
Michael Davis
Rabun County