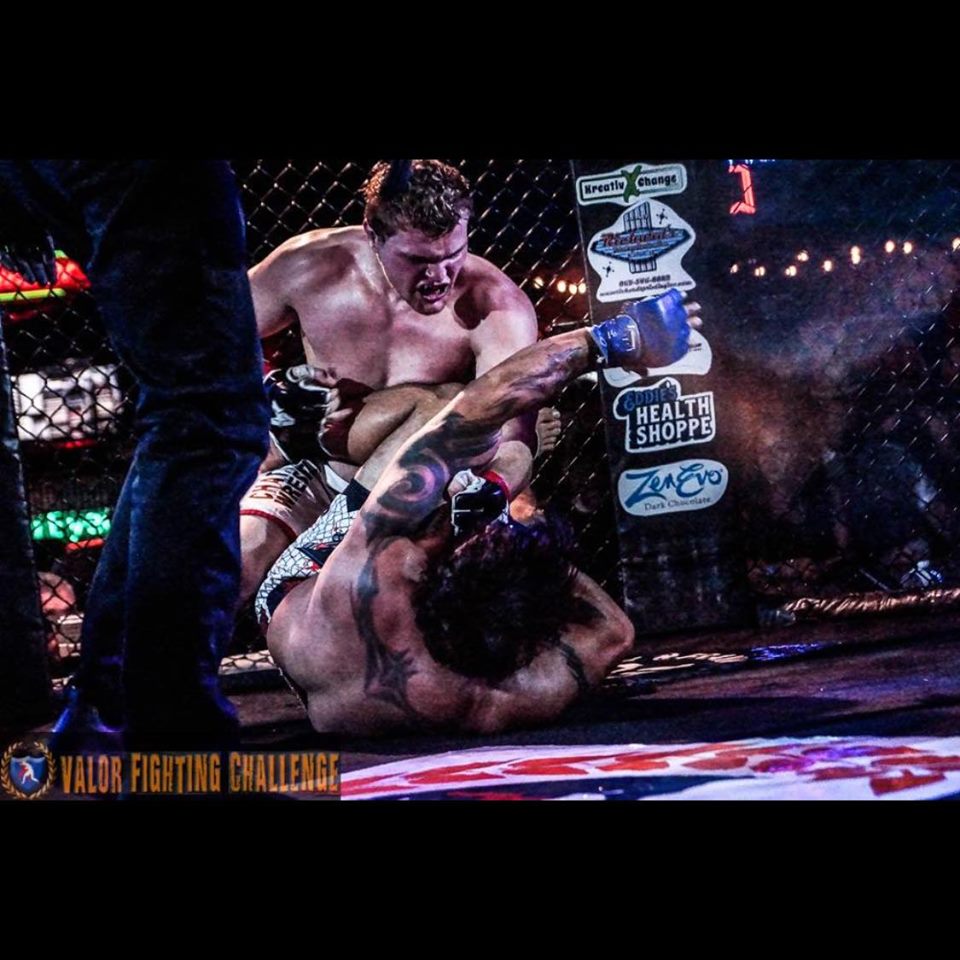 From the wrestling mat to the MMA cage


Chattooga High School junior, Alex Mears, made his debut in the MMA Cage Friday, May 3rd in Knoxville, TN in the Valor Fighting Challenge. Fresh off his first GHSA State Wrestling Championship at the 220 lb weight class, Mears has been training hard with Chattooga assistant football coach, Nicky Peppers, for his first MMA fight. Mears, now 18, is eligible to compete in the full-contact mixed martial arts event and cut to the 205 lb weight class (Light Heavy Weight) to take on 29 year-old Harrison Aiken out of Cumming Georgia.
After a brief skirmish during the weigh-ins, during which Aiken looked to continue a streak of social media "smack talk" with a cheap jab at Mears, the fight looked to be one of the more exciting bouts of the night at Knoxville's Cotton Eye Joes. Announcers for the event remarked that Mears was coming into the fight with no experience in the cage but repeatedly referred to his wrestling background and the fight pedigree of his coach and mentor, Nicky Peppers, as solid tools for the novice fighter.
Mixed martial Arts (MMA) is a full-contact combat sport that allows striking, grappling, and submission holds, both standing and on the ground, using techniques from various combat sports and martial arts. Participants must be over 18 years old before competing in the aggressive sport made popular by leagues such as K1 and the UFC.
Mears spoke about his preparation for Aiken striking game by working with Peppers a lot on his stand up technique. The youngster felt very confident with his boxing skills and was prepared to stand in and box with the older fighter but the strategy changed quickly with the opening bell. The fight was scheduled for three roundss at three minutes each.  Mears looked to the referee after Aiken opened the fight with a low blow but the fight wasn't stopped for any warnings and Mears found himself quickly on the defensive. Delivering several blows of his own, Mears fought off a take-down attempt by Aiken and was looking to settle into a full mount but Aiken rolled out of it. Fighting off an attempt by Mears at a rear naked choke, Aiken worked his way around and caught Mears in a guillotine choke hold but couldn't close it out as Mears fought out of the submission attempt and landed a booming upper cut. The first round ended with Mears hunting the single leg take down and Aiken going back to his guillotine attempt.
The bad blood continued into the second round as both fighters kept the bout on their feet. Mears continued to land heavy blows and forced Aiken into another weak take down attempt. Mears easily countered the attempt with a spin move and took his opponent's back, sliding right into a rear naked choke with full extension, forcing a quick tap out from Aiken at the 1:02 mark in the second round.
Mears moves to 1-0 in his MMA career. Mears also earned Performance of the Night.
Mears had many fans travel to Knoxville to support him, "being able to perform in front of a crowd like that was just awesome," said Mears.
Mears will have his next fight later this summer.