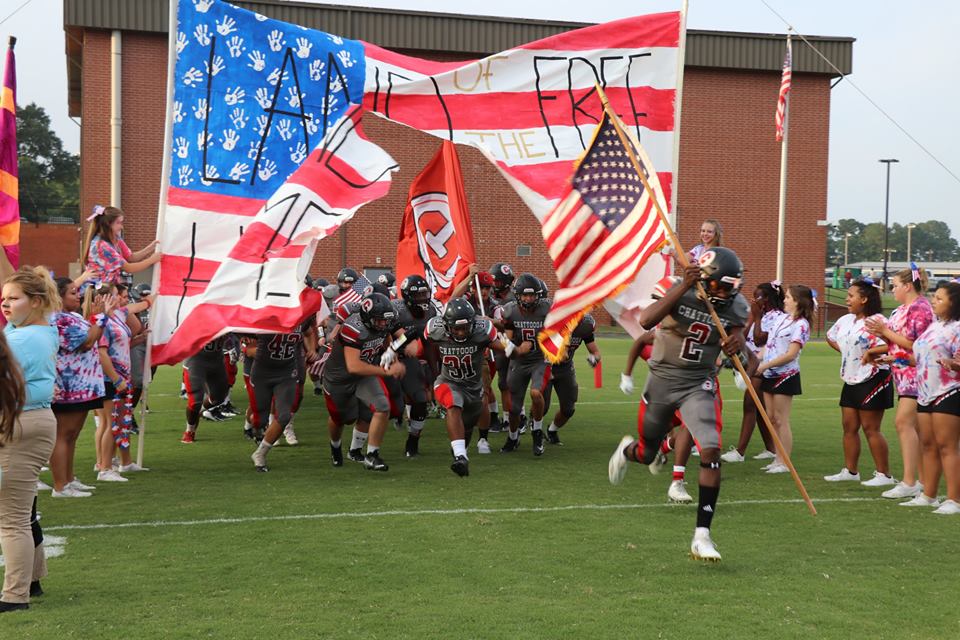 The Chattooga Indians powered past the Wesleyan Wolves Friday night, winning 17-0 in the Indians home opener for Military Night at the Little Big Horn.

The Indians established the lead on their second possession by dominating the line of scrimmage. Pinned on their own 5-yard line after a Wesleyan punt, the Chattooga offensive line did exactly what the Indian coaching staff had been hoping they would do. They found their groove and opened lanes for all running traffic, especially #31.
Sophomore running back E.J. Lackey had a career night. With record highs in yardage, 242 yards, and carries, 38, Lackey led the Indian offense to a complete workshop in ball-control and time-of-possession domination. Lackey added a touchdown for good measure.
"Izzy and the o-line performed great, I could not have done it without them," Lackey said.
The offense line was simply stellar. "Our offensive line is really starting to gel and work together as a unit," said Co-Offensive Coordinator David Gann. "I have been fortunate to coach many good individual offensive linemen over my years, but this one works together as a unit as well as any group I have ever had."  The line limited their mistakes despite missing junior Tight End Zack Tucker due to sickness. Sophomore Eli Hosmer was a solid performer as a backup.
The line was surprisingly more physical than the bigger Wesleyan defensive front and the aggressive play paid off. "They are physical up front and do a great job of staying on blocks through the play, which helps 4-yard runs turn into 8 and 10 yard runs,"  said Gann.
Freshman Lashaun Lester added 53 yards on 7 carries and had one touchdown in the victory.
Junior Luis Medina was all over the field Friday night. Lining up at times on offense as a tight end, Medina was a force to be reckoned with. Medina and the Indian defense harassed the Wolves all night, shutting down the run game and forcing bad throws. Medina was also perfect on two PATs and one field goal.
Senior fullback Izzy Dammond created the running lanes allowing Lackey to make cuts off of his blocks and pick up extra yards each run.
The Indians o-line starters for the game were, Left Tackle: Grayson Edgeman, Left Guard: Shy Williamson, Center: Devin Blackmon, Right Guard: Cody Maynard, Right tackle: Dalton Bray and Tight End: Sophomore, Eli Hosmer in his first varsity start.
Defensive Coordinator Bob Smith had the Indians defense firing on all cylinders. After a tumultuous week of practice, the Indians defense pitched a shutout against the Wolves. "It was one of the better defensive performances since I have been at Chattooga," said Head Coach Hammon.
In just his first two games of his sophomore season, Lackey has amassed 410 yards rushing with a 7.5-yard average.
Senior QB Devin Price went down with an ankle injury, and will miss the Heritage game but is expected to be at 100% for the Coosa game.
The Indians will host the 4A Heritage Generals Friday, kickoff is at 7:30 p.m., AllOnGeorgia Chattooga will be live streaming the game on Facebook.