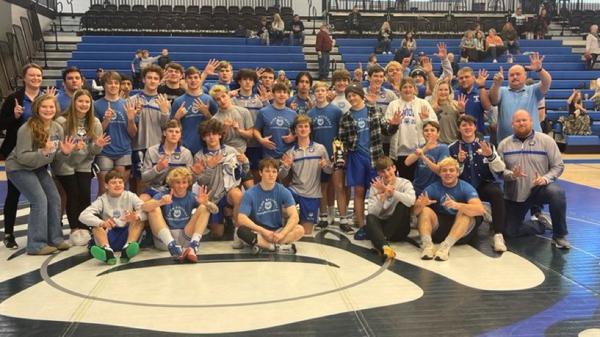 The wrestling publication, the Georgia Grappler has made its GHSA Dual Wrestling Class 1A State Championship predictions with Trion Bulldogs coming out on top of the podium.


The Bulldogs will travel to Commerce to compete in the 1A DUAL WRESTLING STATE CHAMPIONSHIP on Jan 22, 2022.
Georgia Grappler predicts the state championship dual will feature Trion vs Social Circle.
From the article:
State Championship Dual
Trion vs Social Circle:
106- Logan Potts vs Braydon Mitchell
113- Daegan Vaughn vs Curtis Duren
120- Seth Huskins vs Connor Castillo
126- Crawford Lee vs Caden Prater
132- Andrew Jones vs Lance Thacker
138- Bryce James vs Austin Farmer
145- Gus Hames vs Kacen Taylor
152- Braydon Floyd vs Will Hames
160- Toby Maddux vs James Eldridge
170- Cohen Blaschke vs Jaxon Etheridge
182- Blayden Bowman vs JD Duval
195- Logan Eller vs Rowen Vandergriff
220- Zach Sharp vs Tucker Cleary
285- Brantley Willbanks vs Ben Bruce
These two lineups feature 17 State Placers from last year!!!!  For Social Circle to win this dual, they are going to need to find a way to overcome Trion's advantage in the upper weights.  Trion's top 4 could be the best finishing quartet in the entire State, regardless of Classification.  Social Circle has the edge through the middle, and the two teams are pretty even down low.  Social Circle is going to need to make a lineup adjustment somewhere to get a matchup where they can pick up a win at a weight where Trion is favored.
Final Score: Trion 34  Social Circle 28
Top 4
1. Trion
2. Social Circle
3. Commerce
4. Mt. Pisgah
Also from the article:
STATE DUAL CHAMPIONSHIPS
Initial Reactions
– For the 2nd year in a row, all 8 Region Champions advanced to the Elite 8, and did so handily. The closest Sweet 16 match had a 30 point margin, Pacelli and Screven Co both won 54-24.
– 7 of the 8 teams that qualified this year, also qualified last year with Charlton Co being the newcomer.
– The bracket is set up correctly, while who got what seed in the top 4 may be questionable, the top 4 are separated, and so are what I believe to be the top 2.
– Commerce, Mt. Pisgah, Social Circle, and Trion are definitely the top 4 teams
1st Round
Mt. Pisgah vs Charlton Co: Pisgah got the #1 seed based on being the defending State Duals Champions, and without a loss to any of the other teams in 1A, it is hard to argue against doing this despite some of the results we have seen throughout the year. Charlton may pick up a few individual wins, but this match will not be close as Pisgah will roll on through to the Semis
Trion vs Screven Co: Trion is absolutely loaded, and many felt that they should have been the #1 seed. It is hard to argue against a 35-1 dual meet record, with their only loss coming to a team from Tennessee. However, as mentioned above, Pisgah is the defending champs, and more importantly, Trion is opposite from Social Circle. Trion will easily advance, but this Screven Co team is very good and they could make some serious noise on the backside of the bracket.
Commerce vs Landmark Christian: The Tigers have a stout 23-2 dual meet record with their losses coming to Rockmart and Lexington, SC. They are clearly one of the top 4 seeds, and should advance to the Semis without too much of an issue. Landmark has several very tough wrestlers and will be looking to pick up a few solid wins heading into the individual portion of the post season.
Social Circle vs Pacelli: Social Circle is 18-0 on the season, and viewed as co-favorites along with Trion. Pacelli qualified for the Elite 8 last season, but had to pull out due to Covid, so I am happy that they were able to return this year and get the opportunity to compete. While this 1st round match may not go their way, they will have an opportunity on the backside to show just how strong of a team they are.
Semifinals
Mt. Pisgah vs Trion: This will be a heavyweight battle as we get to see the defending Champs against this year's favorites. Despite losing quite a few to graduation, Mt. Pisgah is still a very good dual team, and while they may fare better in a traditional format, they will be tough to beat this weekend. Trion potentially has the recipe to knock off Pisgah, with some bona fide studs of their own to go along with being very balanced every where else in their lineup.
Potential Matchups: Obviously this could and will change based on coaches moving people around to optimize their lineups.
106- Conner Doherty vs Logan Potts
113- FF vs Daegan Vaughn
120- Muzi Muzi vs Seth Huskins
126- Charles Headrick vs Crawford Lee
132- Brady Nardella vs Andrew Jones
138- Marley Washington vs Bryce James
145- Tyler Nelson vs Gus Hames
152- Joey Bertrand vs Braydon Floyd
160- Josh Lange vs Toby Maddux
170- Chaz Grube vs Cohen Blaschke
182- Jake Schmitz vs Blayden Bowman
195- Steele Brown vs Logan Eller
220- Cole Spence vs Zach Sharp
285- Josh Fuentes vs Brantley Willbanks
In a straight up head to head matchup I see Trion being favored in 8 weight classes. The key weight to this dual that could shift things decidedly to Trion would be at 132 and 160. Not having a 113 could come back to really hurt Mt. Pisgah, I think they are going to need to hold serve in the 6 weights where they are favored, and pick up at least 1 upset, possibly 2. Their best chances for an upset could be at 126, 170, and 220, if Trion sweeps all three of those they will find themselves in the finals.
Commerce vs Social Circle: Another great semifinal matchup between two programs that have been consistent powerhouses for the better part of a decade. Commerce took 2nd last season at the State Duals, while Social Circle took 3rd, with both teams losing only to Mt. Pisgah. Commerce definitely lost more from last year to this year, but they have filled in the gaps well. Social Circle may have finished last season wanting a little bit more, and they have come back very hungry this year. Both teams have several household names in their lineup, and this dual, like so many at this level will come down to getting the right matchups and bonus points.
Potential Matchups: Obviously this could and will change based on coaches moving people around to optimize their lineups.
106- Isaac Palmer/Noah Prickett vs Braydon Mitchell
113- Trenton Matthews vs Curtis Duren
120- Kyle Hancock vs Connor Castillo
126- Griffin Matthews vs Caden Prater
132- Logan Phillips vs Lance Thacker
138- Landon Worley vs Austin Farmer
145- Jesse Cofield vs Kacen Taylor
152- Collin Hall vs Will Hames
160- Grant Hamilton vs James Eldridge
170- Brayden Phillips vs Jaxon Etheridge
182- Tyshon Wiggins vs JD Duval
195- Hoke Poe vs Rowen Vandergriff
220- Christian Dixon vs Tucker Cleary
285- Ethan Epps vs Ben Bruce
Social Circle appears to be favored in up to 9 weight classes if this dual were to be wrestled straight up. Commerce is going to have to find a way to pick up a win in the lower weights in order to support the top half of their lineup. In looking at Social Circles lineup, they are so solid at every weight, picking up an upset is going to be tough, picking up 2 or 3 will be near impossible. 113, 132, 138, 160, 170, and 220 are all key matches for the Tigers, and they almost have to win 4 of them, maybe even 5.
Consolation Rounds
Screven over Charlton
Pacelli over Landmark
Commerce over Screven
Mt. Pisgah over Pacelli
Consolation Finals
Mt. Pisgah vs Commerce: I see this as a battle between Pisgah's middle weights and Commerce's upper weights. Pisgah will surely be hurt by forfeiting 113 against Commerce, as that is not one of their tougher weight classes, getting a free 6 there feels like more than just 6. 126 and 132 will be two toss up matches and I really would like to see Nardella vs Phillips at 132, but 138 could be the match of the dual with Washington vs Worley. Pisgah will need to steal at least 2 of the final 6 weights to win the dual, and while they could pick up a win at 220, the only other opportunity they have is at 160 with Lange vs Hamilton.
Final Score: Commerce 35 Mt. Pisgah 31
via: https://www.georgiagrappler.com/news_article/show/1203835?fbclid=IwAR2r3oZYq7zduxgm9NyLJFQXD-9OPvPhFJ0oDUL8Comi1e_NvVXia08RVwY