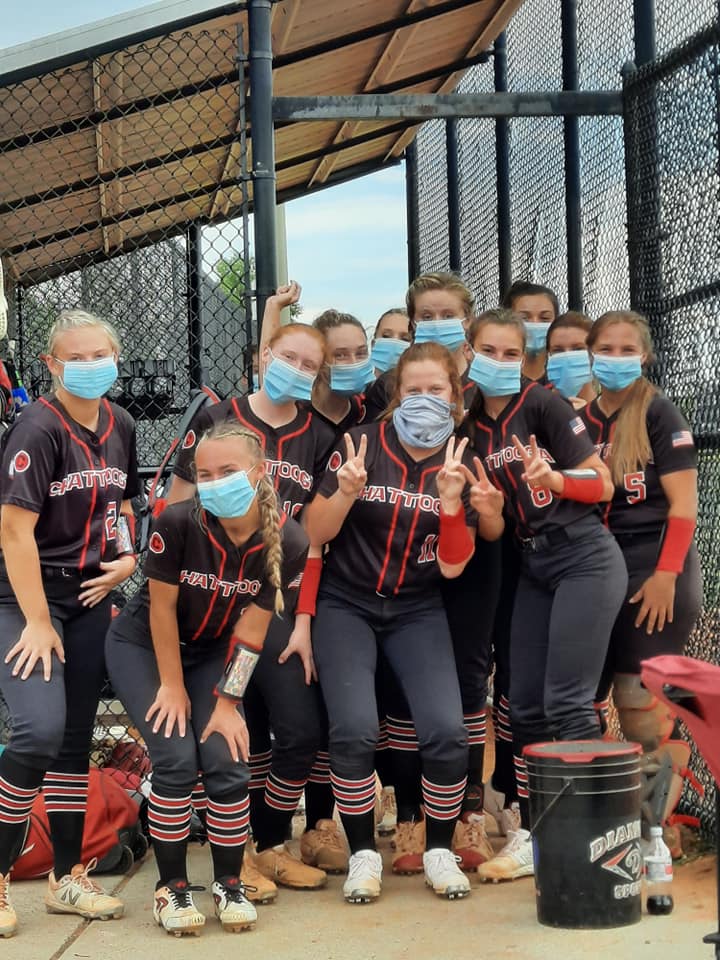 Working through a season that has dealt the Lady Indians many Covid-19 obstacles including a team quarantine, and many scheduling changes, Chattooga has made history becoming the first team to to make the state playoffs for three consecutive years.

Chattooga was scheduled to play Gordon Central on Wednesday. The Lady Indians faced the Warriors last week and beat the Gordon County team 19-0. This morning Gordon Central's Athletic Director contacted Chattooga's AD to say Gordon Central elected to forfeit the game. The game had no bearing on state playoff seeding.
Chattooga will finish the season #2 in region 7AA and will host South Atlanta in the first round of the GHSA playoffs on Monday. Times for the doubleheader have not been announced.
The Lady Indians are set to host Dade County Thursday at 5:30 pm to finish up region play. Dade County is undefeated, the game will not change the seeding for the state playoff. Chattooga suffered a loss to Dade earlier this month in a 3-2 game.
The Road to Columbus: 
"I feel good about the state playoffs and the girls also feel good," Coach Jeff Bennett said.
2020-2021_GHSA_Class_AA_State_Fast_Pitch_Softball_Playoffs

Roster for 2020 Chattooga Indians
Chattooga is currently 12-3 and hoping to avenge the 3-2 loss to Dade on Thursday to finish region play and begin focusing on the state playoffs.
Tue, Aug 04
6:00PM EDT 

Start

 L, 8-0 

 Final | 0-0-0

Exhibition Game

Fri, Aug 07
5:00PM EDT 

Start

Mon, Aug 10
5:30PM EDT 

Start

Tue, Aug 11
5:30PM EDT 

Start

Fri, Aug 14
6:00PM EDT 

Start

 W, 5-2 

 Final | 3-0-0

League Game

Fri, Aug 14
8:00PM EDT 

Start

Tue, Aug 18
5:00PM EDT 

Start

September 2020

Wed, Sep 02
5:30PM EDT 

Start

 W, 6-1 

 Final | 6-0-0

League Game

Mon, Sep 21
5:45PM EDT 

Start

Wed, Sep 23
5:30PM EDT 

Start

 L, 7-4 

 Final | 7-1-0

League Game

Wed, Sep 23
5:30PM EDT 

Start

Tue, Sep 29
5:00PM EDT 

Start

 L, 5-0 

 Final | 7-2-0

League Game

October 2020

Thu, Oct 01
5:30PM EDT 

Start

 L, 3-2 

 Final | 7-3-0

League Game

Sat, Oct 03
11:30AM EDT 

Start

Mon, Oct 05
5:00PM EDT 

Start

Mon, Oct 05
6:30PM EDT 

Start

Wed, Oct 07
5:00PM EDT 

Start

Wed, Oct 07
6:30PM EDT 

Start

Thu, Oct 08
5:30PM EDT 

Start

 W, 19-0 

 Final | 11-3-0

League Game

Mon, Oct 12
5:30PM EDT 

Start

 W, 5-3 

 Final | 12-3-0

League Game

Wed, Oct 14
5:30PM EDT 

Start

Thu, Oct 15
5:30PM EDT 

Start