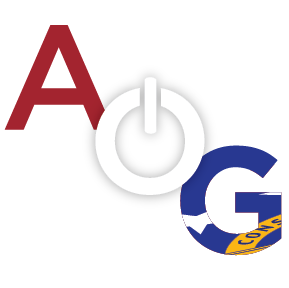 Chattooga County athletes earn big region victories on the gridiron Friday night. In Region 6A the Trion Bulldogs avenged 2 consecutive years of losses to the Christian Heritage Lions including last year's agonizing 3-0 overtime loss. Meanwhile on the south side the Indians of Chattooga traveled to Coosa to avenge a loss of their own. Region 7AA rivals, the Coosa Eagles stunned the Indians on their home field last year and Chattooga was eager to repay the favor.
On the legs of a Foster and the backs of an unrelenting offensive line the Indians slowly wore down a surprisingly hungry Coosa defense. The steady rainfall limited the air attack for both teams turning the evening into a brutal war in the trenches. Chattooga's offensive line used size and superior depth to slowly wear down the Eagle's front four. Controlling the line of scrimmage and opening holes for their backfield, Jay Williams, Chris Murphy, Caleb Wade, Armand Ford and Big Mike Adams paved the way for the Foster twins to amass over 300 yards rushing. #2 Halfback Isaiah Foster piled up a personal best 250 yards on 39 carries.
Offensive line coach, Mike Hamilton was pleased with the effort, performance and progression of the o-line as a unit. Hamilton added, "We have a long way to go to become the unit I think we can be. We need to obsess about the little things, both mentally and physically, when it comes to fundamentals and educating ourselves about opponents." Coosa was an impressive opponent, making no mistakes and capitalizing on Chattooga's lone fumble, taking the loose ball 90 yards for a touchdown, at a point when the Indians were 10 yards away from putting the game out of reach. Protecting a 20-13 lead with just under a minute to go, the Indians needed to convert a 4th and 1 to run out the clock. The final hand-off to Isaiah Foster instead went 40 yards for a touchdown. Indians Head Coach Hammon said in all his years of coaching, Coosa was "the best 1-3 team" he had ever seen.
Coach Hamilton is finding the consistency he needs from his offensive line and improvement with their intensity and focus.  He commended his athletes on their character and the way they "strive to do the right things daily."
Caleb Wade, a two year starter at center, is the brain-trust of the offensive line, "calling out defensive structures and is the guy the kids go to when there is a scheme question", Coach Hamilton told All On Georgia.
Meanwhile back in Chattooga County under the lights of Sam R. McCain Stadium, Coach Justin Brown took the leash off the Dogs as quarterback Jarrett Gill exploded into the game with 151 yards and 3 first-half touchdown passes. After Drake Clowdis plunged into the end zone to put the Bulldogs up 7-0, Gill took the next two possessions to demonstrate his pin-point accuracy. Finding first Gabe Howell on a 21 yard strike for a score, and then arcing a perfect deep ball down the home field sideline to Jarrett Pierce for another 53 yard touchdown, Gill put Trion up 20-0 in the first quarter and the Dogs never looked back. Punishing runs from Malik Martin, who ended the day with 15 carries for 111 yards and a touchdown, kept the Lions of Christian Heritage on their heels all night.  Coach Brown used multiple backs to keep the Lions guessing as Clowdis picked up 17 yards, Jarrett Pierce picked up 39 yards, Howell picked up 33 yards, and Devonyae Farmer gained 104 yards and a score on just 5 carries. "I'm extremely proud of the way our guys played Friday night. I thought we came out and took control of the game. That was a good football team we played, and to perform the way we did was great to watch." said Brown.
In spite of the rain, Gill's arm and the Bulldog receivers gave Trion a balanced attack that the Lions could find no answer for. On the defensive side of the ball, the Dogs held the Lions to less than 40 yards rushing and, after a late 4th quarter fumble deep in their own red zone, allowed Christian Heritage only two trips beyond the Bulldog 30 yard line.
Both county teams will be off next week before resuming their 2015 schedules in search of region crowns and playoff glory.
---
BOX SCORE
             CHATTOOGA                                                                                                   COOSA
| | | |
| --- | --- | --- |
| 13 | FIRST DOWNS | 12 |
| 51 – 308 | ATTS – RUSHING | 38 – 194 |
| 37 | PASSING YARDS | 22 |
| 3 – 2 – 0 | ATTS-COMPS-INTS | 7 –36 – 0 |
| 345 | TOTAL YARDS | 216 |
| 3 / 1 | FUMBLES/LOST | 0 / 0 |
| 2 / 37 | PUNTS / AVERAGE | 3 / 40 |
| 3 / 31 | PENTALTIES / YARDS | 2 / 20 |
GAME SUMMARY
RUSHING —
Chattooga, Isaiah Foster 39-250, Isaac Foster 11-59, team 1- minus 1.
Coosa, (#7) Xavier Bailey 17-121, (#21) Robbie Davis 1-2, (#23) Patrick Zinnerman 11-42, (#14) Evan Simms 5-12, (#22) Ethan Bartlett 1-2, (#4)Tristen Bryant 3-13.
PASSING — Chattooga, Isaac Foster 2-3-37-0.     Coosa, (#14) Evan Simms 3-7-22-0.
RECEPTIONS — Chattooga, Dee McCutchins 2-37.  Coosa, (#25) Hunter Chastain 1-12, (#7) Xavier Bailey 1-9, (#35) M.J. Chubb 1-1.
KICKOFF RETURNS — Chattooga, Dee Price 1-18.  Coosa, (#7) Xavier Bailey 2-40, (#8) Chandler Hubbard 1-7.
PUNT RETURNS — Chattooga, none.  Coosa, (#3) Onyx Brown 2-14.
——————————————————————————————————————-
Chattooga Indians Defense Statistics —
Tackles(total-solo-assists) — Darin Foster(9-6-3), Nick Hawkins(8-4-4), Lane LeBlanc(7-4-3), T.J. Adams(7-3-4), Tyler Griffin(5-3-2), Kam Martin-McClinic(4-3-1), Isaiah Curtis(4-3-1), Travell Bankston(3-3-0), Dee McCutchins(3-0-3), Nick Groce(2-2-0), Zay Underwood(2-0-2), Mike Adams(1-1-0), Jaylin Perry(1-0-1), Isaac Foster(1-0-1)
---
---
BOX SCORE
TRION                                                                                              CHRISTIAN HERITAGE
| | | |
| --- | --- | --- |
| 22 | FIRST DOWNS | 8 |
| 42 – 346 | ATTS – RUSHING | 19 – 50 |
| 190 | PASSING YARDS | 93 |
| 10 – 6 – 2 | ATTS-COMPS-INTS | 29 –9 – 1 |
| 536 | TOTAL YARDS | 143 |
| 3 / 3 | FUMBLES/LOST | 2 / 1 |
| 1 / 34 | PUNTS / AVERAGE | 7 / 38.8 |
| 3 / 20 | PENTALTIES / YARDS | 4 / 40 |