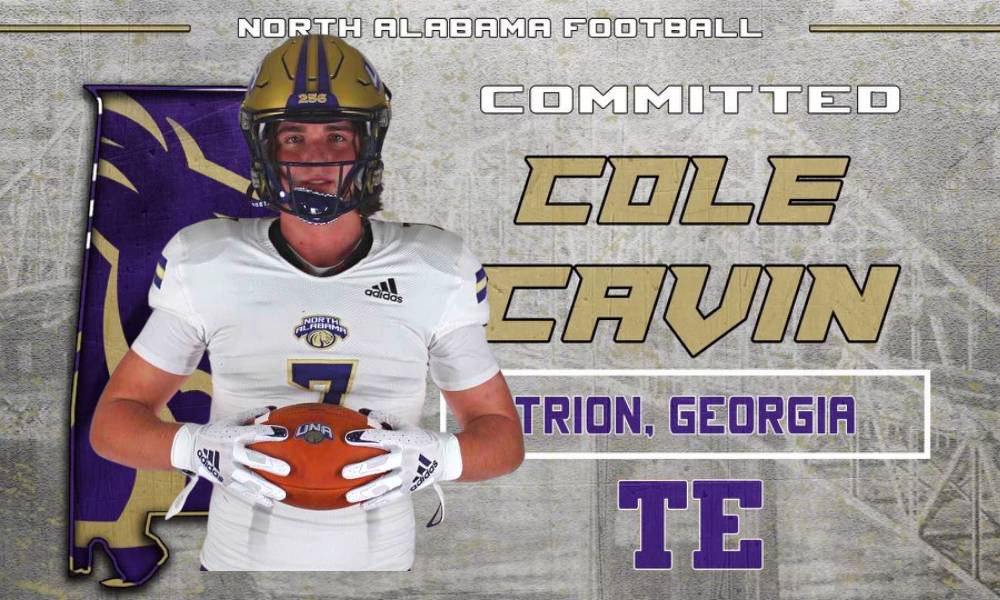 Each year on New Year's Day Cole Cavin writes down his goals for the upcoming 12 months. At the top of his 2021 list was to receive a college offer to play football.

Cavin's offer came on May 6 when Coach Ellis, the receivers coach and recruiting coordinator at the University of North Alabama (UNA) called him after a spring practice and told him the University of North Alabama would like to see him in their team color, purple.
At 6'6″ and 235 lbs, Cavin had several other offers, but his mind was set after a summer visit to UNA.
Cavin will sign his scholarship to play football on Early National Signing Day, December 15th, the first chance for the Class of 2022 to sign with their chosen college football program.
"Cole is an incredible kid. I'm so thankful that I had an opportunity to coach him. He is another kid in our program that accepted a role change for the betterment of the team. He is continuing to learn how to play with his hand in the dirt, which will help him at the next level. I truly believe that Cole's best football is ahead in him, and I can't wait to watch him at UNA," Coach Patrick, Trion High School's head football coach said.
The coaches at UNA are excited to get Cavin on campus. "I see so much of myself in Cole! Very early on in recruitment, I learned that Cole was very similar to myself when I was his age. As Cole develops into a college system, he will find his own way and continue to make strides in his development at the Tight End position," Coach Truitt, UNA's Tight End coach said.
AllOnGeorgia recently caught up with Cavin to talk about his decision to continue his athletic and academic career at UNA.
AOG: Has playing college football been your goal?
Cavin: Yes, for as long as I can remember I've always wanted to play football on a collegiate level. It's never been going to the NFL for me, I've always just wanted to play in college.
AOG: How hard did you work to achieve this?
Cavin: I've been playing football since I was seven-years-old and have attended numerous camps and put in no telling how many hours on the practice field. But getting the opportunity to play in college wasn't just about me, I couldn't have done it without the help of first God and my family and teammates and coaches.
AOG: You've played multiple positions throughout high school— tell me about that
Cavin: I played Quarterback, Safety, Wide Receiver, Tight End and Defensive End through out high school and it's been a blast. Each different position I feel like has helped me become the best football player I can be.
AOG: What made you decide on UNA?
Cavin: I knew I wanted to go to The University of North Alabama since my first visit up there over the summer. I can't describe it, but when I went up there I just felt like home and where I wanted to be for the next four years. And I really felt like the coaching staff really invested a lot of time talking to me and my family over the last few months and ultimately it's where me and my family felt I needed to go.
AOG: What has the recruiting process been like for you and what advice would you give to other high school students about the process?
Cavin: The recruiting process was very fun for me. I enjoyed going on the visits and game day visits and seeing some colleges around the area.  If I would have to give advice to other student athletes about the process it would just be work hard and trust the process. As long as you do that colleges will find you.
AOG: What will you miss most about high school football?
Cavin: What I'll miss most about high school football is definitely the coaches and players. Over the last couple years I've made some memories I won't ever forget. I really feel like my teammates are my brothers and I'll really miss hitting the grass with those guys everyday.
AOG: What are your goals at UNA?
Cavin: My goals at UNA are to eventually to get all-conference at some point during my career.
AOG: What's the most important thing you have learned from your coach?
Cavin: The most important thing I've learned from a coach would be just learning how to over come things in life. Like football is going be hard some times but you have to embrace it and get through it. Same thing goes in life sometimes something isn't going go your way but you have to get through it.
Cavin plans to major in Education and has plans to one day coach football.
UNA is a member of the National Collegiate Athletic Association (NCAA) Division I and compete within the ASUN Conference.
The University of North Alabama (UNA) is a public university in Florence, Alabama. It is the state's oldest public university.