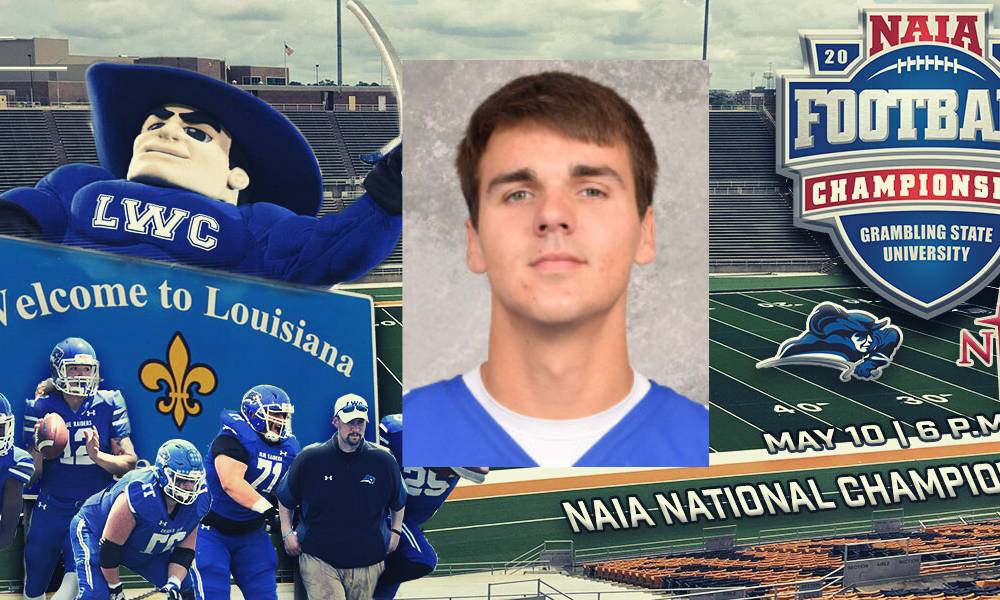 Former Chattooga High School and Darlington High School quarterback Cam Evans will be playing in the NAIA National Championship Game for Lindsay Wilson College vs Northwestern State.
The Lindsey Wilson football team (7-0, 7-0 MSC Bluegrass Division) secured the 2020 MSC Bluegrass Division Regular Season Championship for a second season in a row.  Cameron Evans went 3-of-4 in the air throwing for 69 yards and two touchdowns in the victory.
Saturday May 1st No. 3-ranked Lindsey Wilson football scored 31 unanswered points to beat No. 4-ranked Keiser (Fla.) 38-14 in the NAIA Football Championship Series National Semifinals at Blue Raider Stadium.
Lindsey Wilson picked up its 50th win in Blue Raider Stadium history with the win, including its 14th straight. The Blue Raiders are now 50-15 all-time at home.
Evans has been an integral part of the undefeated season, and punching the ticket to the championship game.
Lindsey Wilson and Northwestern will meet for the first time with a national championship on the line.
Lindsey Wilson football faces Northwestern (Iowa) in the NAIA National Championship game on Monday, May 10, in Grambling, Louisiana. The national title game is scheduled for 6 p.m. CT at Eddie G. Robinson Stadium on the Grambling State University campus.
The game will be live on ESPN3.
The Lindsey Wilson Sports Network will have a live audio feed beginning at 5:15 p.m. CT with the pregame show. Listen live at https://portal.stretchinternet.com/lwc/. 
Lindsey Wilson is making its first-ever appearance in the championship game.
Evans was slated to graduate today, Sunday May 9th, but he can't walk since his team is heading to National Championship. He will receive a communications degree.
6'5″ 230lb Evans is QB2 and has played in all but one game this season.