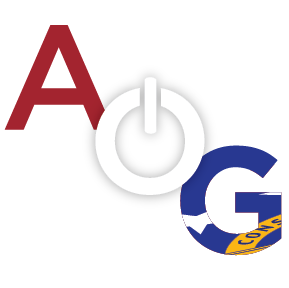 Forget about yonder days of glory and old faded letterman jackets. The 2018 Trion Bulldogs wrestling team just experienced some of the greatest performances in the history of the big blue T.
Head Coach Eric Brock has been around for just over a decade, watching over a dozen Bulldogs make it to the GHSA Finals at the State Championship. And he has witnessed all of them come up short of the title. There have been close matches and highway robberies however, for one reason or another, the boys in blue always seemed to be left standing one step down on the podium. But just when many were beginning to whisper that the Dogs were all bark, along comes Lincoln Maddux and Cole Luallen. Just like that, the Bite is Back.
"It was a special moment that I will remember the rest of my life," said Brock speaking about Lincoln Maddux winning the state title. "It feels incredible. For 11 years I have dreamed of that special moment of getting that celebration hug from your 1st state champion. I think every coach dreams of that moment when all the emotions hit after years of hard work pays off in the end and you get to celebrate that with them. It's a special moment." continued Brock.
Maddux (138), found himself down 7-0 with 41 seconds left in the third when he hit a perfectly executed 'whizzer' move that threw his opponent to his back, earning Maddux with a pin and his first state title… and Brock, that first victory hug.
Next on the mat was 3x runner-up senior Cole Luallen at 145. After three years of watching his opponent's arm raised in the state finals, Luallen knew this day would be different.  30 seconds into the match it was clear Luallen was there to dominate, "I wanted to not just win but to prove a point… that I deserved the title, no question," Luallen said.
Cole Luallen finished his high school career on the mat in storybook fashion, pinning every wrestler he faced on his way to the finals, and pinning his opponent in the finals to earn the top spot on the podium.
Trion Bulldogs finished 3rd as a team, with the following placers.
138 Lincoln Maddux – State Champion
145 Cole Luallen – State Champion
120 Bo Stricklin -State Runner-up
195 Logan Blevins – State Runner-up
285 Clay Baker – 4th
106 Alonzo Francisco – 6th
126 Noah Deparlier – State qualifier
160 Branson Bowman – State qualifier
220 Aidan Brock – State qualifier
As the season comes to a close, Coach Brock said he prayed for the senior class. "I prayed that they may take the lessons that they have learned through the great sport of wrestling and use them in their daily life. I prayed that they know how proud I am of each and every one of them and that they know I love them. I prayed that they know in their hearts that I will always be here for them. I prayed that they know, and all their parents know, how much I appreciate them and how much each one of them means to me."
While Coach Brock has amassed 239-74 record with 50 state placers over his tenure and two state champions, he says he hopes his wrestlers have learned to "be men, to always do the right thing even if it's not the popular thing. To fight for what's right. To work hard for what they want. To never give up in life. One day wrestling will come to an end, but the lessons they learn will be for a lifetime."
Seniors
The Bulldog seniors Bo Stricklin, Noah Deparlier, Cole Luallen, Branson Bowman, Cody Luallen, Logan Blevins, Aidan Brock, Bruce Rameriz, Blade Reynolds will go down as one of the best teams in Trion Wrestling History. While Trion Wrestling did win the team state title in 1994, this group has picked up more Individual accomplishments in their tenure as Bulldogs.
2012-2014 Middle School
70 Dual Meet Wins – Record
Multiple Team Tournament Champions
3X Top 3 finishes in NGAC DUALS & Traditional
2015
Area Duals Runner up
Area Traditional Runner up
State Duals 4th
State Traditional 8th
2016
Area Duals Runner up
Area Traditional Runner up
State Duals 3rd
14 Qualify for Sectionals – Record
8 state qualifiers and placers
State Traditional Runner up
2017
Area Duals Champions
Area Traditional Champions
State Duals 3rd
8 state qualifiers and placers
State Traditional Runner up
2018
Area Duals Champions
Area Traditional Champions
State Duals 3rd
14 Qualify for Sectionals – Record
9 state qualifiers/2 alternates
State Traditional 3rd
2015-2018 High School
94 Dual Meet Wins – Record
Multiple Team Tournament Champions
4 consecutive State Duals Top 4 – Record
Back 2 Back Area Duals/Traditional – Record (2017/2018)
Back 2 Back Trad. State Runner up – Record (2016/2017)