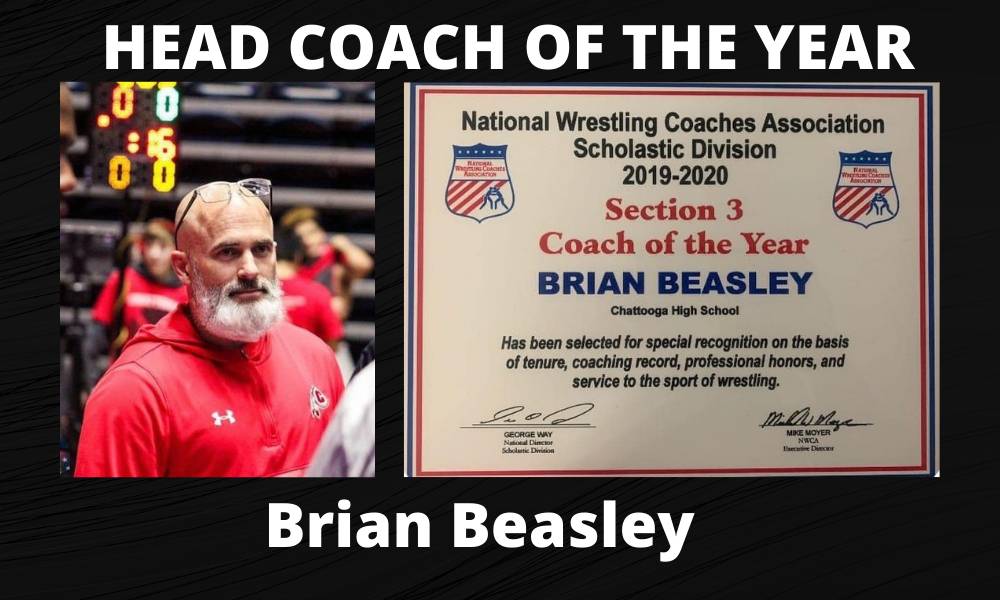 The National Wrestling Coaches Association (NWCA) recently announced the 2020 winners of the State, Section, and National High School Boys Coach of the Year awards.
Chattooga High School's Brian Beasley was named the Georgia Coach of the Year and the Section 3, Southeast Coach of the Year.
Beasley just completed his 20th season as head coach at Chattooga High School. His 2019-20 squad finished as Dual and Traditional State Champions with 9 individual state placers and five state champions, and 2 runners up. Coach Beasley has had 18 state champions and 11 runners-up in his coaching tenure.
When asked to describe the 2019-20 season in one word, Beasley said, "…unforgettable." In January Chattooga Wrestling defeated the five-time Dual Champions from Social Circle to claim the GHSA Dual Championship. Chattooga won 10 of the 14 weight classes in the dual state championship match, nine by pins. The next month Chattooga Wrestling followed up its first dual state title by claiming its first GHSA traditional team state championship.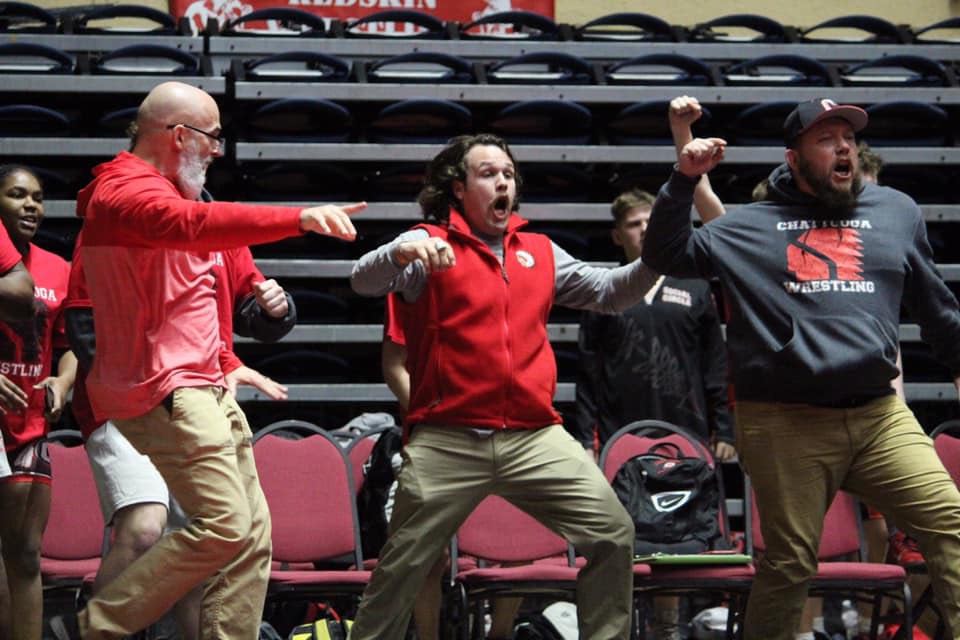 One thing is obvious when watching Coach Beasley in the corner of any match, he enjoys coaching. "It's been a blessing working with the kids and developing bonds that last a lifetime."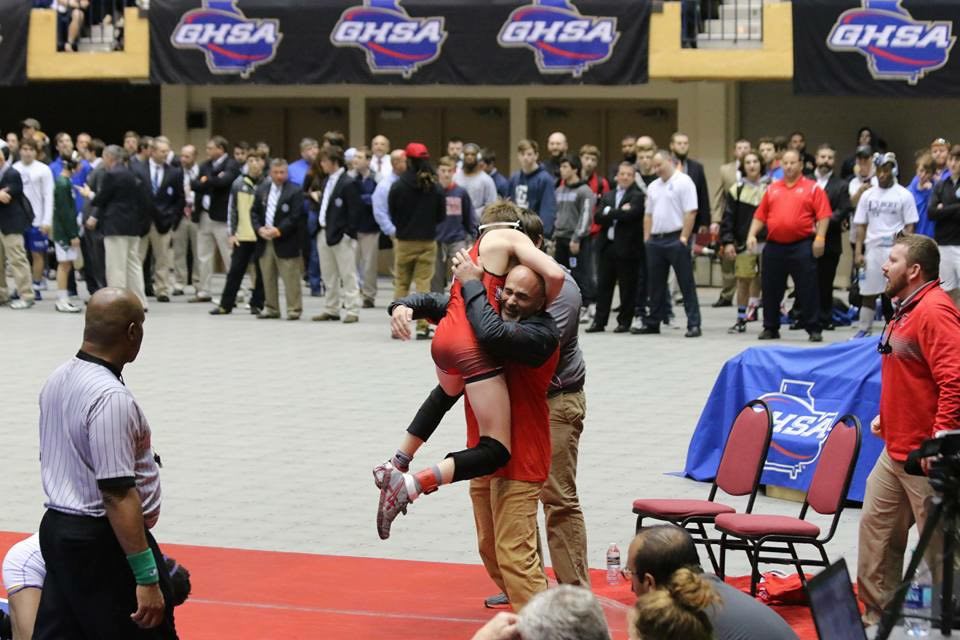 "The NWCA is proud be able to provide a platform to help recognize outstanding coaches at both the state, section, and national levels. Coaches have the ability to positively impact the lives of their athletes and ultimately change the fabric of a community," said NWCA Executive Director Mike Moyer.
Coach Beasley said the award left him, "speechless when I found out it was an award representing the Southeast…crazy!" The Southeast award is for North Carolina, Tennessee, South Carolina, Alabama, Mississippi, Louisiana, Florida, and Georgia.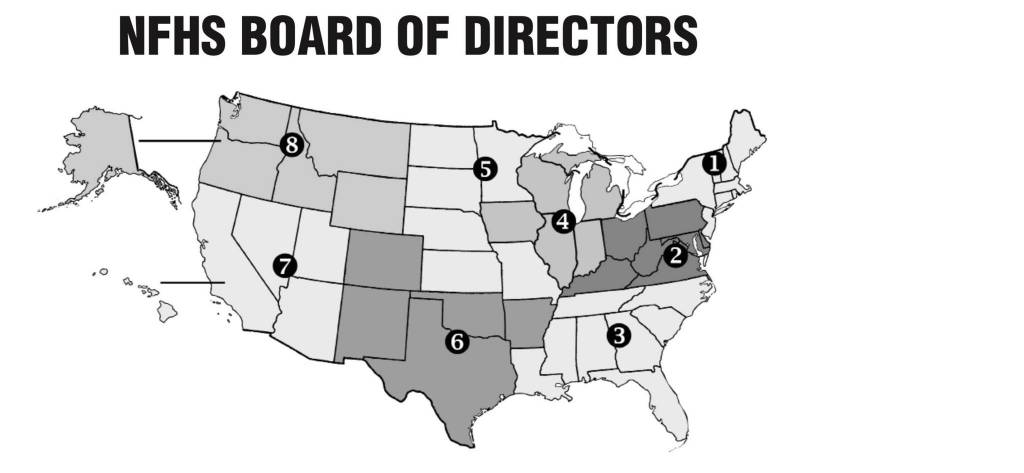 "Coach Beasley has done an amazing job building the Chattooga wrestling program. Brian has proven you do not have to have a large number of students in your school to be successful at the highest level. The state of Georgia is proud of the accomplishments of Chattooga High School and Coach Beasley," said National Wrestling Coaches Association (NWCA) Director of Scholastic Leadership Academies and the GHSA State Wrestling Tournament Director, Bud Hennebaul.
Coach Beasley says there have been lots of "big moments" over his career, but "if I were to pick one, it would be the team winning the state dual title this year. We had kids who were multiple time state champs, but winning it as a team was a special feeling for each and every team member."
SECTION – SCHOLASTIC BOYS HEAD COACH OF THE YEAR
SECTION COACH SCHOOL STATE
Section 1 Bryan Stoll Delbarton School New Jersey
Section 2 Donald Motley Oscar Smith High School Virginia
Section 3 Brian Beasley Chattooga High School Georgia
Section 4 Tim Roberts Dundee High School Michigan
Section 5 Dean Boyer Plainview High School Nebraska
Section 6 Jason Miller Commanche High School Oklahoma
Section 7 Joel Holman Juab High School Utah
Section 8 John Cerna Jr. Toppenish High School Washington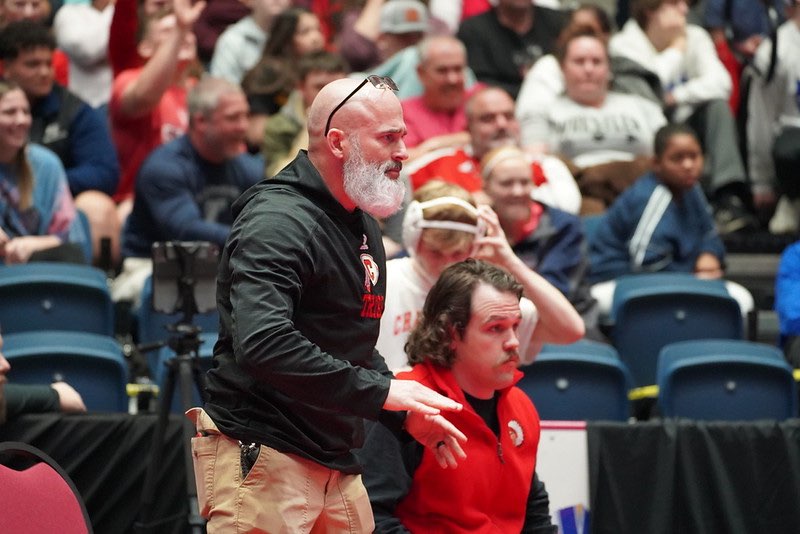 STATE – SCHOLASTIC BOYS HEAD COACH OF THE YEAR
| | | | |
| --- | --- | --- | --- |
| SECTION | COACH | SCHOOL | STATE |
| Section 1 | Ricky Shook | Danbury High School | Connecticut |
| Section 1 | Manny Costa | St. John's Prep | Massachusetts |
| Section 1 | Paul Rousseau | Bishop Guertin High School | New Hampshire |
| Section 1 | Bryan Stoll | Delbarton School | New Jersey |
| Section 1 | Craig Gross | Hilton High School | New York |
| Section 1 | Colin Smith | Cumberland | Rhode Island |
| Section 1 | Eugene Stearns | Vergennes Union H.S. | Vermont |
| Section 2 | Aaron Harris | Smyrna High School | Delaware |
| Section 2 | Robert Burnham | Christian County | Kentucky |
| Section 2 | Erik Burnett | Elyria High School | Ohio |
| Section 2 | Dave Crowell | Nazareth High School | Pennsylvania |
| Section 2 | Donald Motley | Oscar Smith HS | Virginia |
| Section 2 | John Bonecutter | Point Pleasant High School | West Virginia |
| Section 3 | Brian Brasseal | Gardendale H.S. | Alabama |
| Section 3 | Mick Arteaga | Southwest Miami Senior High School | Florida |
| Section 3 | Brian Beasley | Chattooga High School | Georgia |
| Section 3 | Matt Pinero | St. Paul's School | Louisiana |
| Section 3 | Tripp Rogers | William Amos Hough High School | North Carolina |
| Section 3 | Jason Brazell | North Central High School | South Carolina |
| Section 3 | Wes Idlette | Dobyns Bennett High School | Tennessee |
| Section 4 | Pete Alber | Dakota High School | Illinois |
| Section 4 | Eric HIghley | Northridge HIgh School | Indiana |
| Section 4 | Michael Doyle | Independence Junior/Senior High | Iowa |
| Section 4 | Tim Roberts | Dundee High School | Michigan |
| Section 5 | Bill Johnson | Norton Community High School | Kansas |
| Section 5 | Will Short | Simley High School | Minnesota |
| Section 5 | Dustin Brewer | Liberty High School | Missouri |
| Section 5 | Dean Boyer | Plainview High School | Nebraska |
| Section 5 | Chad Barstad | Velva High School | North Dakota |
| Section 5 | Jeremy Swenson | Canton High School | South Dakota |
| Section 6 | John Kincade | Greenwood High School | Arkansas |
| Section 6 | Ray Barron | Columbine HS | Colorado |
| Section 6 | Greg Ruybalid | Piedra Vista | New Mexico |
| Section 6 | Jason Miller | Commanche High School | Oklahoma |
| Section 6 | Travis Clark | Trinity High School | Texas |
| Section 7 | Ray Belloc | Santa Cruz Valley Union HS | Arizona |
| Section 7 | Troy Tirapelle | Buchanan High School | California |
| Section 7 | Robert Flores | James Logan High School | California |
| Section 7 | Robert Hesia | Kamehameha Schools Kapālama | Hawaii |
| Section 7 | Joel Holman | Juab High School | Utah |
| Section 8 | Chad Gerlach | Glennallen High School | Alaska |
| Section 8 | Jory Casterline | Glasgow High School | Montana |
| Section 8 | Bo Hampton | Reedsport Community Charter School | Oregon |
| Section 8 | John Cerna Jr. | Toppenish High School | Washington |
| Section 8 | Josh Wisniewski | Green River High School | Wyoming |
Photos provided by Brian Beasley