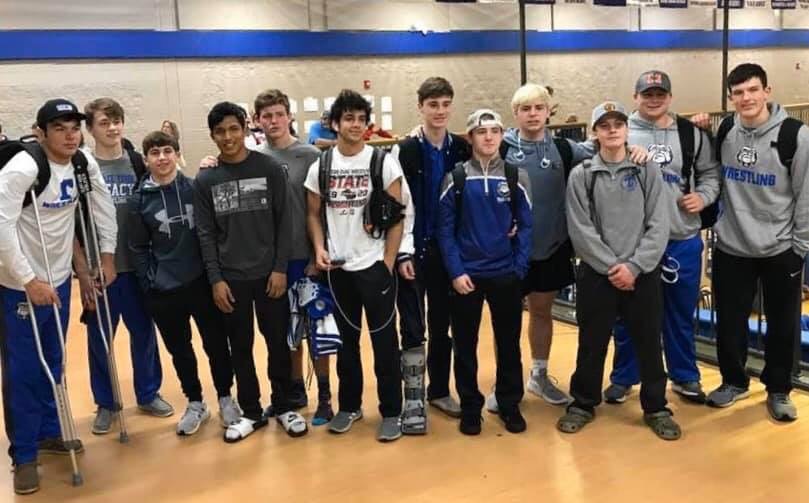 The GHSA 1A Sectional B wrapped up as the Trion Bulldogs advanced 12 wrestlers to the state tournament next week in Macon as sophomore Brantley Wilbanks (195) led the Bulldogs as Trion's sole Sectional Champion.
2nd Place finishers included Daegan Vaughn (113), Andrew Jones (120), Logan Eller (145), Lincoln Maddux (152), Bladyn Bowman (170), and Clay Baker (285).
Other top 6 finishers include Bryce James (126) 3rd, Versain Vasquez (132) 3rd, Bowden Brock (138) 4th, Bo Jones (182) 3rd, and Alex Stewart (220) 6th.
Gordon Lee advances two wrestlers, Hunter Burnette (113) 3rd and Timy Duke (160) 6th. Darlington advances three wrestlers, led by Luke McDurmon (120) and Alan Cordero (145) who both placed 1st.
Adam Roberson (106) places 4th.
106-
1st Place – Austin Westbrook of Walker
2nd Place – Elijah Batchelor of Mount De Sales Academy
3rd Place – Josh Noble of Mt. Pisgah Christian
4th Place – Adam Roberson of Darlington
5th Place – Rhett Sherk of Holy Innocents`
6th Place – Jude Niemi of St. Anne-Pacelli
113-
1st Place – Art Martinez of Holy Innocents`
2nd Place – Daegan Vaughn of Trion
3rd Place – Hunter Burnette of Gordon Lee
4th Place – Catherine-Grace Bertrand of Mt. Pisgah Christian
5th Place – Matthew Morse of Wesleyan
6th Place – Uriah Acord of Mt. Zion
120-
1st Place – Luke McDurmon of Darlington
2nd Place – Andrew Jones of Trion
3rd Place – Nathan Boone of Mt. Zion
4th Place – Charlie King of Holy Innocents`
5th Place – Aidan Conley of Wesleyan
6th Place – Aidan Schmitz of Mt. Pisgah Christian
126-
1st Place – Mark Metz of Pinecrest Academy
2nd Place – Tyler Nelson of Mt. Pisgah Christian
3rd Place – Bryce James of Trion
4th Place – Reagan Sherk of Holy Innocents`
5th Place – Anthony Vazquez of St. Anne-Pacelli
6th Place – Penn Askew of Gordon Lee
132-
1st Place – Jake Swink of Holy Innocents`
2nd Place – Joey Bertrand of Mt. Pisgah Christian
3rd Place – Versain Vasquez of Trion
4th Place – Ruszell Sheppard of Pelham
5th Place – Joseph Daniel of Mt. Zion
6th Place – Jake Neu of Wesleyan
138-
1st Place – Nate Watson of North Cobb Christian
2nd Place – Noah Nugent of St. Anne-Pacelli
3rd Place – Brad Spence of Mt. Pisgah Christian
4th Place – Bowden Brock of Trion
5th Place – Christian Smith of Mt. Zion
6th Place – Kyle Johnson of Tattnall Square Academy
145-
1st Place – Alan Cordero of Darlington
2nd Place – Logan Eller of Trion
3rd Place – Trent DeBow of Wesleyan
4th Place – Grady Tisdale of Tattnall Square Academy
5th Place – Brandon Wright of Mt. Zion
6th Place – Shane Johnson of Mt. Pisgah Christian
152-
1st Place – Joseph Metz of Pinecrest Academy
2nd Place – Lincoln Maddux of Trion
3rd Place – Robert McDonald of Holy Innocents`
4th Place – James McCamy of St. Anne-Pacelli
5th Place – Payton McKemie of Wesleyan
6th Place – Zamir Norry of Weber School
160-
1st Place – David Bertrand of Mt. Pisgah Christian
2nd Place – Hunter Hogan of Stratford Academy
3rd Place – Lavorris Hines of Pelham
4th Place – Jackson Kraal of Walker
5th Place – Izzy Evans of Holy Innocents`
6th Place – Timy Duke of Gordon Lee
170-
1st Place – Sam Schmitt of Wesleyan
2nd Place – Bladyn Bowman of Trion
3rd Place – Dakota Browning of Mt. Zion
4th Place – Jon Grier of North Cobb Christian
5th Place – James Crandall of Mount Vernon
6th Place – Happy Chane of Mt. Pisgah Christian
182-
1st Place – Erik Dodder of Mount Vernon
2nd Place – James Gleeson of Holy Innocents`
3rd Place – Bo Jones of Trion
4th Place – Seth Shapiro of Weber School
5th Place – Cole Spence of Mt. Pisgah Christian
6th Place – Dylan Buchanan of Mt. Zion
195-
1st Place – Brantley Willbanks of Trion
2nd Place – Eric Berry of Wesleyan
3rd Place – Kieran MacKinnon of Stratford Academy
4th Place – Griffin Tisdale of Tattnall Square Academy
5th Place – Nick Collins of Mt. Zion
6th Place – Brandon Collins of Schley County
220-
1st Place – Michael Cox of Holy Innocents`
2nd Place – Logan Buchanan of Mt. Zion
3rd Place – Jonathan Hammond of Mount Vernon
4th Place – Joshua Montoya of Chattahoochee County
5th Place – Jacob Long of Schley County
6th Place – Alex Stewart of Trion
285-
1st Place – Tanner Bivins of Wesleyan
2nd Place – Clay Baker of Trion
3rd Place – Dywon Hamilton of Schley County
4th Place – Michael Perez of Mt. Zion
5th Place – Tyler White of Holy Innocents`
6th Place – Sincere Bell of St. Anne-Pacelli