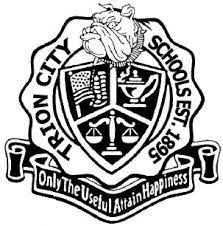 Two Trion City schools beat the odds in 2019, performing better than statistically expected on the College and Career Ready Performance Index (CCRPI).

The CCRPI is Georgia's statewide accountability system. It measures schools and school districts on a 100-point scale based on multiple indicators of performance. Beating the Odds (BTO) is a statistical analysis that compares a school's actual performance on the CCRPI with the performance of schools with similar characteristics across the state. Characteristics include the school's size, grade cluster, student mobility, and student demographics including race/ethnicity, disability, English learners, and poverty. Schools that perform higher than similar schools are considered "Beating the Odds."
"We are very proud of all our schools. Both Trion Elementary and Trion Middle were designated at "Beating the Odds" when compared to similar schools. This is the third consecutive year that Trion Middle and second consecutive year that Trion Elementary have earned this designation," Trion City Schools Superintendent Dr. Phil Williams said.
Trion City schools that are designated in 2019 as having "beat the odds" are:
Trion Elementary

Trion Middle
"Trion High School's CCRPI score places them in the "Within Expected Range" category.  The staff at each school examinees the data as soon as Georgia Milestones and End-of-Course test scores were received in the spring. This has allowed the staff to implement changes for the 2019-2020 school year. Based on our plan of action, we work on our weaknesses in order to improve student success. The implementation of Map and Compass at the elementary and middle school has also provided great information on each student, so we can make informed decisions.
'Beating the Odds' indicates that our students, staff, and parents are all working together to achieve success. It all starts with the teacher in the classroom, and the teachers at Trion are second to none," Dr. Williams said.
Trion Elementary 2018 CCRPI Score 86.7
Trion Middle 2018 CCRPI Score 89.8
Trion High 2018 CCRPI Score 83.9
To view the full Beating the Odds analysis, visit the Governor's Office of Student Achievement website here.