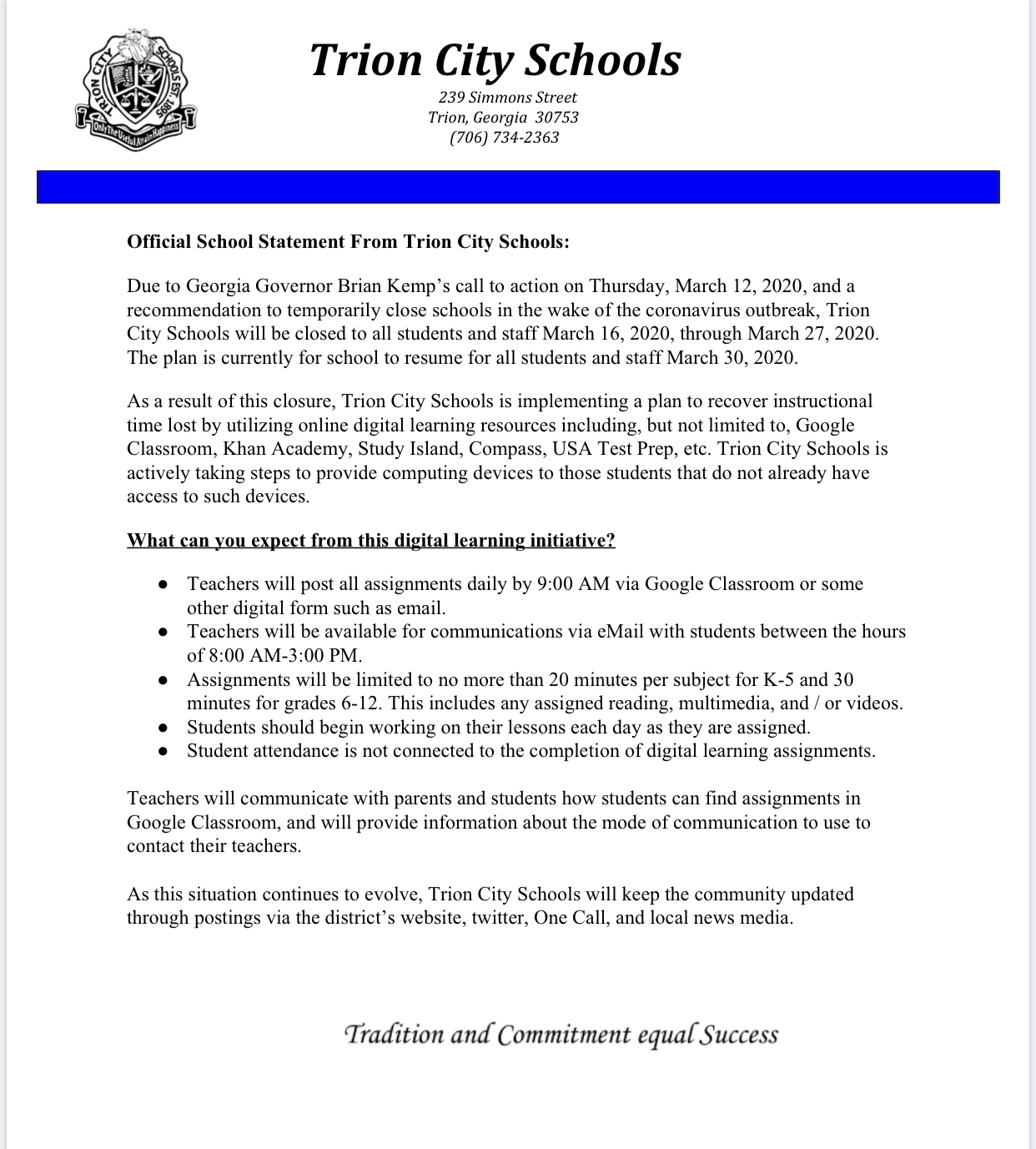 Official School Statement From Trion City Schools:

Due to Georgia Governor Brian Kemp's call to action on Thursday, March 12, 2020, and a recommendation to temporarily close schools in the wake of the coronavirus outbreak, Trion City Schools will be closed to all students and staff March 16, 2020, through March 27, 2020. The plan is currently for school to resume for all students and staff March 30, 2020.​​​​​​​
As a result of this closure, Trion City Schools is implementing a plan to recover instructional time lost by utilizing online digital learning resources including, but not limited to, Google Classroom, Khan Academy, Study Island, Compass, USA Test Prep, etc. Trion City Schools is actively taking steps to provide computing devices to those students that do not already have access to such devices.
What can you expect from this digital learning initiative?
● Teachers will post all assignments daily by 9:00 AM via Google Classroom or some other digital form such as email.
● Teachers will be available for communications via eMail with students between the hours of 8:00 AM-3:00 PM.
● Assignments will be limited to no more than 20 minutes per subject for K-5 and 30 minutes for grades 6-12. This includes any assigned reading, multimedia, and / or videos.
● Students should begin working on their lessons each day as they are assigned.
● Student attendance is not connected to the completion of digital learning assignments.
Teachers will communicate with parents and students how students can find assignments in Google Classroom, and will provide information about the mode of communication to use to contact their teachers.