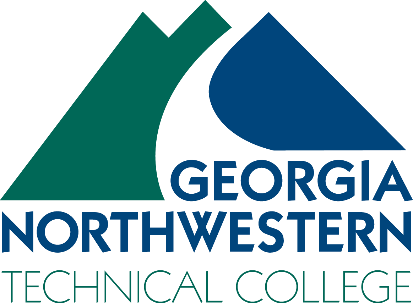 More than 150 students from Georgia Northwestern Technical College's (GNTC) nine-county service area will exit the Dalton Convention Center on Thursday, May 4, armed with the education and technical training needed to kick-start their careers.
The 2023 Spring Commencement Ceremony will begin at 6 p.m.
After students, administrators and faculty march into place during Processional, the National Anthem will be presented. Invocation will be led by Donny Holmes, Construction Management program director and instructor at GNTC.
Dr. Heidi Popham, president of GNTC, will welcome guests and introduce commencement address speaker Cayla Pemberton, the winner of GNTC's 2023 Georgia Occupational Award of Leadership (GOAL).
Pemberton is a Dual Enrollment student at Ridgeland High School and attends Automotive Technology classes on GNTC's Walker County Campus in Rock Spring.
Stuart Phillips, vice president of Student Affairs at GNTC, will recognize High Honor and Honor graduates. A special recognition for graduates who are veterans, FBLA Collegiate members, SkillsUSA members and Student Government Association members will also be led by Phillips.
Dr. Elizabeth Anderson, vice president of Academic Affairs at GNTC, will present the graduates, and Dr. Popham will confer the graduates with associate degrees, diplomas and certificates.
Susan Bowman, assistant dean and instructor of Health Information Management Technology at GNTC, will administer the GNTC Alumni Association Oath.
Listed are graduates that are participating in the 2023 Spring Commencement Ceremony showing (from left) the graduate's name and program of study. This list does not include students that have graduated, but are not participating in the ceremony, or students that registered for the ceremony after the commencement program was printed:
Associate of Applied Science degree
Savannah Adams, Accounting
Luis A. Alarcon, Construction Management
Alex Alvarez, Industrial Systems Technology
Pablo Alvarez, Industrial Systems Technology
Crystal Marie Anderson, Business Technology
Melinda K. Angell, Business Healthcare Technology
Jesenia Azbill, Business Management
Joseph Brett Baker, Respiratory Care
Megan Leigh Bethune, Business Management
Joseph Bisher, Industrial Systems Technology
Joseph P. Blankenship Jr., Respiratory Care
Deirdre Bobo, Computer Support Specialist
Kevin Michael Brewer, Cybersecurity
Donald Briggs III, Construction Management
Brice Bryant, Business Management
Jonathan William Casey, Computer Support Specialist
Victor Manuel Cervantes Jr., Business Management
Angelita Chavarria, Early Childhood Care and Education
Alexander Frederick Lincoln Cheeks, Drafting Technology
Amber Deanna Cole, Accounting
Edgar Jose Cornejo-Escutia, Industrial Systems Technology
Izabel Deniz Cruz, Business Management
Houston Chase Edwards, Industrial Systems Technology
Kristen M. Findley, Logistics and Supply Chain Management
Jennifer Flores, Business Management
Edith Fortanel, Respiratory Care
Elizabeth Garcia, Early Childhood Care and Education
Zackery Garmon, Respiratory Care
Rene Ariel Gonzalez, Construction Management
Tatum L. Grady, Respiratory Care
Lacey Paige Hammontree, Marketing Management
Mariah Hawkins, Respiratory Care
Martika D. Hernandez, Respiratory Care
Morgan M. Hightower, Early Childhood Care and Education
Nathan D. Holst, Respiratory Care
Rhonda Rashell Horton, Logistics and Supply Chain Management
Lesley Mckenna Johnston, Respiratory Care
Andrea Marie Jordan, Social Work Assistant
Sylvia Kamp, Computer Support Specialist
Andrew M. Kaplan, Industrial Systems Technology
Kristi Kelley, Early Childhood Care and Education
Shyann Faith King, Early Childhood Care and Education
Kelsey Lane Kirk, Business Management
Timothy Isaiah Kittle, Criminal Justice Technology
Amanda Lee, Business Management
Dafne Anaite Leonard, Early Childhood Care and Education
Mya H. Lively, Cybersecurity
Tiffany Lucas, Accounting
Cassandra Mairs, Respiratory Care
Demetrica Mallory, Business Technology
Victoria A. Martinez, Health Care Management
Kevin Mateo, Construction Management
Edgar Mendiola, Automotive Technology
Caitlyn Ruth Morgan, Social Work Assistant
Ashley Morris, Early Childhood Care and Education
Haley Newman, Health Care Management
Johana Nunez, Business Management
Abraham Osiel Ocana, Industrial Systems Technology
Torye B. Parker, Accounting
Levi Kole Pettigrew, Industrial Systems Technology
Justin Race, Precision Machining and Manufacturing
Hugo Enrique Ramirez, Culinary Arts
Cindy Ramos Mendoza, Business Technology
Aixa Rodriguez, Marketing Management
David D. Roper, Applied Technical Management
Christina Renae Ross, Accounting
Molly Ryan Schrimsher, Early Childhood Care and Education
Anna R. Smith, Early Childhood Care and Education
Melissa D. Sorrells, Health Information Management Technology
Jessica D. Thompson, Accounting
Cassie Leanna Townsend, Respiratory Care
Karli P. Turner, Respiratory Care
Keven Steven Vivas, Business Management
Camilla A. Webb, Logistics and Supply Chain Management
Stephen D. Wheelus, Industrial Systems Technology
Meagan White, Precision Machining and Manufacturing
Jacob F. Worthington, Technical Studies
Marisa Young, Early Childhood Care and Education
Sandra June Young, Accounting
Associate of Science in Nursing degree
Terri Andrea Foltz, Nursing
Relecia Renee Garrett, Nursing
Jordan R. Hughes, Nursing
Mary Jo Morter, Nursing
Demetria Ann Staley, Nursing
Courtney N. Velasquez, Nursing
Diploma
Steffany T. Adams, Business Healthcare Technology
Juan M. Berrios Rosado, Computer Support Specialist
Jessica M. Cabe, Accounting
Arnoldo Canales Fraire, Industrial Systems Technology
Kadie Carlene Cardin, Business Healthcare Technology
Lenora M. Gasca, Business Healthcare Technology
Tyler Howland, Auto Collision Repair
Brandon A. Juarez Pelico, Electrical Systems Technology
Anthony Kretschmer, Welding and Joining Technology
Ricky Sebastian Mendoza Bartolome, Industrial Systems Technology
Amanda D. Millican, Business Management
Cristhian David Padron Ledesma, Electrical Systems Technology
Brittany Nichole Rampley, Automotive Technology
Landon W. Stephens, Electrical Systems Technology
Nickolas Swank, Welding and Joining Technology
Colby Lane Thompson, Welding and Joining Technology
Quinberli M. Velasquez, Business Management
Raymond Delone Velasquez, Air Conditioning Technology
Noah Warren, Electrical Systems Technology
Kevin Yi, Welding and Joining Technology
Technical Certificate of Credit
Rocio Alcantar Serrano, Healthcare Billing and Coding Specialist
Karla Hope Bagby, Clinical Office Assistant
Bethany Brianna Bartley, Clinical Office Assistant
Roland Bowen Sr., Clinical Office Assistant
Charlotte Welchel Bowman, Clinical Office Assistant
Lauren Electra Brown, Emergency Medical Technician
Gilberto Calachij-Ajqui, Administrative Support Assistant
Odalis V. Cardoza, Early Childhood Care and Education Basics
Candida J. Celeste, Clinical Office Assistant
Harley Nicole Cooper Chastain, Health Care Assistant
Hope A. Cooper, Nail Technician
Christopher Patrick Cromer II, Administrative Support Assistant
Marissa Culbreth, Healthcare Billing and Coding Specialist
Holley Nicole Dupree, Human Resource Management Specialist
Diamond C. Gibbons, Clinical Office Assistant
Norma Alicia Gonzalez, Human Resource Management Specialist
Kera J. Goswick, Clinical Office Assistant
Patrick Hanson Jr., Nail Technician
Jathan Harding, Logistics and Supply Chain Technician
Emily A. Hennon, Clinical Office Assistant
Miriana Baneli Hernandez Reynoso, Administrative Support Assistant
Jada Hudgins, Clinical Office Assistant
Itzel Hurtado, Human Resource Management Specialist
Mekaela King, Clinical Office Assistant
Asrealla M. Lee, Nail Technician
Stephany Lopez-Alvarez, Clinical Office Assistant
Zachary Calvin Thomas MacKay, Air Conditioning System Maintenance Technician
Hailey Nicole Marshall, Early Childhood Care and Education Basics
I'deria M. McKnight, Clinical Office Assistant
Cynthia Miranda, Clinical Office Assistant
Hannia Morales Valladares, Crime Scene Investigation
Shanda Morgan, Clinical Office Assistant
Emily Noel Muccitelli, Healthcare Billing and Coding Specialist
Jesse Luke Nicholson, Basic Shielded Metal Arc Welder
Asma Jaysam Odeh, Administrative Support Assistant
Michelle Pagleno, Health Information Technician
Rachel L. Pelanek, Emergency Medical Technician
Melisa M. Perez, Human Resource Management Specialist
Ivone Pineda-Pineda, Nail Technician
Leslie Nichole Ray, Clinical Office Assistant
Adriana Elizabeth Real-Vela, Administrative Support Assistant
Brittany A. Reyes, Early Childhood Care and Education Basics
Cayenne A. Russ, Central Sterile Supply Processing Technician – Adv
Auriel L. Sheffield, Nail Technician
Pamela Sills, Clinical Office Assistant
Lindsey Nichole Simpkins, Clinical Office Assistant
Angelica M. Torres, Commercial Truck Driving – Class A
Victoria R. Updike, Early Childhood Care and Education Basics
Jonathan P. Walker, Advanced Shielded Metal Arc Welder
Daisy White, Emergency Medical Technician
Gloria M. Williams, Clinical Office Assistant
Ashton Brooke Woodring, Clinical Office Assistant