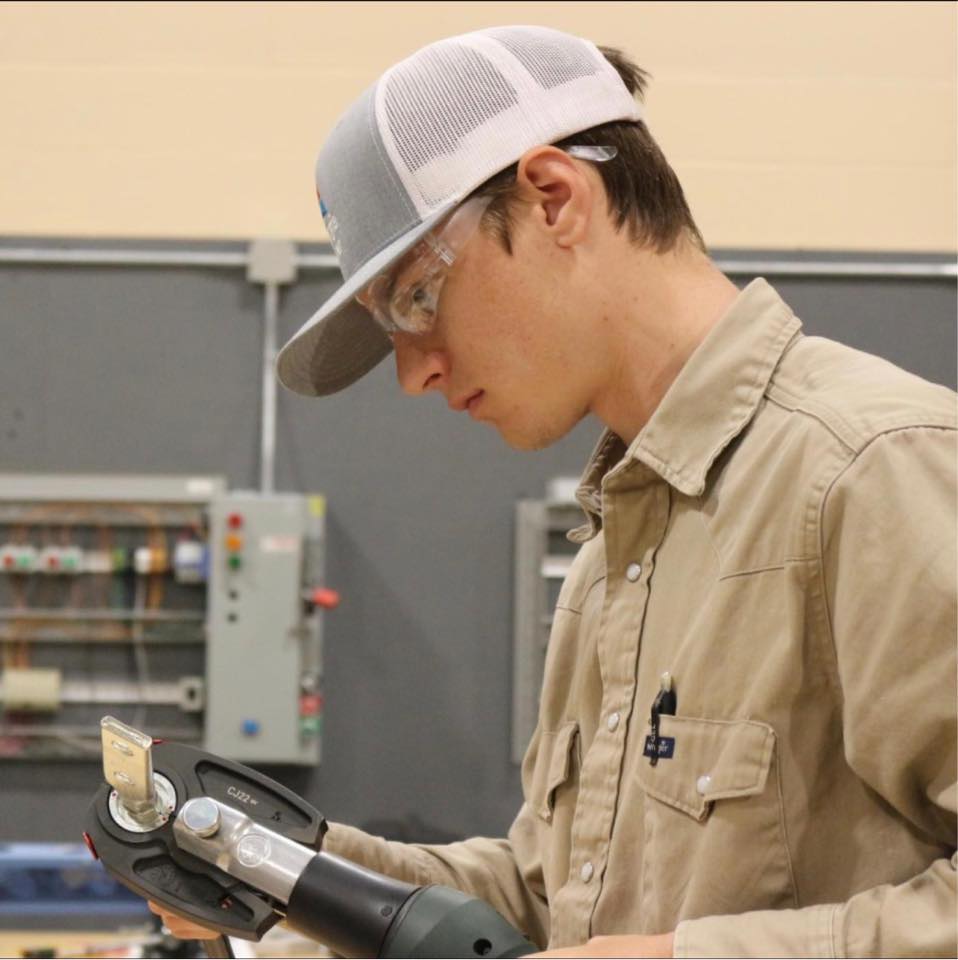 Landon Stephens is one of the newest graduates of Georgia Northwestern Technical College from the Electrical Systems Technology program. Stephens decided to apply for scholarships to help his academic endeavors. The result? He was the recipient of multiple that helped pay for his education in its entirety.

"Until my senior year of high school, it didn't really hit me that I needed to plan my future and figure out what I wanted to do," said Stephens. "In high school, I was completing classes for math, reading, and general coursework at the technical college to get started."
Stephens scored two scholarships through the Georgia Northwestern Technical College Foundation thanks to support from the Rome Home Builders Association (RHBA) and an individual donor. Stephens has completed the program in less than a year. He received his diploma in May.
"I was able to apply for a few scholarships that covered everything from my tuition, books, and supplies. I was basically paid to go to school," said Stephens.
The opportunities didn't stop there. Stephens went to a local electrical wholesale distributor, City Electric Supply (CES), in Rome, Georgia to purchase his electrical tool kit using his scholarship money. CES has worked with the school for over a decade and a half. Branch Manager David Combs stocks his store with the basic electrician tool kit, so the student can get what they need all in one place.
"CES Rome keeps a Klein Tools basic electrician's beginner tool kit that most up-and-coming electricians need to start in the field," said Combs. "We want to treat the students well and give them a good price on the tool kit. Their instructor sends them over here to us, so we make sure we keep supplies for the students available."
"The Georgia Northwestern Technical College Foundation is proud to support outstanding students like Landon. We are so grateful for the partnerships with businesses in this industry that make such support possible," said Lauretta Hannon, Executive Director of the GNTC Foundation.
Already, Stephens is forming his own relationships in the industry, and his hard work is paying off. Landon received two job offers before graduating and currently works at Easter Electric.
"Before I had the opportunity to get the tools, I had only heard of CES, but I'd never been a customer of theirs. My experience with them was great. My tools were here within two weeks of ordering them. If I ever need electrical supplies or tools in the future, I am definitely going to CES. David and his team are awesome," said Stephens.
This moment is full circle for the team at CES. David and CES Rome counter salesperson Bonnie Thomas are members of the RHBA and have been for almost 20 years.
"I've been at this CES branch for 19 years, and the branch has always been involved with the RHBA," said Combs. "They meet every month to discuss new codes and what's going on in the industry."
Everyone is proud of Stephen's achievements thus far, but he doesn't plan on stopping anytime soon. Starting in the summer, he plans to enroll in another program—this time in Applied Technical Management, specializing in electrical work.
"There are so many different avenues of electrical work, and I'm still learning all of them. I get to explore something new every day because technology is constantly advancing," said Stephens. "I'm excited to continue my education in the industry while working and starting my career."
About City Electric Supply (CES) is a family-owned electrical wholesale distributor headquartered in Dallas, Texas. The company was founded in 1951 by Tom Mackie in the United Kingdom and expanded to the United States in 1983. Today, CES employs more than 3,000 people in over 550 branches across the U.S.
CES is dedicated to providing personalized service and support for customers in the residential, commercial, and industrial marketplace. While CES is a large company, it prides itself on keeping its founding principle of empowering people to make local business decisions by providing customers with tailored services for all their electric supply needs.