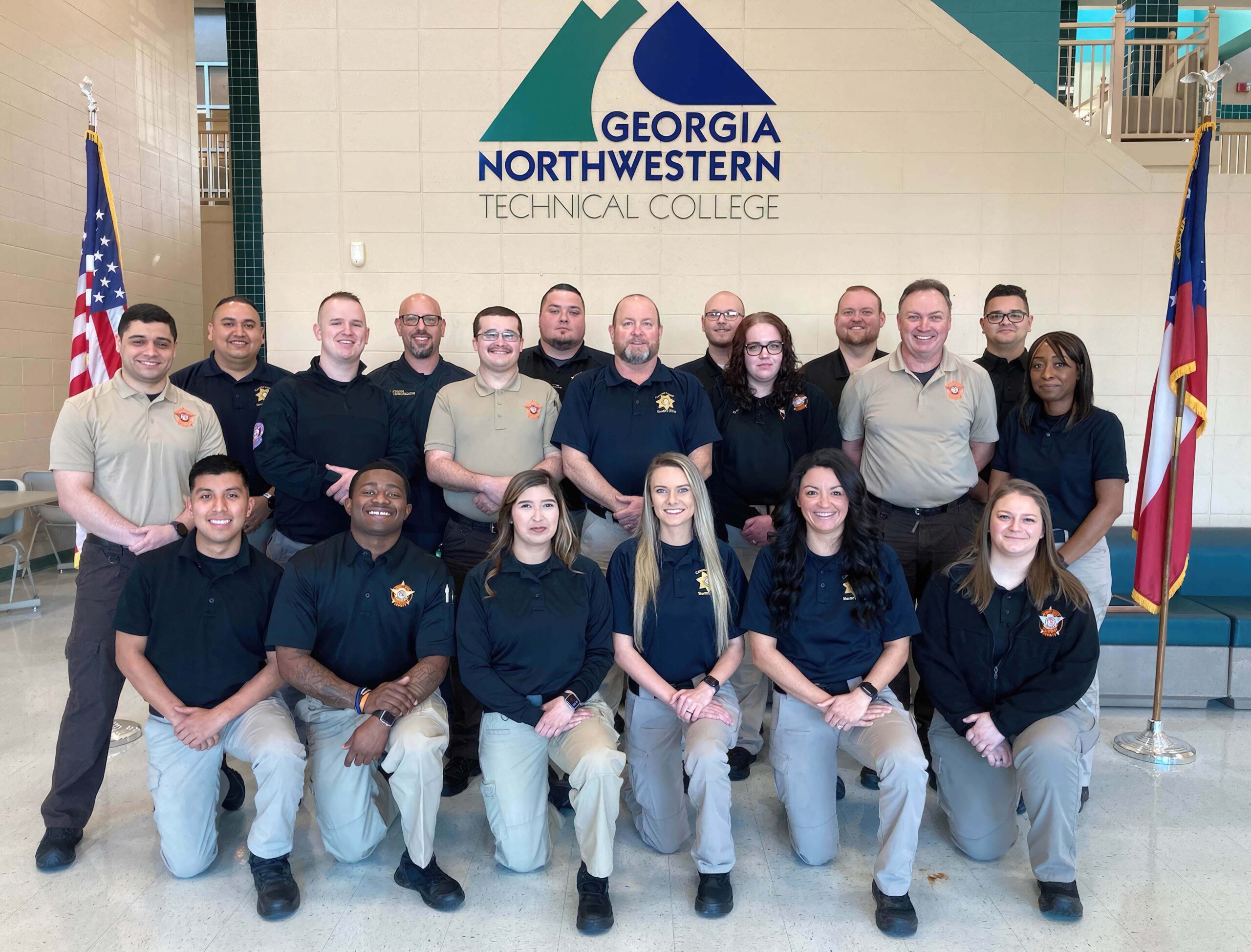 Friends, family and the community gathered in the Conference Center at Georgia Northwestern Technical College's (GNTC) Gordon County Campus in Calhoun to honor 19 students graduating from Basic Law Enforcement Training Class (BLETC) BPC1-2023-03 on Monday, March 27.
The Basic Law Enforcement (BLE) program is designed to train and prepare graduates for employment as entry-level Georgia law enforcement officers.
"This job is what I do, not who I am," said Cedartown Police Chief Jamie Newsome, guest speaker, sharing encouragement and guidance about how they should move forward in their careers.
"After you retire, you will be remembered for the character and integrity you brought to the job," he said.
Cameron Cobb was the student speaker for the ceremony. Gabriel Vasquez-Marte was presented with the "Top Gun" award for excellence in marksmanship, and Christopher Magness received the Academic (Honor Graduate) Award for having the highest grade point average.
Graduates recited their Oath of Honor at the conclusion of the ceremony, vowing "On my honor, I will never betray my badge, my integrity, my character or the public trust. I will always have the courage to hold myself and others accountable for our actions. I will always uphold the Constitution, my community and the agency I serve."
Graduates of GNTC's Basic Law Enforcement Training Class BPC1-2023-03 are Rashondra Archie, Cameron Cobb, Jason Cruise, Lacey Dodd, David Dollar, Gracie Freeman, Raven Henry, Christopher Magness, Kelly Mitchell, Jennifer Nunez, Everildo Ramirez Ibzan, Mauro Ramos, Jesus Rendon, Garrett Silvers, Corbin Southern, David Stafford, Kevin Stricklin, Gabriel Vasquez-Marte and Lane Wilson.
A majority of the graduates are already employed in law enforcement.
Freeman, Henry, Rendon and Stricklin are employed by the Catoosa County Sheriff's Office.
Dodd, Magness, Mitchell and Stafford are employed by the Murray County Sheriff's Office.
Cobb, Dollar, Ramos, Silvers and Vasquez-Marte are employed by the Whitfield County Sheriff's Office.
Ramirez Ibzan is employed by the Trion Police Department, Southern by the Chatsworth Police Department and Wilson by the Cedartown Police Department.
Cruise is employed by the Walker County Fire Department. Archie and Nunez are interviewing for jobs.