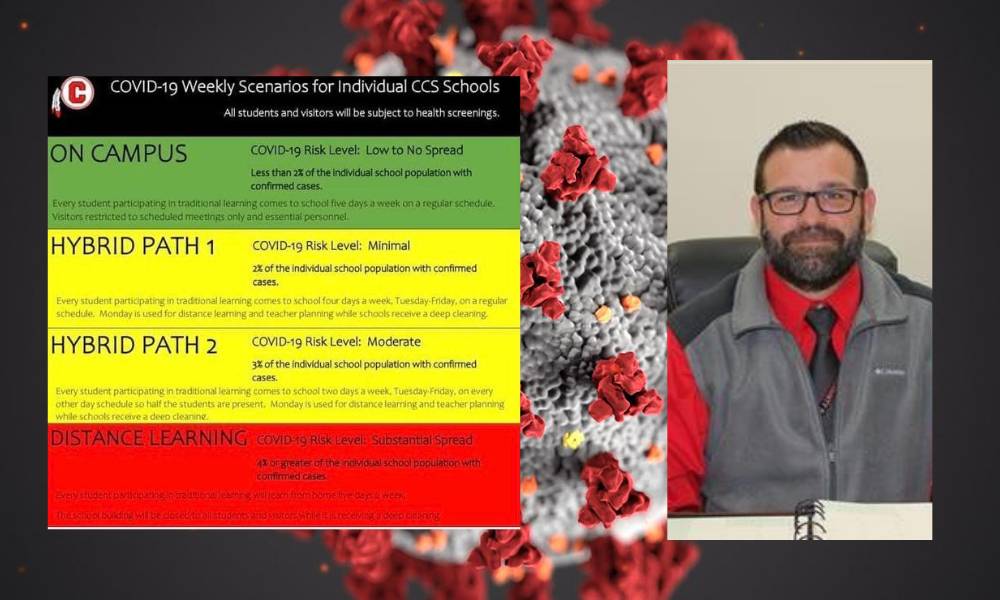 Chattooga Schools Superintendent, Jared Hosmer spoke with AllOnGeorgia to explain the new weekly COVID-19 status report.
In the weekly report released Friday, August 7 at 4:30 pm Superintendent Jared Hosmer, reported that five individuals at Chattooga High School and one at Summerville Middle School tested positive for the virus.
"Positive cases are tabulated every week, the cutoff is Friday afternoon, I have the cutoff so parents can make any necessary childcare arrangements for the following week if the school scenario changes," Hosmer said.
Hosmer went on to explain how positive case notifications over the weekend will be handled, "Saturday there was a positive case reported at Leroy Massey Elementary School, "this person will be in this week's status report, because the cutoff is Friday afternoon, I was notified about this case on Saturday."
All positive COVID-19 cases in Chattooga County Schools will be tracked per school and reported to the Georgia Department of Public Health.
A rise in case levels will result in a shift to a new scenario at the school for the following week. In the report, the school district's plan is laid out to detail how campuses will move forward if the spread of the virus gets worse.
Following public health guidelines, the school district will take each school as a separate case and evaluate the percentage of positive cases for each school's population. Percentages of positive cases will be based on the individual total school population which will include all staff and students.  
Percentages of positive cases will be tabulated weekly on Friday. Superintendent Hosmer will issue a status report to the public for each school every Friday at 4:30 pm. 
As of Friday, August 7th, there were five cases reported at Chattooga High, that represents 0.84% of the 597 total school population and one case was reported for Summerville Middle, that represents 0.32% of the 317. When the report was released there were no confirmed cases at any of the other schools. The new positive case at Leroy Massey that was reported on Saturday, August 8th will be added to the Friday, August 14th report.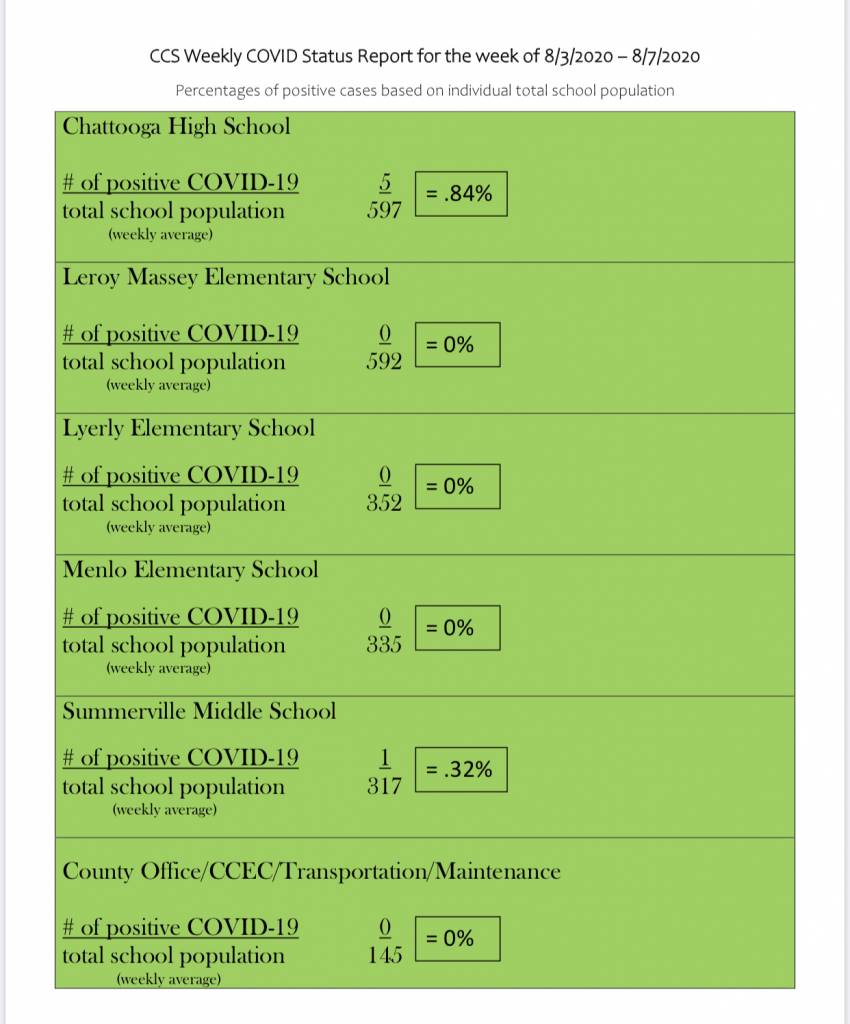 If the percentage of positive cases reaches 2%, the school will move to a hybrid program in which students will go to school four days a week starting on Tuesdays. Mondays will be used to clean and sanitize the building.
If the percentage reaches 3%, students will come to school only two days a week (every other day) so only half the student body is at school at one time.
The district will go fully virtual if the percentage of positive cases reaches 4% or higher. At Chattooga High, that would be 24 people.
The Georgia Department of Public Health has the authority to close down any school in the state based on community spread and hospitalization rate.