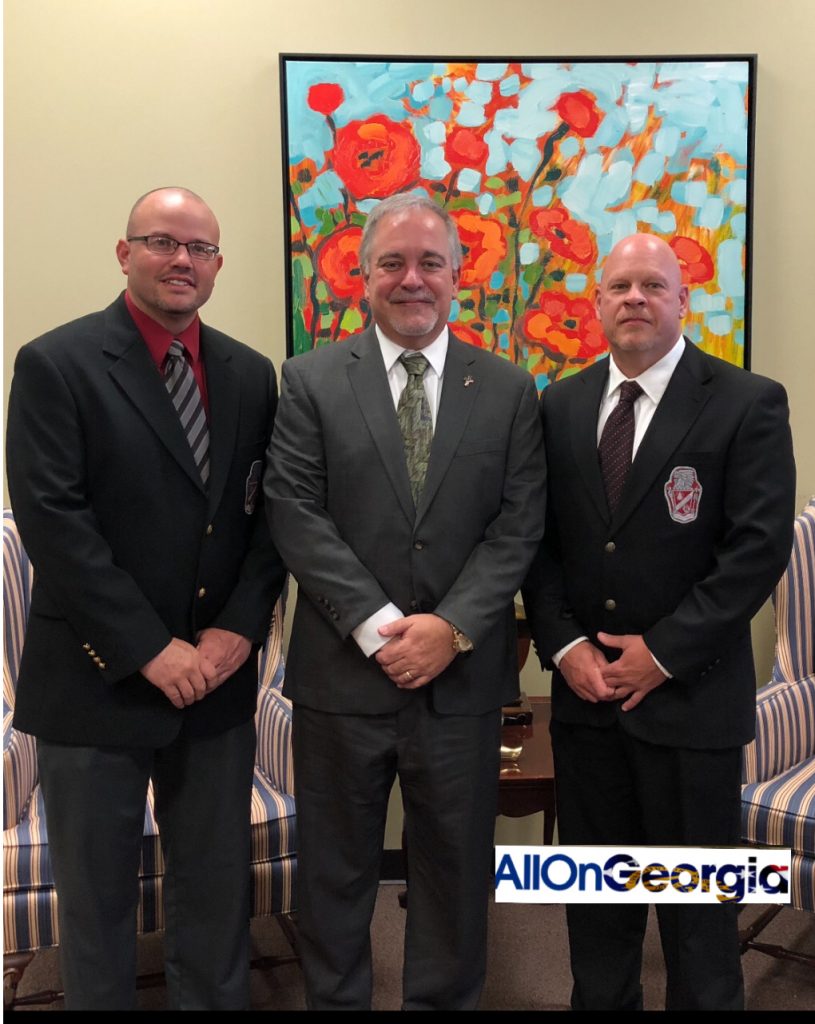 Chattooga High School Principal Jeff Martin and Chattooga Academy Principal Barry Peppers attended a conference in Atlanta with State Superintendent Richard Woods discussing the working relationship between CHS and the Chattooga Academy. The Academy is a part of Chattooga High School and helps students in various situations earn their diploma. Mr. Martin and Mr. Peppers were recently invited speak at a conference in Texas after CHS gained national attention with last year's 94% graduation rate.
During the meeting Mr. Peppers and Mr. Martin addressed educators as they approach another year in planning for professional development for the leaders and teachers in alternative ed programs. Jacquelyn Whitt, Board member of the National Alternative Education and Sylvia Hooker Board member of the Georgia Association of Alternative Educators, and Superintendent Woods were among the educators present. Mr. Martin and Mr. Peppers discussed methods implemented at Chattooga to meet the needs of the most challenging students, as well as strategies for professional development for the over 150 alternative education programs/schools in Georgia.
"We discussed how alternative schools and traditional schools can better work together to not only graduate students but better prepare them for lire after high school," Martin said.
Watch the video below for more information about the success about the Chattooga Academy. The Academy is an Alternative School that has already impacted hundreds of students in the process of revolutionizing the way potential drop-outs are saved by a dedicated staff in this rural community. Chattooga High School went from a failing school less than ten years ago to a record-setting 94% graduation rate and the Chattooga Academy played a large part in that success. CHS Principal Jeff Martin and Academy Principal Barry Peppers spoke today about how rural communities can improve student-retention rates. 
Chattooga Academy Changing Lives

The Chattooga Academy is an Alternative School that has already impacted hundreds of students in the process of revolutionizing the way potential drop-outs are saved by a dedicated staff in this rural community. Chattooga High School went from a failing school less than ten years ago to a record-setting 94% graduation rate and the Chattooga Academy played a large part in that success. CHS Principal Jeff Martin & Academy Principal Barry Peppers will be introducing a presentation on how rural communities can improve student-retention rates this March at the NAEA's 24th Annual Conference on Alternative Education in Texas.

Posted by All On Georgia – Chattooga on Wednesday, February 28, 2018