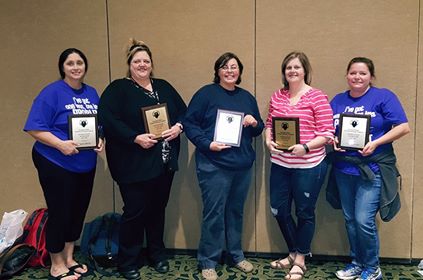 The Future Problem Solvers from Chattooga County School System traveled to Athens for the Georgia State Future Problem Solvers Program International Bowl.
The Chattooga County Coaches were presented as the Rookie Coaches of the Year at the University of Georgia for excellence in coaching Future Problem Solvers. The winning coaches were Charlene Koonce, Kanissa Martin, Sharon Osbourne, Megan Ray, and Christy Dooley.
Menlo School had a team place 1st with the best skit presentation of their Action Plan. Team members included Aubree Evans, Alyson Christol, Aleigha Satterfield, Jacob Huitron, Dillion Brown and Sara Beth Hampton.
Chattooga freshman, Sara Beth Hampton, placed 3rd at the Future Problem Solvers at UGA as an individual competitor. Hampton will compete in the International competition on Wisconsin in June with her coach Christie Dooley.
Future Problem Solving is primarily a thinking activity which involves students in both oral and written communication.
​The Future Problem Solving Program International engages students in critical thinking and creative problem solving.   Founded by creativity pioneer, Dr. E. Paul Torrance, professor emeritus at the University of Georgia, FPSPI stimulates critical and creative thinking skills and encourages students to develop a vision for the future.
​Students demonstrate their critical and creative thinking skills through writing (Global Issues, Scenario Writing, Action-based PS), through speaking (Scenario Performance) and through writing and visual documentation (CmPS).  Students participate in FPS through schools (as a curricular or extracurricular activity) or independently.