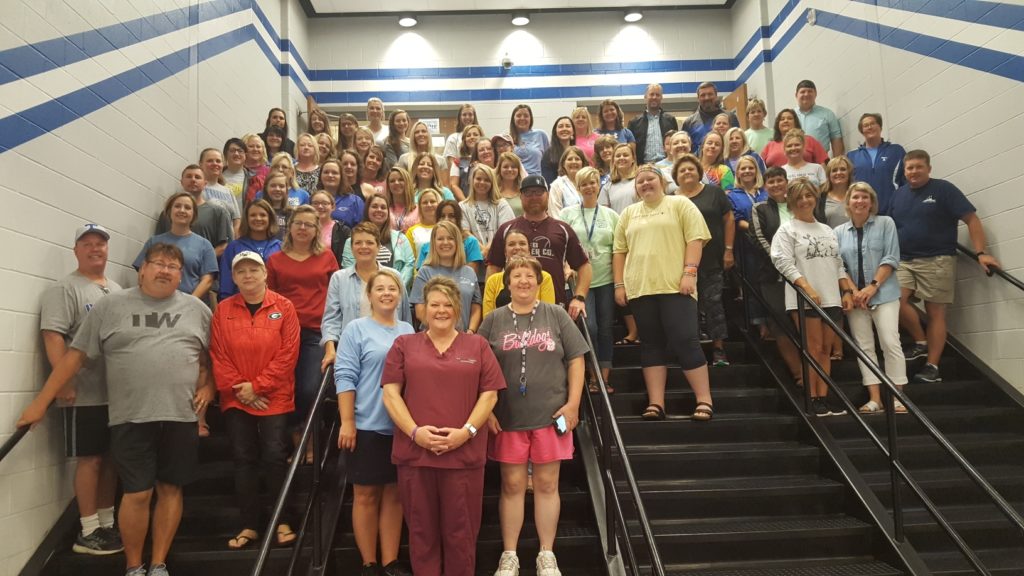 Trion City Schools held the annual Prayer Walk Tuesday morning in Trion High School. Casey Bramlett, pastor of Trion First Baptist Church talked with the group and thanked them for all that they do for students and community then prayed aloud with the entire group. The group then sang Amazing Grace.
Because of the rain the prayer walk was held entirely inside, the group walked three laps on the mezzanine of the gym(one for elementary students, one for middle school students, and one for high school students) and prayed. The group ended the last lap with Amazing Grace again.
Other pastors present included Joel Smith Pastor of Four Mile Baptist, as well as Phil Mentor (pastor of Harvest Worship Center) and Jeff Duvall (pastor of Dry Valley Baptist Church).   A small devotion was given to the group of teachers, parents and administrators, then the group walked around the school and prayed for the students and educators.
There were prayers for safety, educational growth and for good spirit. Many prayer warriors stopped in the hallways and individual classrooms in prayerful dedication.
Around 70 people showed up to pray and walk around campus, including administrators, teachers, para-pros, school board members, staff at the school and members of the community.
This is the fourth year Pastor Bramlett has been involved in the Prayer Walk. "I experienced both showers of rain and showers of blessing at the prayer walk this morning! We had a great turn out of both staff and community members at the Trion High School gym this morning, where we prayed for God's hand of blessing on all our local school leaders, teachers, and students.  It was wonderful to see such great support from our community for local schools. Can't wait to see how God blesses all our schools this year," Bramlett said.