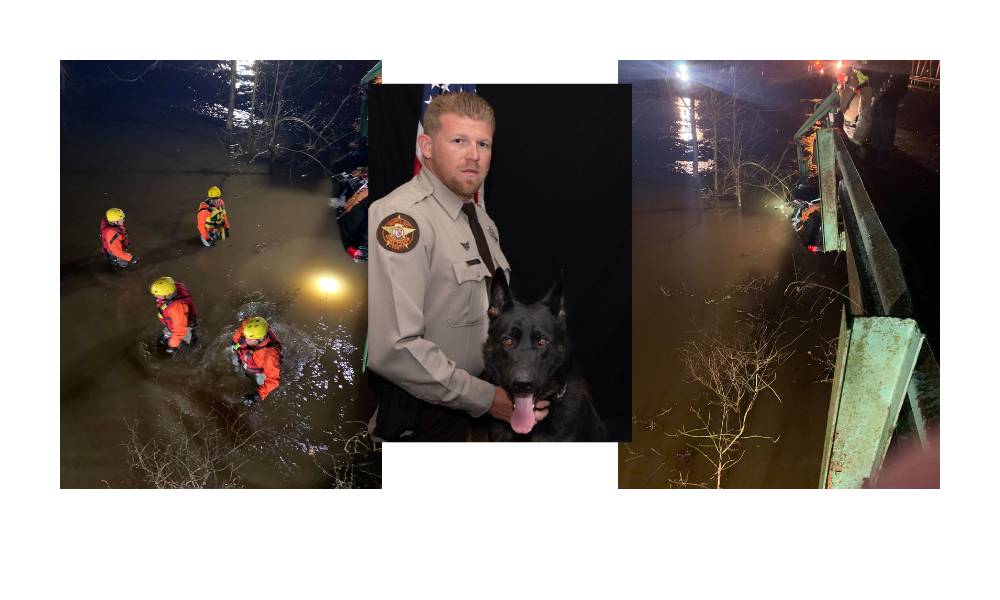 Around 1:15 am on March 17th, Chattooga County deputies were dispatched to the Lyerly Dam Bridge over the Chattooga River. The call was about a passerby who noticed a vehicle had driven through the guardrail and was partially submerged in the muddy and rain swollen river. "While en route we were advised the car and went through guardrails on the bridge and a car's taillights could be seen in the river," Deputy Nick Robinson said.
Deputies Alan Garmany and Robinson arrived within a few minutes of being dispatched. "Deputy Garmany and I arrived on the scene a few minutes later. Deputy Garmany was able to see the vehicle on East side of the river. I was able to see that the current did not appear to look swift on that side," Fearing that someone was still inside the vehicle, Robinson took off his duty belt and vest and entered the water and was able to make to the vehicle. "I checked the front seats and the back the best I could. And exited the river back to the bank."
Deputy Robinson was able to clear the front and rear passenger areas of the vehicle while still in the water. "I knew that I would be able to make it to the car, and I had to check it, to make sure no one was trapped inside," Robinson said.
The local swift water rescue team entered the water and assisted Luallen's wrecker service with pulling the SUV to the bank where they could check the rest of the vehicle. The first responders later found that the driver had escaped the vehicle and walked to his residence in Lyerly, Georgia.
The driver was uninjured and was arrested by the Georgia State Patrol for DUI and other related charges.
Robinson says he chose his profession in law enforcement after several conversations about his future with his late Step-father, Captain Eddie Stroup when he was 18 years old. "I started in the jail at 19 went to jail school, went to mandate at 21, worked patrol for a year then went to Trion PD for seven years, five of those as the school resource officer. Then came back to the Sheriff's Office and was given opportunity to help start our K9 program."
"The badge is an honor to wear especially for our county. It's my home I want to serve it and the citizens the best I possibly can," Robinson said.